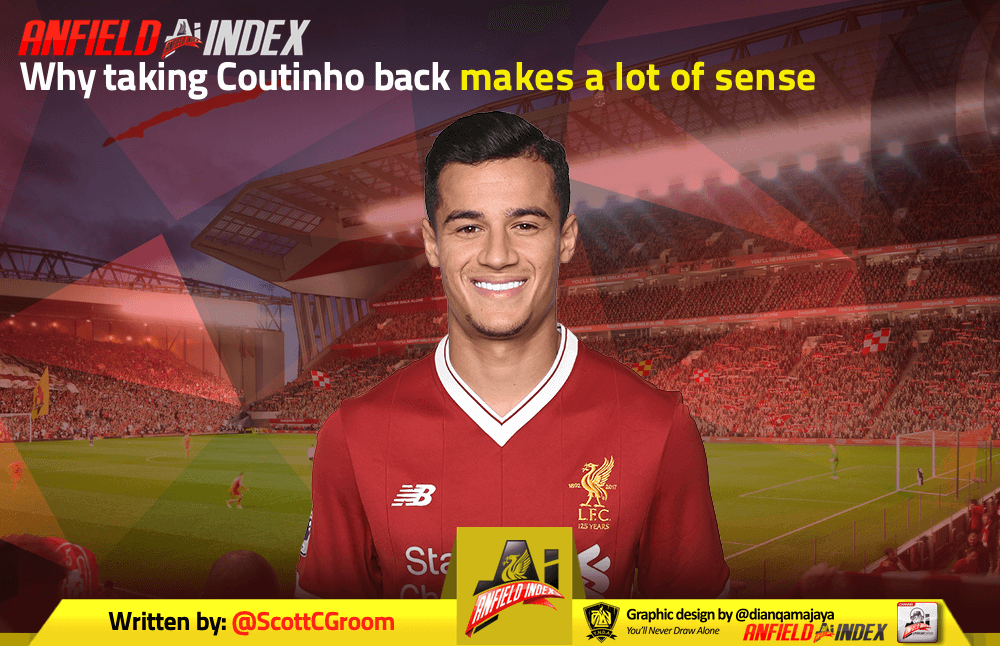 Why taking Coutinho back makes a lot of sense
It's the transfer rumour that just won't go away. The will he, won't he. The shall we, shan't we. Does the heart rule the head or is it the other way around.
The summer saga (for want of a better word) for Liverpool fans this summer is whether their fallen hero, Philippe Coutinho, will make a dramatic return to Anfield after what has proven to be an ill-fated 18 months at Barcelona.
After raking in the capital as a result of the Brazilian's sale which led to the purchases of both Virgil van Dijk and Alisson Becker, thus turning Liverpool into a mean defensive unit, it seems as though Klopp and his team have made the most of what was a terrible situation.

Firepower was something that many thought the Reds would lack, but Salah and Mané stepped up to the plate with 22 league goals apiece last season, and along with the pivotal Roberto Firmino helped to fire Liverpool to a sixth European crown in June.
After first fearing that the void Coutinho left behind would be shattering to Klopp's side, it's proven quite the opposite and they have grown into one of the most feared sides in world football in his absence.
So to now be presented with the potential of Coutinho making a shock return to Merseyside after less than two seasons after securing his dream move to Catalonia is a puzzling quandary to say the least.
The latest reports suggest that due to Barcelona still owing the Reds considerable amounts of money for the transfer, that Coutinho returns on a two-year loan deal with an option to make the move permanent in 24 months.
Now, if we remove all of the emotion, the politics and the back-story from this saga, and look at it in a purely footballing, tactical sense – this could actually make a great deal of sense for Liverpool.
It'd be fair to say that Klopp never did replace Coutinho like-for-like. He came close with a deal for Nabil Fekir which imploded at the eleventh hour, and you could argue that Oxlade-Chamberlain played in a creative and dynamic attacking role last season before his cruel injury struck.
But there was never the signing that was the new Coutinho.
While Liverpool's attack has evolved into something more, with Salah proving influential, Firmino the lynch-pin and Mané improving year after year, all looks well.
But with Coutinho back in the mix, it not only provides more cover for the front three, but it gives Klopp more options in the middle, too.
It gives him the choice to mix up his midfield, to throw more caution to the wind when his side are chasing a goal or needing to break down a stubborn defence.
It gives him the chance to play Coutinho behind the front three, pulling the strings as he did before he left, or having him out wide when Mané or Salah need a rest or pick up knocks.
There's no doubting his class, for all that has been said and done. He's a smooth operator and while he hasn't exactly shown this at the Nou Camp, we all know deep down that he can still conjure up some moments of magic.
Throw him into the mix again, and by adding one player, even if it's Coutinho and it's only a loan for now, and it's the type of signing that could propel Liverpool onto further silverware.
Having the choice of Milner, Henderson, Fabinho, Ox, Shaqiri, Lallana, Wijnaldum and Coutinho in the middle is a luxury afforded to few sides on the planet.
And as for attackers? Take your pick from Mané, Salah, Firmino, Origi, Brewster, Shaqiri and Coutinho. Starting to look pretty decent, right?
Then there's the financial aspect of a loan deal. Paying only part of his wages allows the Reds to soften any financial blow Coutinho's return may have, and would inevitably lead to a cut-price deal should they wish to take him back permanently come the end of the deal.
It might well just be a deal that suits everyone down to the ground – especially if Kia Joorabchian is to be believed.
If Liverpool still lies deeply inside Coutinho's heart, can Klopp and Liverpool find it in theirs to find space for him again this season? It could, genuinely, be huge.