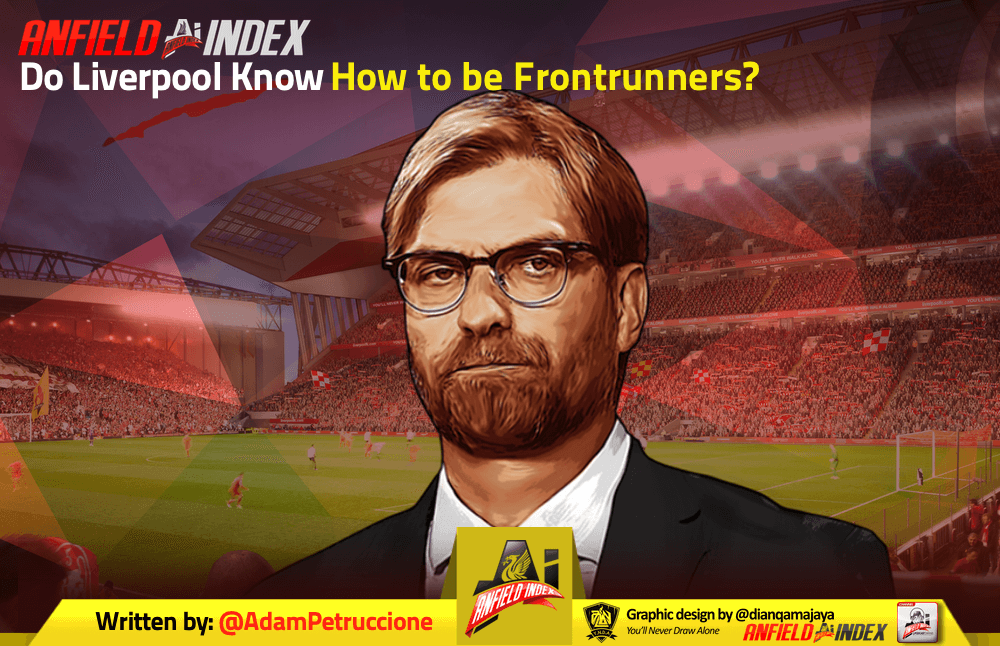 Do Liverpool Know How to be Frontrunners?
If you could have one movie character share Michael Edwards' air-conditioning and have a chat across his desk, who would it be?
I'll pause for a moment while you ponder the possibilities.
The right answer is, Ben Affleck. No, not Batman. Edwards doesn't need to be roughed up just yet. Maybe A.J. from Armageddon could have a heart to heart with our sporting director and let him know just how important it is for us that he makes a signing, running an animal cracker across his abdomen. But this is a professional workplace environment, so the character needed is Jim Young, the stock broker from Boiler Room.

I'd like Affleck to lean towards the baby faced Edwards and deliver the line that made that movie.
"Act as if. You understand what that means? Act as if you are the f*cking President of this firm. Act as if you got a 9″ c*ck. Okay? Act as if."
You see, Liverpool have thrived under Jurgen Klopp when the football world thought we were done and buried. When we were a nice little story, but couldn't quite get over the top, everyone loved us. Now, let's be honest, we're #unbearable. Manchester City could have won 16 trophies last season, but they didn't win THE trophy. Liverpool did. Now we're the lead dog. We're the frontrunner. How will we function in that role?
So far, the signs aren't great. With less than three weeks to go before the end of the transfer window and the start of the season The Reds are off in America, focused on pre-season drills and media plugs rather than transfer machinations. The two acquisitions that we have made are so green, they were born after Boiler Room debuted.
I've written many times before that Liverpool supporters have to be humble with our expectations. Amongst the other European powers, Liverpool are the not a capital, not a globally relevant city. We are the outlier. But, this season all of that should be out the window. We are at the peak of the football world while United, Barcelona, Real and Bayern have lost their footing and the time is now to operate from that position of strength. Every report out there shows Liverpool are a club in pristine financial health. Even our admittedly high wages are well in line with the rest of our rivals relative to our turnover. And yet we're still holding back.
There is still time for Michael Edwards to throw his Ferrari Cabriolet keys down on the table…
They say money can't buy happiness? Look at the f*ckin' smile on my face. Ear to ear, baby. You want details? Fine. I bought Phil Coutinho for 8 million, sold him for 145. What's up?
Buy him back for 80 mil just to drive the football world crazy and cement your legacy as the biggest back-room badass in Europe, Mr. Edwards.
So many fans and journalists make statements suggesting that Liverpool aren't buying because they can't improve any of their existing starters. That's not a winning mentality. Andy Robertson is possibly the best left-back in the world, but he's the best left-back in the world in our system, with our players around him. Is it impossible that a Firpo could be the preferred choice by the end of the season? You can bet Firpo would back himself. Maybe he doesn't and you end up moving him on. Is Edwards afraid of having to offload a player? He's proven quite talented at it. Use that strength.
Phil's attitude bothers you? You don't see Barcelona crying about the way Neymar left. They're moving heaven to and earth to get him back because, in their eyes, he's one of the best players in the world.
There's also the problem that with Liverpool absent from the market, the players that we could have targeted with our team of statisticians and scientists are landing in other changing rooms, distorting the market against our favour. Based on our record in the Klopp era The Reds have a very good idea of who the game-changers are that are available in this market regardless of cost. Those players are going to end up in rival squads if we remain in the shadows.
Phil Coutinho and James Rodriguez are still out there, world-class players who have been victims of circumstance. They should never be on the market. Perhaps Edwards is more confident than we know, letting the market come to him and he will make that play for one of the many über-talented players that only remain on the shelf because football hasn't decided how to adjust to the rapid level of inflation.
"I'm happy with the team, we are really happy. We have to see if we find maybe one position, if we find something for it, but there's no real pressure because it's not about signing a player. We have solutions for all the situations."
Jurgen Klopp's quotes from the other side of the Atlantic have a little bit for everyone. In a couple of sentences he provided evidence for those who have already given up on the transfer window and those who are still holding out hope. Klopp could have a future in poker when he hangs up his clip-board. Not that the club needs any additional credit from the likes of this writer, but one position would do it for Liverpool, vaulting them to a position equal to any club.
One attacking player could make Liverpool's front-line so strong that the fullback depth wouldn't ever matter. One fullback who could moonlight as a winger would clear up all of our obvious deficiencies. One particular attacking midfielder to string it all together would make Dave Hendrick a happy man, and again, would cover up the other areas of weakness.
Will we find an external solution for that "one position" that Klopp mentioned? Sixteen days remain before we face City in the Charity Shield. Ten business days. Whatever the plan is it's going to have to unfold quickly, especially since the most vulnerable moments for this club will be the opening weeks when Mo Salah, Bobby Firmino and Sadio Mané are still working their way back from summer tournaments.
Put the finishing touches on this Ferrari. Make that one killer buy, Liverpool. Act as if.
Up The 9" Reds