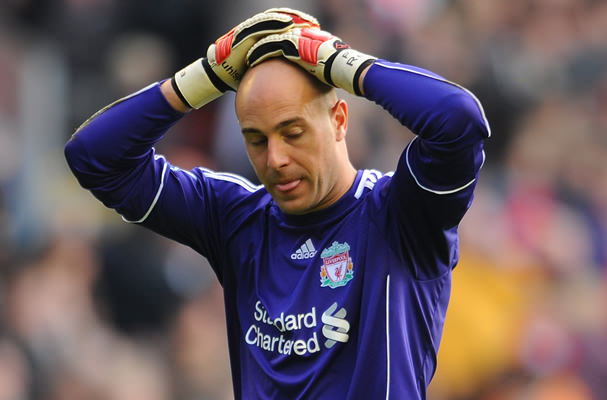 Liverpool FC | What's stopping Pepe Reina?
With Liverpool sat in sixth place, three points off of fourth placed Chelsea and an inferior goal difference to the sides above them in the table, what do we need to improve on to get into a Champions League spot?
A meagre goal difference of +4 has stemmed from home draws with Sunderland, Norwich and Swansea.
While the attackers have failed to perform their duty of finding the net this season, the defence has also made costly mistakes and one of those criticised has been Pepe Reina.

The suggestion is that something is not quite right with Reina and that he hasn't been up to his usual exemplary standards of goalkeeping.
How accurate is this assessment?
If we compare the Spanish stopper to some of the other top performing goalkeepers from the Premier League, the stats show that he is equal to or better than the rest in most areas.
For example, the table below shows that Reina has kept four clean sheets in his 11 appearances this season, which puts him level with three of his competitors.
What we can also see from the table is that Reina has only conceded ten goals so far this season, which is matched by Manchester City's Joe Hart and bettered by Newcastle United's Tim Krul, who has conceded just eight goals this season.
However, a noticeable stat that puts Reina in a bad light is his three defensive errors, two of which have led to a goal. Firstly, Reina spilled a Jermain Defoe shot into the path of Emmanuel Adebayor in a 4-0 defeat to Tottenham at White Hart Lane, before coming out to meet a cross from Norwich's Anthony Pilkington, only to be beaten to the ball by Grant Holt in a 1-1 draw at Anfield.
This is not to say Reina should bear the brunt of the blame, both goals could have been avoided by stopping the ball reaching the penalty area in the first place. Once in the penalty area though, it is the goalkeeper's responsibility to come and claim crosses or shout out instructions to the markers to deal with the ball.
If you are going to come off your line, you have to make contact with the ball. Reina didn't do that and Holt took full advantage. To make it clear, the defence could have dealt with both goals better and instead of looking at simply blaming Reina for his mistake, we should look at the team's collective responsibility for every goal that we do concede.
Individuals are going to make mistakes, this is inevitable, but mistakes are more likely to be avoided if the chances are prevented at the source. For the Tottenham goal, the failure to close down Defoe before he got his shot in at goal, forced Jamie Carragher into moving away from Adebayor, allowing the striker a free run at the rebound from Reina's spill.
Even more players are culpable for the Norwich equaliser, Charlie Adam losing possession is the opposition half was followed by a tentative charging the cross from Jose Enrique and both Carragher and Glen Johnson failed to deal with Holt, as Reina came and missed his attempted punch.
Since arriving at Anfield in the summer of 2005, Reina has prided himself on being a reliable figure between the goalposts. He has also captained the side as recently as the Swansea game before the international break, his reputation is not in question, especially after joining Bruce Grobbelaar and Ray Clemence on 150 clean sheets for Liverpool.
Reina has been an ever-present in the league since missing the 2-2 draw with Charlton on May 13th 2007 and if we look at the table above comparing the last four seasons, you can see how valuable he is. It is not so much the 20 clean sheets he amassed during the 2008-09 that stands out, it is more that he still picked up 17 clean sheets in 2009-10 and 14 in 2010-11, where the team had slumped out of the Champions League places.
Also noticeable is that there was an increase of over 100 chances at goal from 2009-10 to 2010-11, highlighting the vulnerability in the defence, resulting in the highest amount of goals conceded during this comparison. This vulnerability added to the previous ownership and managerial regime almost resulted in Reina quitting Anfield for pastures new, until FSG and Kenny Dalglish arrived.
Now that the balance to Liverpool as a football club is being restored, it may be a while before the same could be said for the team to complete its transformation. New signings and new expectations have impacted on the flowing football that was being played towards the end of last season and fans need to be patient as Dalglish and his staffs build a team that is competitive now and in the future.
If we're going to play as a team, we need to defend as a team and that starts with the attackers, whose responsibility is to close down the ball. Players need to start taking more responsibility for the team, in all areas on the pitch and fans need to cool their expectations as the team finds its identity.