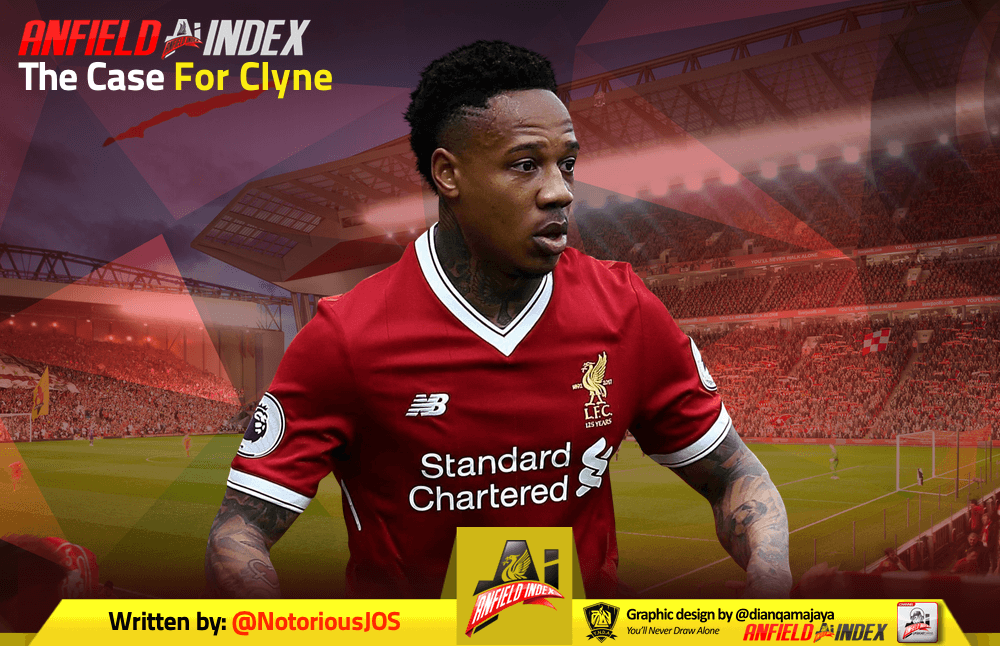 The Case For Clyne
Truth be told, Nathaniel Clyne is not an ideal fit for the Jurgen Klopp Liverpool of 2019.
That's not to say the former Crystal Palace and Southampton full-back is a bad player; objectively, he is — as Premier League full-backs go — good.
But with Liverpool's ultra attacking and productive full-back pairing of Trent  Alexander Arnold and Andrew Robertson setting the bar ridiculously high, Clyne will find his game time — provided he stays — limited unless injuries occur.

There is a question of style to consider, too. Alexander Arnold and Robertson are invariably Liverpool's source of creativity, with the lateral midfielder's in the 433 system tasked with providing defensive coverage for their marauding full-backs. The defensive assurance offered by the twin number 8's in Klopp's engine room was a key reason in Alexander Arnold and Robertson registering 23 Premier League assists between them last season, while the team were simultaneously the league's stingiest defence.
Clyne, meanwhile, is far more limited in terms of his attacking output. The established full-back duo are more comparable in style to a Fabio Aurelio, whereas the Crystal Palace academy graduate is more akin to Alvaro Arbeloa.
In his 185 Premier League appearances to date, the 14 times England capped Clyne has claimed 11 assists; the same number Robertson registered last season alone for Liverpool. Granted, Robertson has played in a better team than any of those Clyne has played for, early days of Klopp Liverpool, Southampton and Bournemouth, but those numbers exhibit the differing style of play of the Scotsman and Liverpool's number two.
So, if Clyne — in the event of injury — has to play an extended number of games it will hamper Liverpool's attacking game? Most likely. But would it be an issue of insurmountable proportions for the Reds and their title challenge? Not necessarily.
Liverpool need only look at their title rivals, Manchester City,  to see that a team can prevail with less than ideal player's in one of their full-back slots.
For the best part of the last two season's, Pep Guardiola's charges have obliterated all before them in the Premier League with midfielder Fabian Delph shoehorned into a hitherto unfamiliar left-back role in the long term injury absence of Benjamin Mendy.
To mitigate for Delph's lack of attacking output, City have played German Leroy Sane on his "natural" side — a left-footer on the left-hand side — in order to offer width and create space for those further infield.
This is something Liverpool could look to replicate if they switch back to the 4231 shape they played in the early parts of the 2018-19 season. By playing Sadio Mane on the right-hand side, the six-times European Champions can retain a wide attacking presence and let Clyne focus on his more defensive, steady game. Mane's ambidexterity would also offer attacking incision cutting in onto his left foot or going around the outside on his right foot. Encouragingly, the Mane and Clyne right-wing tandem has been proven to work relatively well; with the duo operating on the same side in Liverpool's Champions League securing 2016/2017 season.
With backups to both Robertson and the front free tentatively flagged in the media as areas, Liverpool may consider investing in this summer, keeping the steady and defensively effective Clyne —  and not investing in a player who may overall be inferior — could save the Reds millions for areas in greater need of signings.