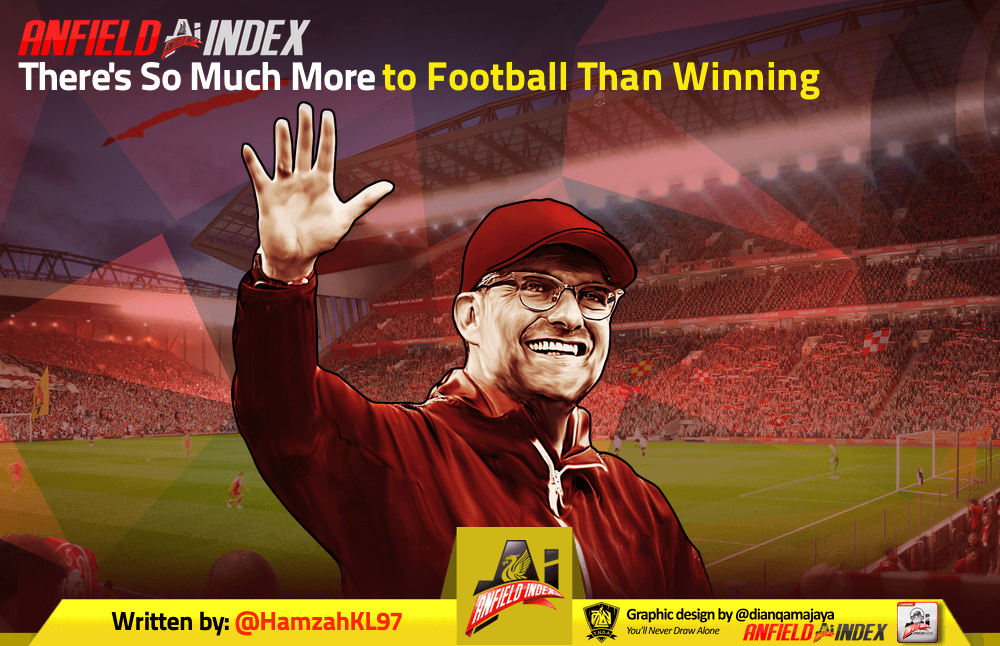 There's So Much More to Football Than Winning
There are very few seasons in recent memory as gripping as the 2018/19 campaign. Gritty, determined, and in a few moments, utterly magical, the season will live long in the hearts and minds of Liverpool fans. But what made it so special, was it simply just the victory in the Champions League final? It seems strange to reduce a season which featured an unprecedented league performance, and moments of bedlam, induced in no less than four occasions by Divock Origi, to a single game.
It was at that game though, in the Wanda Metropolitano stadium, where I realised what made the season so special to me.
There were several moments that I will never forget from that night. Van Dijk closing out Son, in a one on one; Alisson saving Erikson's free-kick; Divock Origi's definitive strike to secure Liverpool's 6th European Cup; and seeing Jordan Henderson lift the Champions League trophy up against the night sky. All of these moments gave me immense pleasure, with Henderson's crowning moment a particularly touching one. But my favourite moment of the night was not any of these. Rather, it was the moment I was able to share the experience, with my Dad.

Seconds after full-time, my phone buzzed, as I received an incoming video call. I answered immediately. The screen showed my Mum, Dad and my two sisters bouncing around the living room, screaming. My Dad ran over to the phone, displaying six digits to the camera.
I can't remember the words we exchanged, but that feeling, at that moment, surpassed anything else I felt that night. Sharing the experience with the people you love, irrespective of whether your team wins or loses is what makes football special. It's what makes Liverpool special too.
Like many fans, I went to my first match, at Anfield with my Dad. I've never been to Anfield to watch a match without him.
Without him, watching Liverpool just wouldn't be the same, irrespective of how much the club wins. Those experiences, wins, draws or losses, carry so much more weight and meaning when you can share them. This year, I have been less able to visit home, and consequently, all season long, on matchdays my Dad would message me with every update. Here are a few typical ones:
"GOAL!!"
"Unbelievable !!!"
"Have you got a stream?"
"Maneeeee !!!"
It sounds ungrateful, but in some respects, I wish I was at home that day we won the Champions League, just so I could have jumped around the living room with my Dad, like we did when Mané scored in the final, last year.
It was in that same living room, which my Dad was vaulting furniture in after Origi scored, that I have witnessed some of the most brilliant and breathtaking matches of football. Matches which I will never forget: Liverpool 4-3 Borussia Dortmund, Manchester United 1-4 Liverpool, Liverpool 5-1 Arsenal, Liverpool 4-3 Manchester City, Liverpool 3-2 Manchester City, Liverpool 4-0 Real Madrid. In each of those games, I can detail every moment, and celebration I shared with my Dad.
Similarly, that same room has hosted emotionally crushing games, such as Crystal Palace 3-3 Liverpool, Liverpool 0-2 Chelsea, Liverpool 1-3 Real Madrid and Manchester United 3-0 Liverpool.
But all of those games are special, despite the divergence in outcomes. Precisely because they were shared. Shared with the same people that I have watched football with, all my life.
For some people, their love for Liverpool may come from a parent, carer, sibling, grandparent or even just a friend. Whilst it's great to win trophies, I know that I would rather watch Liverpool win, draw and lose with my Dad, more than anyone else in the world. It would not matter anywhere near as much to me if we won a trophy, unless I was able to share that experience with him. I know, when being a Liverpool fan, it is easy to get lost within a title challenge and join in on the fury over a lack of signings. But football and Liverpool FC is about so much more than simply winning a trophy.
Last year, I knew I was witnessing something special as the season rolled on, and I made sure to just enjoy what I saw. No matter what the outcome of the season was in trophy-terms, I was content with watching something I would never forget, a feeling of invincibility and anticipation for every game.
This season, I'll try to do the same, but I'll make a little extra effort to savour and share all those little moments that make up a Liverpool FC season. We are so fortunate to witness what the club has done over the past few seasons, and will likely continue to build upon. Hopefully, Klopp's Liverpool can make something beautiful, and we'll have memories to last a lifetime. Being able to share those memories and moments, is more than winning, it's everything.