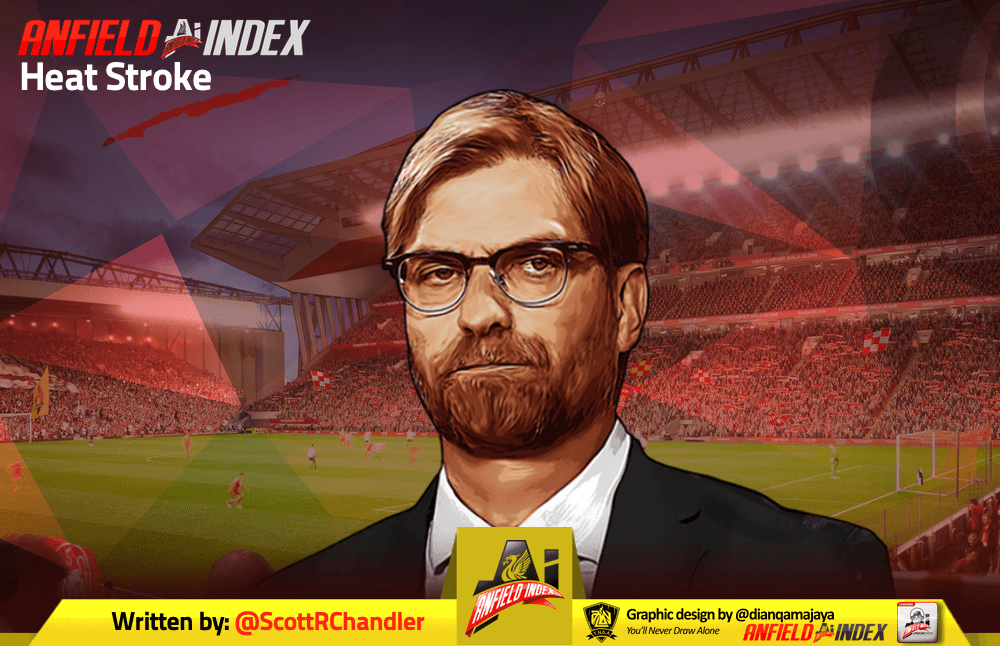 Heat Stroke In The USA For Liverpool
A year ago, Liverpool put a finishing touch to their USA summer tour by dispatching bitter rivals Manchester United in front of a crowd of about 100,000 on a sunny, hot afternoon. Despite coming off a tough loss to Real Madrid in the Champions League Final, the Reds were in fine form against United and put on a show for the adoring fans, who put in their own fine performance being in full voice throughout the match. One year later, the Reds once again travelled to the USA for their preseason tour, but this time with the Champions League trophy in tow. A match against Borussia Dortmund – the Jurgen Klopp Bowl – should have been a joyous way to kick off a victory celebration across the states for Liverpool. On this occasion, the heat proved a bit too much for Jurgen's conquering heroes.

In fairness, it was really humid and hot, even for a midsummer's day in Indiana. An excessive heat advisory was declared before kickoff, and attending fans were actually allowed to bring in their own water just to stay cool. It was challenging just to watch a football match, let alone play in it. Whereas Liverpool sparked against United all match last year, they were sluggish right from the start against Dortmund. Slack and sloppy defending – especially from Nathaniel Clyne, who didn't impress on the day after returning from his loan at Bournemouth – led to a point-blank score for Dortmund after only 4 minutes. Liverpool grew into the match thereafter, especially through Fabinho and Ox bossing the midfield. "Like a new signing" is an over-used phrase at Liverpool Football Club, especially when it comes to avoiding talks of brining in actual new signings, but Oxlaide-Chamberlain was in fine form and really impressed with a bevy of flicks and tricks. One passing series saw Harry Wilson take a heavy foul to progress the ball forward to Ox, who set up a great chance that could have ended up in the back of the net. Later, a dummy by Ryan Kent off a Fabinho pass set up Wilson, who showed off some of his fine finishing at Derby County last season to send the match level at the break.
But while Dortmund smartly made a number of changes to start the 2nd half, Jurgen decided to let his starters play 60 minutes. This was where the heat took its toll, and Liverpool conceded two more goals thanks to poor and inattentive defending again. The 3rd Dortmund match came off a City-esque cut-back, the type of ball which Liverpool had failed to deal with convincingly all evening. While Yasser Larouci impressed against Jadon Sancho in the first half, he got skinned and could only watch die Schwarzgelben cut back for another easy goal. It was readily apparent that 60 minutes in this heat was a bit too much, even for Milner, who doused himself with so much water during the hydration breaks that he looked like he had been in a diving pool rather than on a football pitch.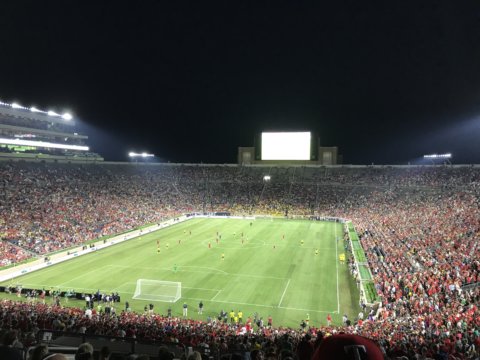 After Klopp changed his entire outfield lineup, Liverpool once again sparked into life thanks to some clever movement from TAA & Robbo on the flanks, plus Gini pushing the ball up the middle. Ben Woodburn also did well to get on the ball, but couldn't quite find the touch to get things going in the final third. He did help win a penalty for Liverpool after arriving first to a deflected ball into the box and then getting taken down. Rhian Brewster continued his breakout summer by coolly burying the penalty into the top right corner. The final 15 minutes of the match produced some end-to-end stuff, and both teams were unlucky to score. Yet, Liverpool fell just short of finding an equalizer.
In the end, the heat zapped the energy of both the players and supporters to result in a rather subdued match for a 3-2 scoreline. While last year's USA matches were dominated by songs and energy, the crowd at Notre Dame Stadium struggled to maintain more than a few rounds of "Allez, Allez, Allez" or the Virgil Van Dijk song. Some life was injected after the Brewster penalty goal, and the Liverpool end managed to set off pyros smuggled into the stadium.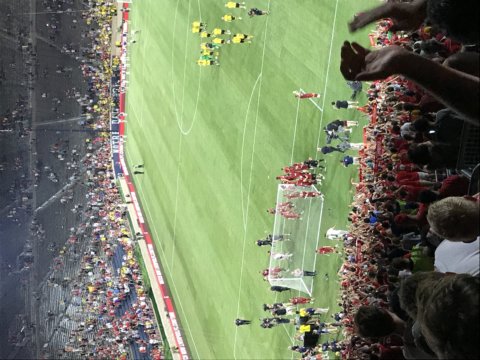 However, despite not being at their best, the crowd enjoyed Liverpool's lap of honor around the pitch, and it was a nice finish to a game spent reflecting on the triumphs of the past season than focusing on what comes next. Better times are surely ahead, especially once the front three returns and players like Brewster and Ox get even more time finding their form again. Like Jurgen sang after the final in Kiev, once the season starts in earnest, the Reds are sure to keep on being cool and bring it back to Liverpool.