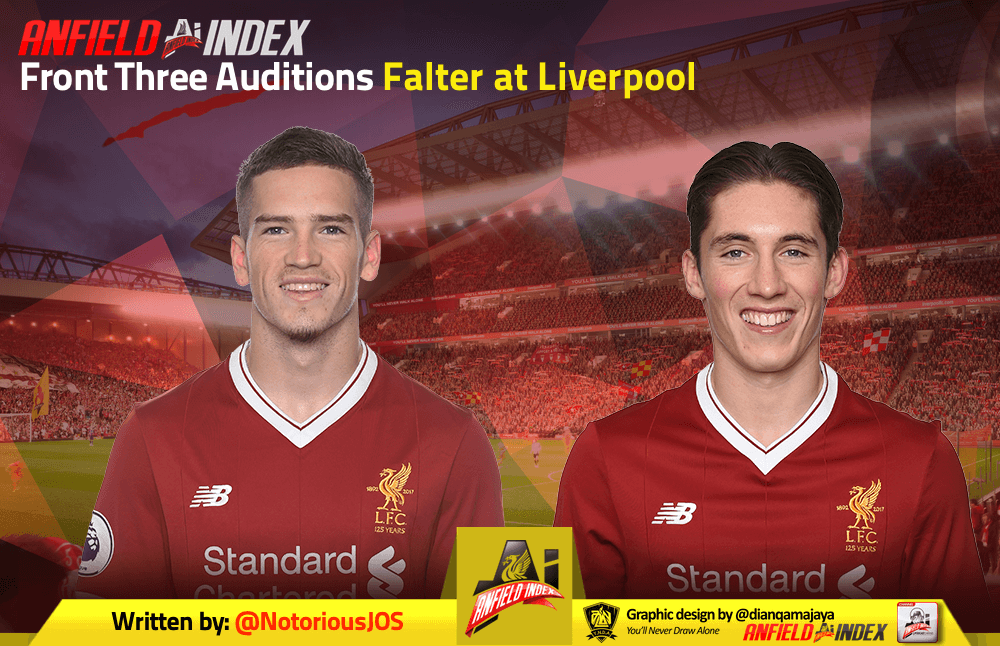 Front Three Auditions Falter at Liverpool
With Liverpool's much-vaunted front three of Sadio Mane, Mohamed Salah and Roberto Firmino enjoying a well earned rest after long and energy-draining season's with both club and country, Liverpool's opening four games of the pre-season has given an opportunity to Harry Wilson, Rhian Brewster and Ryan Kent to impress Jurgen Klopp ahead of what they hope is their breakout season for the Reds.
With Xherdan Shaqiri nursing an injury he picked up in the Nations League with Switzerland, the window for the aforementioned trio of young attackers has been extended further.
So far, with the exception of Brewster, none of these players have given Liverpool's incumbent front three cause for worry about the safety of their starting berths in the team.

It's not that Wilson or Kent are bad players, but to come close to the highest of bars set by Firmino, Mane and Salah is an arduous feet. The inauspicious beginning to the Liverpool academy graduates pre-season have only increased the clamour amongst the Reds' faithful for Klopp, Michael Edwards and co to look towards the transfer market for an external solution to their issues surrounding quality depth at the top end of the pitch.
The usual caveats about making concrete assumptions based off pre-season of course apply in the context of Kent and Wilson's showing thus far, especially given the far from ideal circumstances of Liverpool's games Stateside. The opening two games of The European Champions American tour have been played on American Football and Baseball pitches, whose bobbly surfaces are far from conducive to the attacking, passing football Klopp's team endeavour to play.
It is worth mentioning, too, that Liverpool have played against Dortmund and Sevilla teams who are much closer to their strongest sides than the Reds who are missing many key players — among others, Salah, Mane, Firmino, Alisson, Keita and Shaqiri — which clearly has an impact on the capability of forwards to express themselves.
The doubts over Kent or Wilson's abilities to contribute to a team who have designs on winning the Premier League title aren't just borne out of their relatively quiet pre-season's, however, they stem from the loan periods both players spent away from the club last season.
Last season, Ryan Kent joined Liverpool legend Steven Gerrard's maiden senior managerial job at Rangers as he joined the Scottish giants on loan. Despite the effusiveness of Gerrard's praise of the 22 year old winger, Kent statistical body of work in the SPL leaves a lot to be desired. With only six domestic goals in 27 appearances in the Scottish Premier League for a Rangers team who finished second in the table, the Oldham born wideman was far from prolific.
In isolation, Kent has many good attributes including searing pace and an admirable, bloodyminded directness and ambition on the ball. Never content to make staid, lateral passes, the former Freiburg loanee natural inclinations should make him an ideal candidate for a counter-attacking side.
Kent, however, doesn't have the decision making or tactical acumen to tie these impressive attributes together into an effective package. Liable to run down blind alleys and make poor decisions on the ball, the former England U20 international has flaws similar to those of former Liverpool player Milan Baros.
While 22 is still young for a football and natural improvements will come organically for Kent, he will never — unless in instances of a massive injury pile up — get the requisite game time at Liverpool to work the kinks out of his game and the best move for both parties will be to cut their ties.
Wilson, meanwhile, who did score against Borussia Dortmund, has had more impressive loan spells under his belt; firstly at Hull and last season at Derby, where he scored 16 goals and assisted four. Clearly, Wilson is a level above the Championship but whether he can translate such form into the Premier League is a question mired in scepticism.
Blessed with a pearl of a left foot, the Welsh international has built a reputation for a player with a penchant for long-range strikes and dead-eyed precision from free kicks. Wilson's long-range free-kick goal at Old Trafford in last season's League Cup was a glowing testament of the 22-year-old's capability in set-piece situations.
However, the eleven times capped Welsh winger's arsenal of attributes appears unbalanced. While he excels at long-range shooting, his link-up play and ability to assist others is relatively sparse. Only four assists over the course of forty league games with Derby is not a plentiful return, especially for a squad regarded as one of the best in the second tier. His main rival for the back up right-wing slot, Shaqiri, meanwhile, only added one less assist in almost 2,000 fewer minutes — 1059 in the league to Wilson's 3456 —  last season, at a higher level and with the impediment of playing infrequently and lacking the rhythm that regular game-time brings.
While Wilson should be above Kent in the Reds' back up forward rota, a Premier League loan — most ideally to a club who try to play expansive, attacking football, such as Bournemouth — would be the ideal next step for the Wrexham born winger. As things stand, he is behind Shaqiri in the pecking order and he won't get sufficient game time — even in a marathon season, as 2019/2020 promises to be — to round out his game and improve.
After signing a five-year deal next summer, Liverpool have the ability to kick the Wilson stick or twist can down the road as they asses his future chances at the club while he spends a season on loan at one of their Premier League rivals.
One thing remains for sure; if Liverpool want to add more silverware to their cabinet next season then they must dip their toes in the waters of the transfer market in their search for quality, attacking depth.