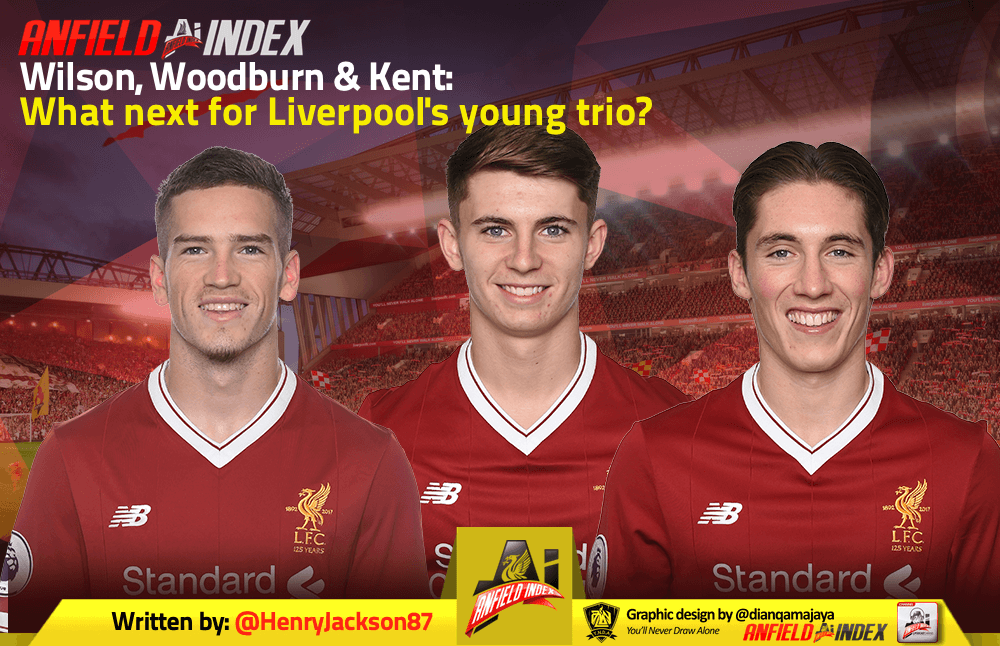 Wilson, Woodburn & Kent: What next for Liverpool's young trio?
Liverpool wouldn't feel like Liverpool if supporters weren't airing some sort of grievance relating to the club, even at this wonderful time.

The current grievance of choice is the Reds' summer transfer activity, which has seen them sign just one player so far: young Dutch centre-back Sepp van den Berg.
There is a frustrating element to Liverpool's business, without question, with fans desperate for Jurgen Klopp's men to kick on and make the most of being European champions.

While the Reds' starting lineup now looks like one of the most formidable in world football, from Alisson right the way through to Roberto Firmino, their squad depth continues to be a potential worry.
Granted, Klopp has built Liverpool's best squad since Gerard Houllier's class of the early 2000s, and should continue to be trusted in the market, but there are areas that look short of genuine class, should the injury curse strike.
A backup left-back is required, despite the performances of the now injured Yasser Larouci in pre-season, and a wizard-like No.10 wouldn't go amiss, adding more guile to the midfield.
A top quality versatile forward would also be handy, easing the workload of Firmino, Mo Salah and Sadio Mane in comparison to the last two seasons.
There are three players doing their best to prove that they can be that man currently: Harry Wilson, Ben Woodburn and Ryan Kent.
The trio are being auditioned by Klopp in pre-season, as the Liverpool manager decides whether or not to keep them on and perhaps even see them as reliable enough deputies for the world-class attackers ahead of them.
While getting behind young British talent is never to be sniffed at, there can eventually become a point when blind faith comes into play. That's what is happening with regards to Wilson, Woodburn and Kent, who are simply not good enough for this Liverpool side, to put it bluntly.
In the past it may have been a very different story, but this is a Champions League-winning side with aspirations of dominating both domestically and in Europe.
Liverpool have to be going head-to-head with an all-time-great Man City team, bringing in the type of quality that they have in their armoury right the way through their squad.
Established international footballers need to be sitting on the Reds' substitutes' bench, not three youngsters who are yet to prove themselves at the very top level.
This is not to decry the respective ability of Wilson, Woodburn and Kent, of course, who have every chance of forging excellent careers over the next decade.
Wilson, in particular, is the closest to making the grade at Liverpool, having shone for Derby County last season, almost inspiring them to promotion to the Premier League.
The Welshman is also 22 already, however, and if the Reds were linked with signing a 22-year-old backup forward who had excelled in the Championship, would that really feel like progress?
The same applies with Kent, who had a season to remember on loan at Rangers under Steven Gerrard, scooping PFA Scotland's Young Player of the Year award.
A gifted wide man blessed with dribbling ability and an eye for goal, he could end up becoming a regular in the Premier League one day, but he is well short of Liverpool's level.
Woodburn's story has been a disappointing one since he burst onto the scene in 2016, becoming the youngest goalscorer in Reds history.
Loans spells have failed to work, performances for Liverpool's U23s have been lacking and there is an increasing feeling that he is not up to the task.
It should not be forgotten that Woodburn is still a teenager, however, so he still has time to grow, especially compared with Wilson and Kent.
At the time of writing this, Liverpool are about to take on Sporting CP in New York, so if one of the aforementioned trio has scored four goals and produced an all-time great pre-season performance, forgive me for not mentioning it!
Whatever happens between now and the start of the season, though, Wilson, Woodburn and Kent have shown enough to prove that their time at Liverpool is up.
Perhaps it sounds a little brutal, or maybe they merit more time to prove their worth, but football is a ruthless business and the Reds cannot afford to sit still and take a gamble.
These three talented young players have been given plenty of chances to show they belong in a Liverpool shirt, but with each passing performance, it becomes increasingly clear that their futures lie elsewhere.
Liverpool should be able to receive healthy fees for the trio – rather than send them off on loan again, it's time to cut all ties and wish them all the very best.