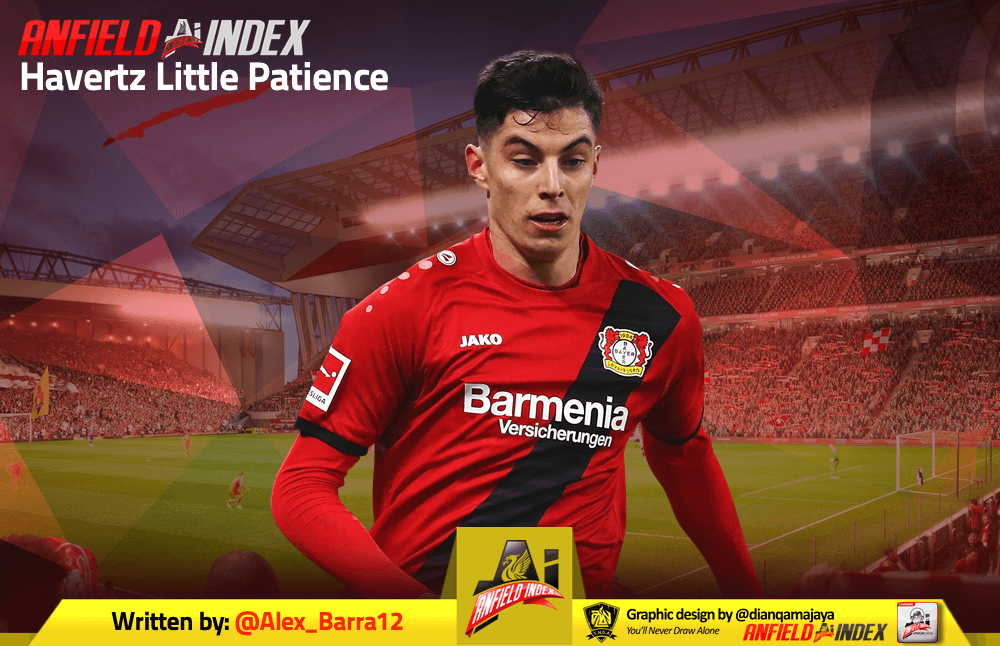 Havertz Little Patience

Yes, this is a piece condoning, and perhaps even encouraging, a lack of Liverpool signings this summer.
But if anyone's angered by that, they're hanging onto a reality that's long passed them by. After all, Liverpool fans have had it broadcasted on repeat that Klopp and co. aren't planning any significant investment this summer. Of course, the need for an able backup attacker is still as imperative as it was a month ago, as is detailed by this author's piece right here.
But maybe, just maybe, that's okay. After all, if the German has proved anything during his tenure at Liverpool, it's that a little patience goes a long way.
Perhaps all the way to the Ballon D'Or, in fact.
Indeed, the most prominent reason Jurgen Klopp gave for ruling out a potential return of Phillipe Coutinho was not that ties were broken – they weren't – nor that Coutinho didn't want to come – his agent has already tried – but that it "would be a big, big, big, big, big, big, big, big-money signing and it's not our year for that. It's just not possible."
Which is handy, because that's likely the same reason Liverpool aren't currently chasing someone like Kai Havertz, whose quoted price tag has escalated past €100 million.
So, perhaps Liverpool will be in the market for a "big (etc.) money signing" next summer? And that's not a bad thing, because it would mean a fresh pursuit for the best U21 talent in the world not named Kylian Mbappe.
Why Havertz is the thing people want Bruno Fernandes to be
Fernandes' impressive showing in the Sporting friendly sparked myriad declarations on Twitter that he was perfect for Liverpool. It was a step too far, considering his propensity to hold onto the ball too long and exaggerated goalscoring record (seven of his twenty league strikes were penalties). What it did do, however, was highlight something Liverpool are currently lacking: attacking vigour from the top of midfield.
Kai Havertz scored 14 non-penalty league goals at nineteen years of age (he turned twenty in June) in a much more difficult competition than the Portuguese Primeira Liga and registered four assists on top of that. He was part of a truly exhilarating Leverkusen front line alongside Brandt, Kevin Volland and sometimes Leon Bailey or Lucas Alario, and under Peter Bosz became the fulcrum for Leverkusen's attack.
Unlike Fernandes, he didn't rely on everything moving through him; sometimes it was the opposite; he'd play the first pass and not get onto anything until the finish, where he'd often pop up, perfectly composed.
Really, that's the most striking thing about him: just how cool he is, no matter the situation.
Any midfielder who scores more than ten goals in a season will draw lazy comparisons to Frank Lampard (as has happened to Fernandes) but really, Lampard's best trait wasn't just that he scored loads, it was that he scored loads from all kinds of places. He had a striker's nous for a goal, and while Havertz is far more complex than just a "goalscoring midfielder" it is notable that he scored nine of his 17 goals from inside the penalty area (having beaten the offside trap and dribbled inside it four times). Two were headers, two were from long-range, and three were penalties. This isn't the marks of a long-range shooter, it's those of a shadow striker.
When called upon to take penalties, he made them seem like foregone conclusions, while his finishing is as unerringly calm as you'd find in a prolific number nine. Sometimes, he deceives in such a way that he seems like an outright striker, but that would be doing his support play a disservice.
He was more than just a number ten, too, having played on the right on multiple occasions when Brandt was moved centrally, and played deep in a midfield two early in the season (though that amplified his weaknesses defensively and wouldn't be recommended again.) But it was his shift back to an attacking midfielder role against Bremen that truly kickstarted his season and began the slew of goals to come.
The similarities to Fernandes are striking, but two things mark him out: his finishing is better, and despite his age, he's far more adjusted to a big team. It's not just his composure, it's that he was Leverkusen's most prominent player at age nineteen, without having a team built around him.
Why it might be worth waiting
Liverpool will be hard-pressed to deliver a Premier League title this season.
Aside from the fact Liverpool reached 97 points and still didn't win it, Manchester City's weakness has been resolved with the signing of Rodri, Guardiola will be looking to repeat his tenure at Bayern with a triad of league title wins and should City go out of the Champions League, there will be no stopping them.
However, with Pep Guardiola's likely departure at the season's end, Klopp's penchant for long-term planning could come in handy.
Just consider whether Liverpool would be European champions right now had they not waited six months to get Virgil van Dijk. Would the rumoured understudy of Kalidou Koulibaly have delivered the same success? Probably not.
In the same way, buying Bruno Fernandes or someone similar may well improve Liverpool's squad this season, but none will be such a generational talent as the twenty-year old. There will be competition from Bayern, but then Liverpool's Champions League triumph won't be forgotten all that easily, will it?
So, if Klopp and co. want to wait for a more opportune time to splash the cash, they should be allowed that right. Especially if it means a talismanic young German ends up at Anfield.