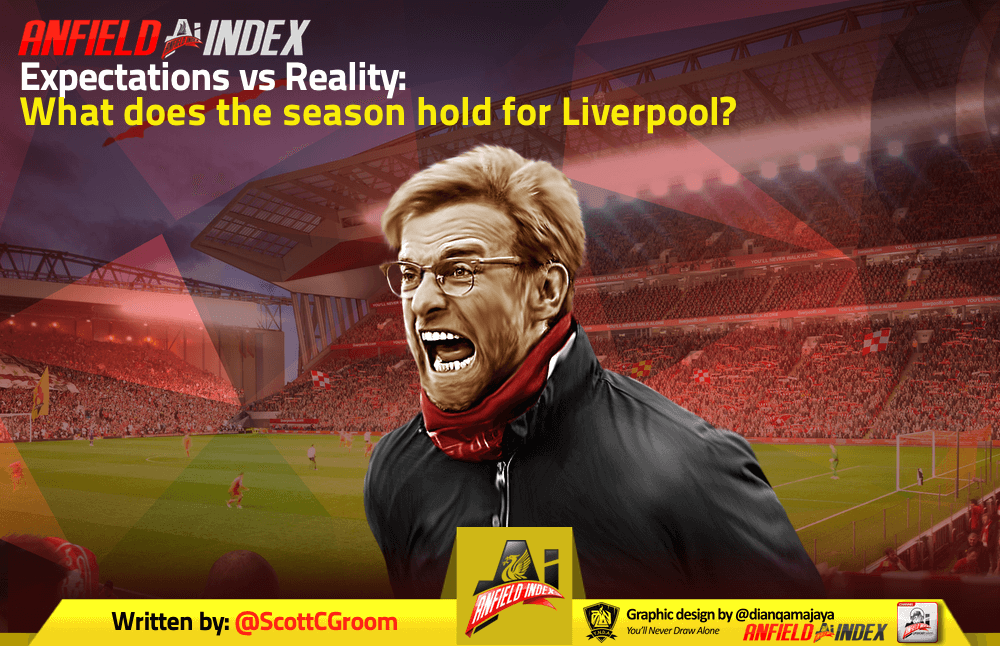 Expectations vs Reality: What does the season hold for Liverpool?
To say that last season was one that exceeded expectations would be unfair, but to look back at the levels of performance and consistency Liverpool achieved is remarkable.
It felt like a title challenge was just around the corner under Klopp, but to do so well, amassing 97 points and losing just once and still missing out, was a huge achievement in itself.
The levels of consistency that Liverpool showed were remarkable, and their efforts were rightly rewarded with silverware in the addition of number six to the Anfield trophy cabinet.
So, after such a thrilling season last time around, what can be expected and how does that balance the reality of the current climate of the Premier League?
Whether or not the Reds reach such astronomical levels of performance again is perhaps the biggest question. While many will expect nothing less than last season's levels, it's going to be something that's hard to replicate.
It wasn't Liverpool's best-ever season in England's top flight for nothing; the boys were wonderful.
From their watertight defence to their potent attack, and even their industrious (and way too harshly critiqued) midfield, the Reds romped it.
In any other given season, they'd have strolled their way to the league title, it just so happens that Manchester City and Pep Guardiola had other ideas.
This being said, I think this is something that Liverpool fans should and probably are expecting again this season – a title challenge.
While claiming a sixth European Cup is an astounding achievement, there remains a longing for the league title to return to the red half of Merseyside.
After last season, fans will feel that Liverpool are closer than ever to achieving this goal, and that's true, so if there's to be a competition that Klopp prioritises this season, it must be the league.
But what this likely means is that other competitions may slip by the way side.
Liverpool are competing for six pieces of silverware this season, and to expect them to go far in all of them is optimistic.
Yes, Manchester City won the Premier League, FA Cup and Carabao Cup last season, but things like that don't happen often.
This is where we need to balance our hopes and dreams with what, realistically, we can hope for.
The squad looks in good shape at present, with all major players secured for the long term contracts, exciting players like Oxlade-Chamberlain and Brewster returning from injury and a belief in the squad that there's more silverware to come.
And there is. In fact, I'm very confident that Liverpool will lift another meaningful trophy next season – Club World Cup and Charity Shield aside.
To expect Klopp's side to walk away with all six trophies is pie in the sky stuff. It just is.
But to expect them to challenge heavily for two domestic trophies and have a good run in Europe is now the reality in which Liverpool find themselves.
They say that success brings with it extra pressures, and in this case that's true.
The levels that Liverpool reached last season and the rewards it brought with it have raised the bar, it's now up to them to push themselves even further to bring fresh success to Anfield and create a new glory era.