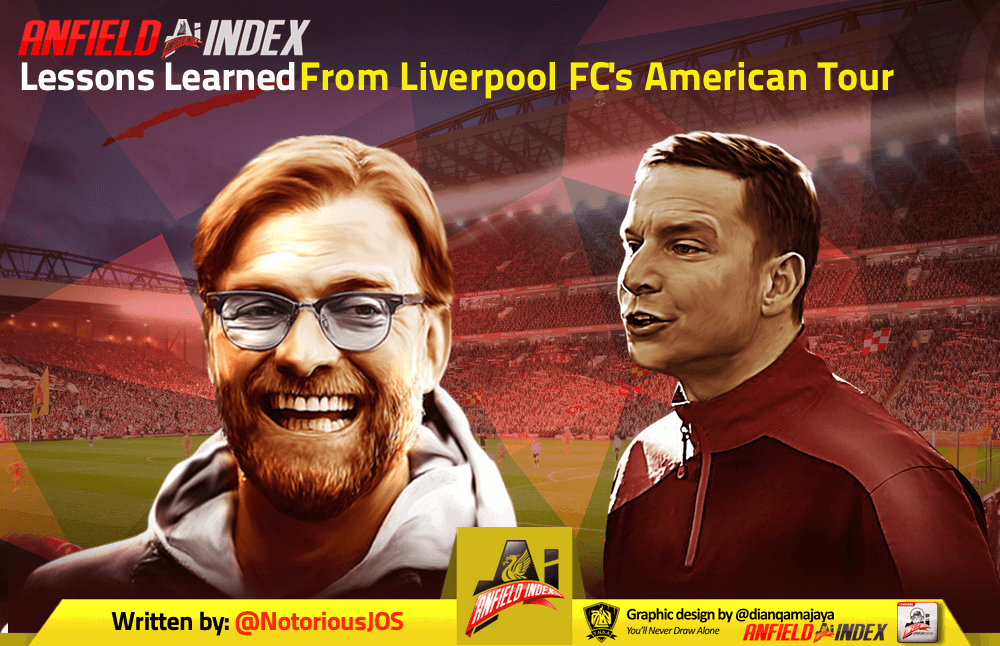 Lessons Learned From Liverpool FC's American Tour
Liverpool completed their pre-season tour of The United States with a 2-2 draw against Sporting CP in Yankee Stadium, New York in the early hours of Thursday morning.
The draw was the Reds' third game of their tour, and the first game they didn't taste defeat in after falling to Borussia Dortmund in Indiana and Sevilla in Boston's Fenway Park.
As was the case in European Champions' previous off-season jaunts across The Atlantic, the tour can be considered a commercial success.

Healthily attended games showed the strength of Liverpool's brand in America and the passion and loyalty of the Reds' fanbase Stateside.
From a footballing perspective, the results nor the performances were good but there was several lessons for Jurgen Klopp and co.  — as well as the fans — to take on board heading into the season proper.
Context Is Key
Liverpool fans never want to see their club lose, but the defeats in America aren't a harbinger for a poor season or a reason to panic. The fact is, Liverpool — thanks to injury and extended rest given to their key players after summer international football — fielded team's that were a long way from their strongest; whereas their opponents, Dortmund, Sevilla and Sporting, named teams that were or were close to their best.
Any team would look poorer for the absence of Alisson Becker, Mohamed Salah, Sadio Mane, Roberto Firmino, Naby Keita and Xherdan Shaqiri and the additional stumbling block of trying so many players unfamiliar with each other's games in new combinations.
Pre-season is a mechanism for gaining fitness and, win, lose or draw, that is the most important facet.
It is also worth noting that a lot of Liverpool's inability to show their best, flowing football this pre-season is attributable to playing on American Football and Baseball pitches. The bobbly surfaces are not conducive to flowing football, but the novelty of playing in the homes of The Boston Red Sox and The New York Yankees — as well as their bigger, cash yielding capacities — is surely a commercial avenue the club looks to exploit.
Heavy Is The Head That Wear's The Crown
A noticeable feature of Liverpool's pre-season games to date is the enthusiasm their opponents — especially Sevilla — showed when scoring or winning against them. Yes, it is only pre-season but it's not often a team will defeat the European champions. Sevilla treated their friendly with The Reds like a Champions League final and contrived to play in a filthy manner, akin to a hungover Sunday League team.
Joris Gnagnon saw a straight red for a disgusting challenge on Yasser Larouci and Ever Banega tried his level best to join him, in a performance of reckless aggression.
Liverpool have gone from the hunter to the hunted and they will have to be prepared for being the scalp that all team's want to take next season.
The Ghost Of Goalkeepers Past Still Lingers
As much as we shouldn't read into pre-season games, Simon Mignolet's mistake against Sporting was emblematic of the errors that were part and parcel of his Liverpool career before he was replaced by Loris Karius as the first-choice keeper in 2018.
A long, tame shot from reputed Liverpool transfer target Bruno Fernandes floated harmlessly down the throat of the former  Sunderland keeper whose poor positioning meant the ball ricocheted off his body and into the net. It should have been bread and butter for any keeper at this level, but the error adds more doubt to the Belgian's ability to be a number two net-minder at a big club.
For all the intangibles the Belgian brings, in terms of professionalism and contributing the team environment, he has never looked assured while standing between's Liverpool's goalposts.
If the Reds have designs on progressing further than the first rounds in next season's domestic cups, then they should be looking on upgrading on Mignolet, 31.