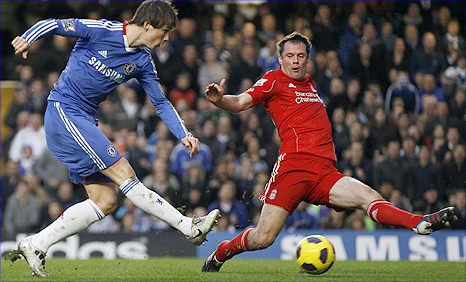 Liverpool V Chelsea | A Super Sunday | Statistical Preview
After an international break which seemed like an eternity, next up for Liverpool is a difficult away trip to Stamford Bridge. We are of course no strangers to Chelsea considering the amount of times we have played them in the league and Champion's League over the last number of years. So expect some players to be quite familiar with each other by this stage. I would expect this game to be a cracker given the fact that both Villas-Boas and Dalglish are two managers who like  to play attractive, attacking passing football. It certainly is set up to be the game of weekend. But will it be a Super Sunday for Liverpool?
Liverpool go into the game on the back of a poor performance and poor result against Swansea at Anfield. All though a lot of credit must be given to Swansea for putting in a great display of football. Sometimes you have just got to put your hands up and say the opposition played well. Our last six reads DWDDWW. One thing noticeable in that form is the lack of defeats we have had over the last number of games. In fact our last defeat came back on 18th September, that infamous 4-0 loss to Tottenham. Again, as I mentioned in my last article, if we could just turn some of those draws into wins we would really be in the mix at the top of the table. We sit sixth in the table on 19 points, only 3 points behind Sunday's opponents Chelsea who sit in fourth place. Chelsea having a 5+ better goal difference, so a 0-3 win on Sunday would see us climb above them in the table (Editor's Note: We can dream can't we?). We have the joint second best defence in the league this season, with ourselves and Man City conceding 10 goals apiece. This season's surprise package, Newcastle United, so far top that list having only conceded a paltry 8. Added to that, Pepe Reina has kept 4 clean sheets in total and you can see we are gradually beginning to gel at the back.
Chelsea go into the game on the back of an away 0-1 win at Blackburn, with Frank Lampard having scored the only goal of the game. Their form guide and last six reads WLLWWW. Those two defeats include a 0-1 away loss at QPR and that incredible game and 3-5 home loss to Arsenal. A game which may be held up as a template of how to beat Chelsea for the rest of the season. Chelsea sit in fourth place in the table, 3 points behind Newcastle (resisting the urge to say 'surprise package') in third and only 4 points behind Man United in second place. With Newcastle playing Man City away this weekend, Chelsea will see it as a great incentive to get 3 points and climb above them in the table.

Chelsea Scouting Report
So let's take a look at how Chelsea may set up, their formation and some of their key players so far this season. Andre Villas-Boas is a manager who is more interesting than most in the Premier League. At aged 34 it is a phenomenal achievement to manage a top club like Chelsea. He is also a manager who has become accustomed to success, and at his previous club Porto had some fantastic successes, winning a treble of Portuguese Cup, League and Europa League. So we are dealing with a man who knows his football, his formations, and his tactics. His preferred formation of course is well known, and that is a 4-3-3 system. See graphic below:
I expect the back four to be Cole, Terry, Ivanovic and Bosingwa as above, with both the full backs essential in providing some width to Chelsea's attacking play. Mikel will play the holding role in front of the back four and as the game develops when the full backs sometimes get stranded up the pitch, expect Mikel to drop almost in between Terry and Ivanovic (as a third centre back) with both the centre backs finding themselves sometimes pushed out wider to cover in behind for the advancing Cole and Bosingwa. Lampard and Ramires will fill the more advanced central midfield positions and provide support for the front three. Expect both of them to make runs beyond the front three at points in the game, namely when either or both of Mata and Sturridge have not advanced into front positions quick enough to support the ball and Torres. Take a look at my graphic below, this is the Chelsea players average position for the entire game against Arsenal.
A few things to note: how close Mata is to Torres, how advanced Lampard and Ramires are, how advanced their full backs are, and how high up the pitch both central defenders are.
Chelsea will approach the game with their own well known tactic, which relies on players playing a high pressing game and winning the ball back as soon as possible, and preferably winning that ball high up the pitch. This is a fantastic tactic with the right players, quick players, mobile, with fleet of foot and technically gifted.
Do Chelsea have these type of players though? I think the Arsenal game put some question marks over players such as Lampard, Ramires, Terry, Ivanovic and Bosingwa. Have these players got the attributes to play this high pressing game? Lampard, Terry and Ivanovic certainly aren't quick, mobile and fleet of foot. It's open to interpretation I suppose.
Of course a natural consequence of playing high up the pitch is your defenders have to play a high line. And with that comes the very risky tactic of playing the offside game against their opponents. Chelsea are third in the table with 43 offsides provoked this season. Only Stoke, in first place on 54, and Arsenal in second place on 47, have used this tactic more often so far this season. See the chart below for an overview.
Off course with Andre Villas Boas in charge his team obviously like to pass the ball. With 5387 total accurate passes (including throws and goal kicks) they outshine everyone else in the Premier League so far this season. Their nearest rival in the passing stakes are Man City with 108 less accurate passes with a total of 5279. See chart below for the full breakdown:
Furthermore, on a percentage basis, when we look at Chelsea's open play pass percentages they also come in joint first with Man City with an open play completed pass percentage of 86%. See chart below. So we can expect Chelsea to approach the game not only putting plenty of pressure on our players when they lose the ball but also using the ball intelligently with plenty of accurate passes when they are in possession.
So let's take a look at the stats of Chelsea's key men in attack. As their central pivot front man they have Torres, Drogba or Anelka to choose from if that is they way they want to play. Mata and Sturridge usually play either side of Torres to make up Chelsea's front three, and in behind the two central midfielders charged with getting forward and providing support are Lampard and Ramires. The table below indicates who the danger is amongst these players:
Any highlighted green in the above table indicates that that is best stat in any particular category. For example: Frank Lampard has the best chance conversion rate at 35% and best shooting accuracy rate of 65% in the table. It's clear from taking a quick glance at the table that Lampard, at aged 33, has more green highlighted than any other player. Rumours of his demise are greatly exaggerated perhaps? So we will have to watch out for the attacking runs of Lampard in behind our defence as he has 6 goals scored all ready this season, which is an excellent return for any midfielder.
With Mata playing slightly to the left of Torres he has created more chances from open play than his front colleagues in the table at 16 chances created. Mata also has attempted more crosses at 14 than anyone else. Both Drogba and Anelka with only 7 appearances between them this season really don't figure much on the table. So in summary Chelsea's danger men are Lampard, with his goal return, shooting accuracy and excellent chance conversion ratio, and Mata with his chance creating and crossing skills. Special mention goes to our former player Fernando Torres with not one green category highlighted. Ouch.
Liverpool Offensive/Defensive Formation
By now I think we all know that Kenny likes his 4-4-2 formation. Or any variant of it such as 4-4-1-1. But for the Chelsea game I would really like him to change this to a 4-2-3-1. Something similar to how Arsenal lined up against Chelsea when they beat then 5-3 a couple of weeks ago. Here is my proposed line-up for the game against Chelsea:
I think this is a system best suited to playing against Chelsea's 4-3-3 system. With Chelsea overloading the midfield and with Mikel, Ramires and Lampard in there we are going to concede a lot of possession and territory if we have to rely on Charlie Adam breaking from midfield to provide our players with support. I believe we need both Adam and Lucas to sit in there and provide cover in front of Skrtel and Agger. Chelsea are quite fluid as an attacking force. With Lampard, Ramires, Sturridge and Mata all making runs beyond our back four and darting between the lines to create chances it is essential we don't leave gaps in between the lines. Yes this may make us a little bit more defensive than usual, however with playing 4-2-3-1, the three behind Suarez of Downing, Bellamy and Kuyt should make up for that lack of attacking threat in the pivotal central midfield area.
Chelsea are going to put us under a lot of pressure at the back with their high pressing game. So it will be extremely important that our back four are composed on the ball and try and keep passing the ball out of defence rather than knocking it long. If we panic and knock it long then Terry and Ivanovic will have a field day against the smaller Suarez up front and we may see the ball coming back at us and under waves of pressure. So Enrique and Johnson will have to make space on the wings to provide an outlet for the ball as Chelsea's front three close our defenders down.
So how do we score against Chelsea. I could write an essay on it. But simply, just ask Arsenal. Chelsea have conceded 15 goals this season and have only kept 2 clean sheets. I believe with the right tactics and formation this game is there to be won for us. I alluded to Chelsea's high line in my scouting report of them, and this more than any other tactic is giving me hope that we can come back from Stamford Bridge with a positive result. Chelsea play such a high line it is open to be played through. If your going to play a high line and press up the pitch to condense the space it is imperative you put pressure on the ball. I don't believe some of Chelsea's players are suited to this tactic.
Offside is a very difficult tactic to play. You need a really good, organised and consistent back four, who know each others movements inside out. This is extremely hard to maintain in the modern era. Especially with squad rotation, injuries, the amount of games played, language problems and different cultures and nationalities, all reasons that offside as a tactic is almost impossible to maintain.
Below are both graphics stills I took from the Chelsea V Arsenal game. They are phase 1 and 2 of an attack by Arsenal in which they almost scored. This type of scenario happened time and time and again in this game.
Chelsea are obviously in blue and Arsenal in red. The white represents where the ball broke down and is about to be played to Gervinho who is hugging the left touchline. Notice the position of the three Chelsea defenders, who are marking Van Persie. They couldn't be further up the pitch. The next graphic is taken from when Gervinho received the ball.
As you can see Gervinho now has the ball. But where are Chelsea's three defenders? They are still in the same position. Instead of running backwards towards their own goal to prevent the ball going over the top of them they continue to hold the line and try to play offside. Its obvious to anyone what happens next. Gervinho plays the ball through the Chelsea defenders and Van Persie runs in on goal to create a clear cut chance. My next graphic illustrates what might happen with our proposed line-up above.
As you can see this is my reason for playing Bellamy with Suarez. If both or either of Bellamy can isolate Terry or Ivanovic with a a ball over the top from the likes of Downing or Adam then Chelsea are going to find themselves in a lot of trouble. In a straight race for the ball over the top or through the lines with either Bellamy or Suarez there is only going to be one winner. The amount of space illustrated in blue in the above graphic that Chelsea leave in behind is incredible. If they continue to play such a high and dangerous line against us then in my opinion we need to exploit that with Bellamy and Suarez's pace.
You can see from the Guardian chalkboards heatmap above how much time both Terry and Ivanovic spend high up the pitch in the area just inside their own half. It's also noticeable from this graphic the amount of time they spent in the full back positions covering for their comrades.
So let's take a look at the Chelsea defence compared to our own in the following stats table:
Most of the Chelsea defenders compare very favourable to our own. And to be honest looking at the table there are not that many stats that are interesting or stand out. Highlighted in green is the worst stat for any particular player in any particular area. It's noticeable that Ashley Cole is the one that stands out here. He makes more ground 50/50's (101) than anybody else in the table yet has the lowest ground 50/50 win ratio at 44%. Hence my reason for picking Kuyt on the right handside of our line-up. Traditionally in these games Kuyt does well against Ashley Cole, and with Kuyt's fighting ability and his height advantage it might be an area we can exploit. Especially as, unsurprisingly given his height, that Cole has only won 36% of his aerial 50/50 duels.
As a side note, it's worth noting here in red the amount of interceptions the Chelsea back four have made compared to our own. 99 between them compared to our lowly 37. Again this maybe a natural consequence of playing such a high line. You always need to be on the front foot with a high line, and cutting out through balls between you and your fellow defenders.
Of course any LFC analysis can't be complete without mentioning our poor chance conversion ratio. A lot has been made lately about it lately. It is worth noting that the quality of these chances are something that is not telling from the stats. It is also worth noting, to give it it's proper name, that this is really a shot assist statistic. As you can see from the graphic below it is still at a poor 9%. Joint second bottom with WBA, QPR and Wolves. Relegation company some might say. So it really is becoming our Achille's heel this season. If we are to get anything from this season it really is important that this statistic is improved over the next few games. As of now, it is becoming a worrying trend.
As a final note, we should really end on some positive statistics. And while our chance conversion ratio is very poor we have the best ground 50/50 win percentage in the league so far this season. Something that is worth pointing out before we go into the game against Chelsea where the midfield battle will be pivotal to who wins the game. As you can see from the chart above, we have a ground 50/50 win percentage of 54%. Our nearest rivals in the table are Spurs at 53%, and our opponents on Sunday Chelsea on 51%. Will this enable us to dominate the midfield though? If Adam and Lucas sit then maybe as in my proposed line-up above then maybe. Here's to 3 points and a win on Sunday.
I'd appreciate any feedback on this post. Please do leave a comment!
You can follow me on twitter here: https://twitter.com/#!/artful_dodger74