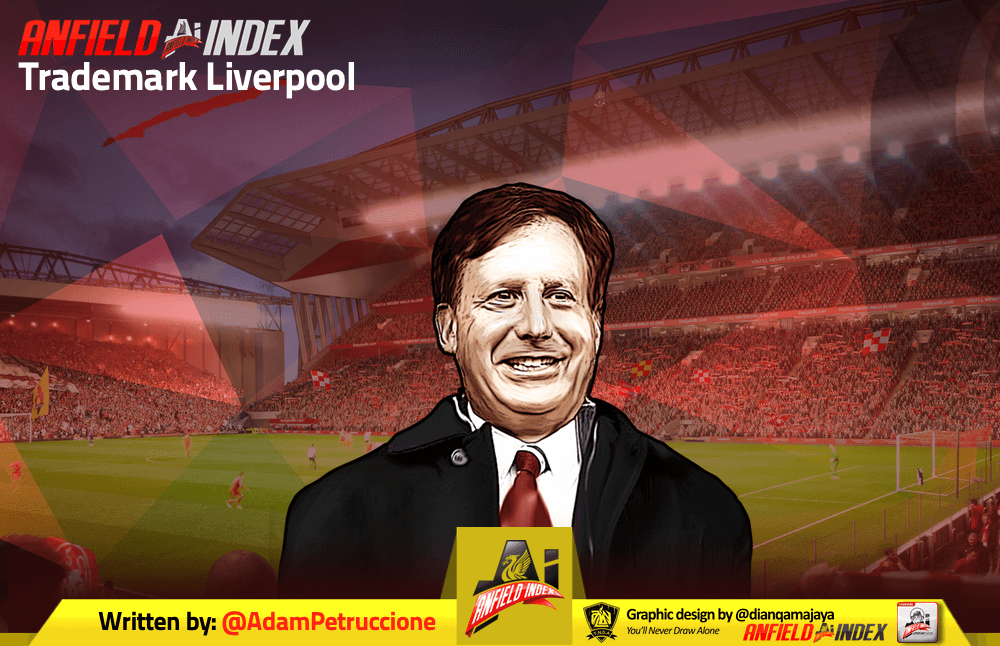 Trademark Liverpool
I don't know what the big problem is.
"We are Liverpool, tra la la la la," easily changes to, "We are Liverpool, all rights reserved, we're the best football team in the land."
Adam Lallana won't have much to do this season. Imagine the pride he would take in slapping TM's on every road sign leading into the city.
Yes, it's been a while since we've had an off-pitch controversy, and when I say, a while, I mean several days.
The unfortunate thing about our Twitter blow-ups is that it motivates people to wade into unfamiliar waters like high-level accounting, architecture or in this case, trademark law.
The fact is, Liverpool Football Club have applied to trademark the word "Liverpool." This is true. What ha horrible thing to do. We'll ignore that half of the Premier League has already done the same. If that detail were leaked it might dampen our collective outrage and we can't have that. The last time I visited London I don't remember seeing a © next to Chelsea on the tube stop even though The Plastics ™ own the rights to the word. You see, as with Liverpool, the trademark only applies to football related usage.
The concerns of City of Liverpool FC are valid in that they are a club fighting for every little scrap in Division One West. Even having the argument is a positive for them in that it is a shrewd public relations maneuver. They are making this fight a public one, even though the trademark wouldn't apply to already existing clubs. I would probably do the same thing in their position because people are talking about them and that can't be a bad thing. In terms of actual trademark infringement concerns, there should be none.
Club statement re: LFC trademark Application https://t.co/ZdiYTXuObg

— City of Liverpool FC (@CityofLpoolFC) July 26, 2019
The idea that a multi-billion pound corporation should not and cannot be trusted is something I can get behind. However, the guardrails between LFC and already existing clubs using the moniker "Liverpool" is pretty clear per the club's application. In addition, Chelsea, Southampton, Tottenham and Everton have their city/area trademarked and there haven't been any newsworthy conflicts between them and local businesses. Before you write in the comments, I know, Everton is a special case. Nobody would want to use Everton in a brand name anyway so the trademark restriction is redundant.
Exclusive: Liverpool tried to trade mark "Allez Allez Allez" — words to a terrace chant that has been sung by at least six clubs before they adopted it. Story @ipapersport: https://t.co/7zxmL8Kn60

— Sam Cunningham (@samcunningham) July 30, 2019
Could the club, which has looked at obtaining a trademark for "Allez, Allez, Allez," ultimately bar local apparel shops like Hat Scarf or a Badge from producing LFC related apparel? They could do that before, they could do it today and they could do it after obtaining a Liverpool trademark. If FSG ever sells the club, the new owners would be free to enforce their trademark as leniently or as harshly as they would see fit. It's disappointing that Hat Scarf or a Badge and the club haven't come to a more amenable agreement on a way forward. All the way in Seattle, The Anfield Shop is a licensed, LFC apparel shop. The Anfield Shop sells official merch as well as their own club approved designs, so clearly there is a roadmap for the shop, be it in Liverpool or Timbuktu, to operate in concert with LFC.
As Reds we've talked a great deal since winning number six about trusting Klopp, trusting the organisation, the club. At some level, we have to trust that they're only looking out for the best interests of the club in seeking this trademark. Liverpool Football Club and FSG could do a lot of nefarious things with that trademark. They could also triple the ticket prices at Anfield tomorrow if they wanted to. They could sell half the players. There are a lot of nasty things that are within their purview, but almost a decade in you should assume that they generally have the best interest of the club and the surrounding community in mind.
Perhaps the best solution to this mini-controversy came from Transalpino, deadstock trainer (sneaker) extraordinaire. The store's Twitter account announced on their Twitter account that they'd formally applied for the trademark for the word "Manchester."
People of Manchester how will you feel if some mad Scouser gets the right to trademark your city name? I've made the application as protest to Americans trying to do the same With 'Liverpool' @Lyver_Design @COLFCcommunity @PFurmo @hatscarforabadg @jackdobbie1 @MENnewsdesk pic.twitter.com/c4OGJLqTMV

— Transalpino (@transalpino) July 28, 2019
At the end of the day is there a more Liverpool solution to this perceived crisis? Here's hoping that Transalpino is awarded the trademark and enforces that piece of paper to the absolute limit and beyond.