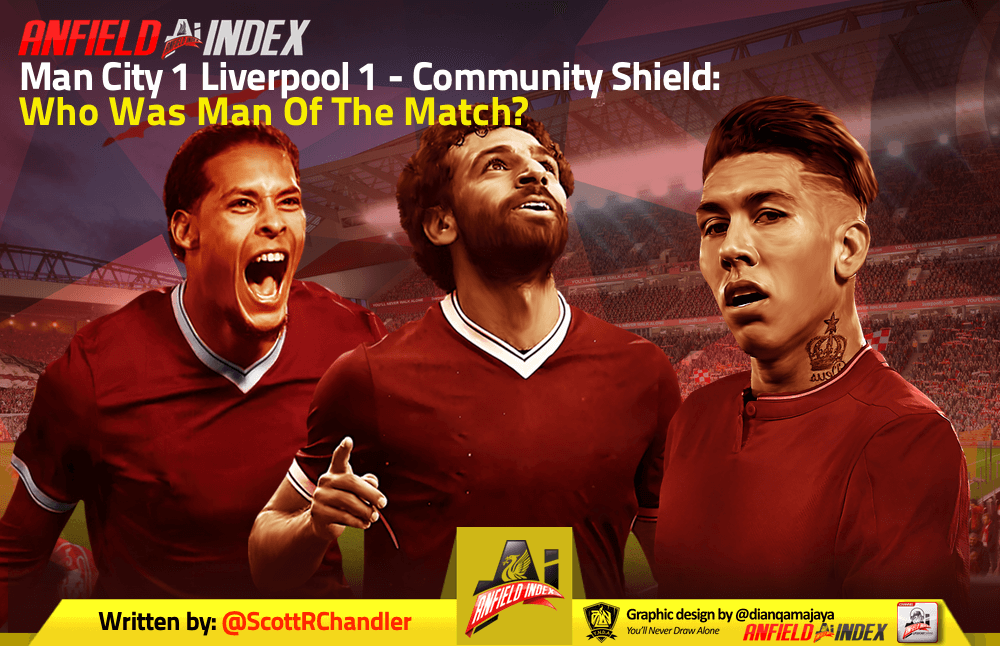 Man City 1 Liverpool 1 - Community Shield: Who Was Man Of The Match?
With the Community Shield – a match part-preseason friendly, part-trophy competition – you can construct any narrative you want. You can easily overreact to the result: If you win, it's laying down a marker to start the season; if you lose, it shows you're not ready to make a serious title challenge. You can also dump a big bucket of cold water on the results: If you win, it doesn't mean much; if you lose, the side just hasn't hit full stride yet. But when the two best sides in world football face off with fairly strong lineups, it seems silly not to take the match somewhat seriously, even if it was clear both teams weren't fully sharp.
This was fairly evident in that Sterling and Salah were the best players on the pitch, but also had moments both sublime and silly. For Sterling, Liverpool's former starlet bagged a poacher's goal to open proceedings but then somehow dribbled straight into Alisson in the 2nd half when he was 1 on 1. For Mo, today's match could have resulted in not only a hat-trick but perhaps 4-5 goals on a clinical day. He was simply all over the final third for the Reds. He dazzled with some quick feet in the first half and had some great chances. But a tendency to go near post and leaving his shooting boots on vacation left him shut out.
The Egyptian King was even more present in the 2nd half and came close with numerous chances. Frankly, it's almost crazy that he didn't score, but such is life in early August. It would have been nice to see him recreate his perfect 10 match at Bournemouth last season when he was simply on another level from the other humans on the pitch, but Liverpool supporters won't mind if he saves the goals for when they really count. It was just impressive to see him sprinting down long balls and terrorizing City's defense when he just got back from summer vacation. Going the full 90 in a surprisingly competitive match bodes well for his chances to hit the ground running to start the season. Plus, he buried his penalty well, which could be huge for Liverpool this season in pressure situations where Milner isn't on the pitch.

Ultimately, in a match with talent all over the pitch, it's not surprising that Liverpool's best players stood up to be counted. Bobby also pressed and harassed the City backline and was pretty energetic in his run out. VVD had a nice assist on the Matip goal and helped prevent Sterling's 1 on 1 against Alisson from ending in the back of the net. But once again, Liverpool's main man from Egypt showed that if Liverpool are going to be adding silverware to their cabinet this season, it'll likely be thanks to his work up front.