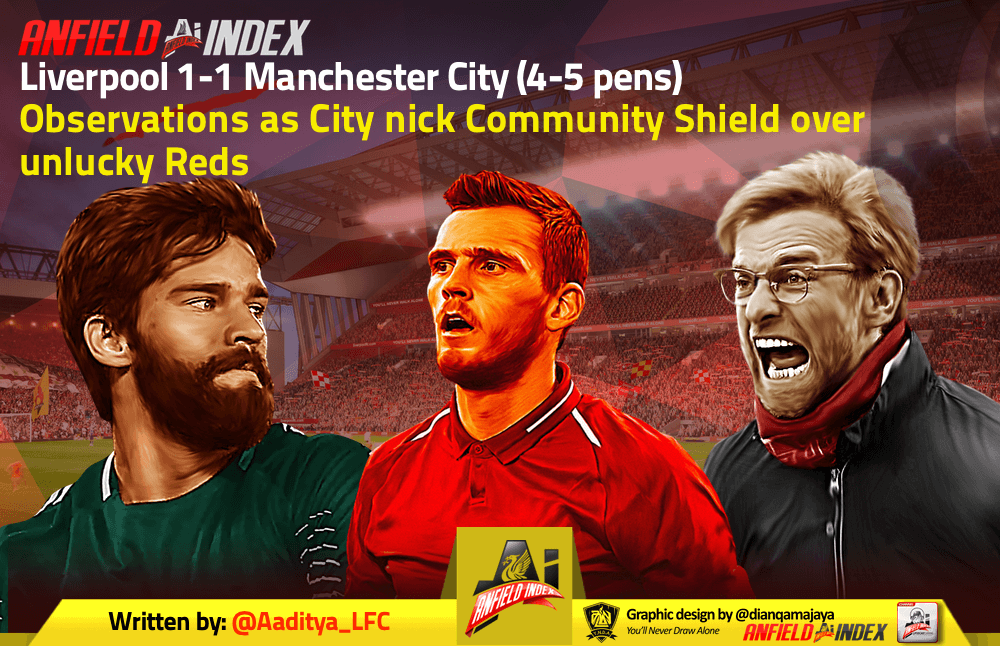 Liverpool 1-1 Manchester City - Observations as City nick Community Shield

It was the stereotypical game of two halves at Wembley Stadium, as Liverpool came out second best after a penalty shootout, that saw 9 out of 10 penalties hit the back of the net. Unfortunately, Gini Wijnaldum was the unlucky one, and the Reds had to be content with what you could possibly call a moral victory, but I'm sure Jurgen Klopp and the players would've rather had the silverware to show for it.
City took the lead after questionable defending offered Raheem Sterling the chance to tap home with his left foot, and despite his shot being close to Alisson Becker, the Liverpool 'keeper just couldn't keep it out. The Reds probed and probed, and had chances aplenty before Joel Matip got big to head home a Virgil van Dijk cross and send the contest to penalties.
Here are a few observations from a game that set the tone for the Premier League, which begins at Anfield on Friday night. Did we have a look at the Premier League champions at Wembley today?
The right side of Liverpool's defence is an issue
It has been all through pre-season, and it was a problem again this evening at Wembley. Trent Alexander-Arnold is not doing enough defensively, and he isn't getting support from his midfield either. The second point is very important because Alexander-Arnold is a huge source of creativity. When Klopp picks a midfield without Naby Keita or Alex Oxlade-Chamberlain, all the burden of creativity falls on the full-backs.
In that kind of scenario, you cannot expect Alexander-Arnold to be conservative. It's only prudent to expect that one of Fabinho or Jordan Henderson would cover for him. Luckily, it's only just pre-season yet, and there's enough time to iron out what, at this stage, is just a minor flaw.
Liverpool need bravery in midfield
Yes, Klopp trusts his workhorses in midfield. Yes, Klopp trusts his front three to conjure magic even if there is little supply from midfield. Yes, Klopp trusts his two full-backs to fill in for the midfield's creativity. But, when personnel are available to make the midfield stronger, why not take that opportunity to use that personnel?
Really, Keita or Chamberlain have got to start in Liverpool's midfield. Henderson and Wijnaldum are just far too similar, which is by no means to say either of them is inferior or not good enough. Liverpool need a more progressive player in the centre of the park – one who's willing to take risks, one who's willing to drive forward.
The ghosts of pre-season laid to rest in 45 minutes
I won't lie, even the most optimistic Reds fan must have had a little bit of a churning stomach watching our results and performances so far in pre-season. That continued through an insipid, tepid, boring first 45 minutes, where Liverpool didn't keep the ball well enough, didn't press well, defended like nothing they have been known to recently.
But whatever it is that Klopp said at half-time, it worked a treat. Liverpool were full of purpose after the break. Mo Salah was getting in superb positions, and most importantly, he was getting support from the others on the pitch.
Klopp got his subs spot on, too, as Keita, Chamberlain, Adam Lallana and Xherdan Shaqiri all had positive influences on the game, apart from Matip who got the goal that levelled things.
A Golden Boot Three-peat for Mo?
Don't rule it out. Why? I wish I could answer that with one line and drop a mic – "MOHAMED SALAH IS A MACHINE"
Next time we are lauding the effort of Robbo or Bobby, I'd like a little moment for Mo Salah and his ridiculous rate of availability, to go with his ridiculous ability

— SimonBrundish (@SimonBrundish) August 4, 2019
Salah was getting in superb positions, troubled Oleksandr Zinchenko with pace and verve and skill all game, just the shooting was missing. That will come – let's not forget that he's just played two games in pre-season. What matters now is that he looks sharp, he's getting in perfect positions, and those are the things he needs to score goals.
Oh, and a prayer to ensure he stays healthy until the end of May 2020.