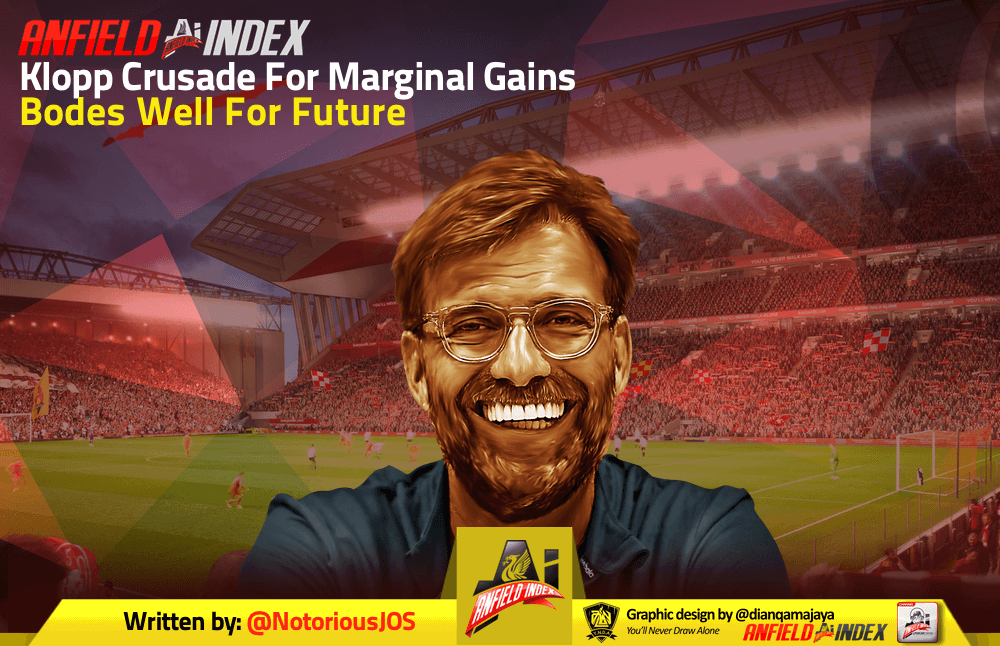 Klopp Crusade For Marginal Gains Bodes Well For Future

Liverpool manager Jurgen Klopp drafted in the services of a professional surfer to teach his players how to cope with stress ahead of the new football season.
Sebastian Steudtner, a German surfer, was a guest of the club at their pre-season training camp in Evian last week to speak to the first-team squad.
In a bid to help players cope with on pitch anxiety and stress, Steudtner headed a session for the squad in a swimming pool which focused on breathing techniques and holding their breath.
Steudnter, 34,  won the XXL Biggest Wave Award in 2015, for the second time, after managing to surf a 71-foot wave in a tournament in Portugal.
According to Paul Joyce in The Times, the Liverpool squad were impressed by Steudnter and his presentation, which centres on his "anything is possible" mind-frame.
Liverpool's title rivals, Manchester City, are backed with the almost bottomless cash reserves of a sovereign nation, so the Reds' cannot outspend them in their attempts to become England's dominant club. What the European champions can do, however, is outsmart the Etihad Stadium team and this is something the Reds have and are attempting to do.
Klopp turning to his compatriot in an attempt to maximise his squads' capabilities and look for that extra 1% in performance is the latest in the long line of the former Borussia Dortmund coaches outside the box thinking when it comes to eking out the latent potential of his playing personnel.
Changing Net Colours
From 2012 to September 2016, the goal nets at Anfield were red in colour.
However, after an open training session at Anfield in 2016, days before Liverpool's thumping 4-1 victory over then Premier League Champions Leicester City, Klopp requested that the nets be changed from red back to white.
Klopp, backed by his backroom team, requested the net colour change in order to make them more visible in the players' peripheral vision and thereby make them easier to score into.
With the majority of fans behind both goals wearing red, it was felt the previous coloured netting obscured a players vision of goal while in the thick of the action.
Bespoke Isotonic Drinks
According to a report in SportBild, Mark Warnecke — a world champion swimmer —  was commissioned by Liverpool to produce two isotonic sports drinks – one citron and one orange – in an attempt to  'significantly speed up regeneration after exercise'.
Warnecke made history for becoming the oldest athlete to win a major swimming event since 1971. In 2005, at the age of 35, he won the world 50m breaststroke title in a shock result.
American swimmer Dara Torres credits Warnecke's drink with helping her post faster times after she had retired at 41 than she had recorded when she was 20.
Ever eager to innovate, Liverpool approached Warnecke and he accepted the role working alongside the club's nutritionist  Mona Nemmer, who is considered a leading figure in her field. Described by SportsBild as Liverpool's "secret potions", the Reds squad are given Warnecke's drink after each game and training session.
Hiring a Specialist Throw In Coach
Liverpool shocked the football world in 2018 when they confirmed they had hired Dane Thomas Gronnemark as their specialist "throw in coach".
Gronnemark, who also works with Danish clubs FC Midtjylland and AC Horsens, and in the German Bundesliga, holds the world record for the longest throw at a staggering 51.33M.
Such was the Dane's impact that his contract was extended by a further six months until June 2019 soon after he joined the club.
Speaking to BBC Sport, Gronnemark says the club are satisfied with his work, which he describes as the weirdest job in the world.
"The extension documents Liverpool's satisfaction with my work and the fact that they recognise and acknowledge the results we've achieved with the players. I hope that our hard work will be rewarded with good results when the season comes to an end in May", he said.
Hiring Cern Scientists To Their Scouting Team
A massive factor in Liverpool's recent resurgence has been their much-improved record in the transfer market. Sadio Mane, Mohamed Salah, Virgil van Dijk, Alisson Becker and Fabinho have all arrived at the club since Klopp was hired Liverpool manager and all played a prominent role in the club's sixth European Cup success.
Given the detail Liverpool go into when scouting a player and the backgrounds of the people hired by the club in their analytics department, the Reds increased and improved transfer acumen is not surprising.
According to Bruce Schoenfield of the New York Times, the European champions are at the vanguard of football analytics and are revolutionising player identification and recruitment.
Lead by Ian Graham, the clubs head of research, Liverpool's analytics team is composed of intellectuals from varying backgrounds.
As well as Graham, the brains trust behind the Reds transfer success contains Tim Waskett, an astrophysicist, math expert Dafydd Steele and Will Spearman, who was a particle physicist at CERN.
Ignacio Palacios-Huerta, a director at Athletic Bilbao, as well as a professor at the London School of Economics,  hailed Liverpool as the world leader in football analytics.
"There is clear leadership by one club: Liverpool. They have a group of four or five PhDs in maths and physics, and they know football", he told the Financial Times.
By increasing the players' physical robustness via a bespoke, isotonic energy drink or increasing their chances of goals by changing the nets' colour or maximising their ability to score from throw-ins, Liverpool are looking to garner any on-pitch advantage they can.
With Klopp the face of a large team committed to winning and improving by previously unheard of methods, Liverpool fans can rest assured that the club are doing everything in the power to win.