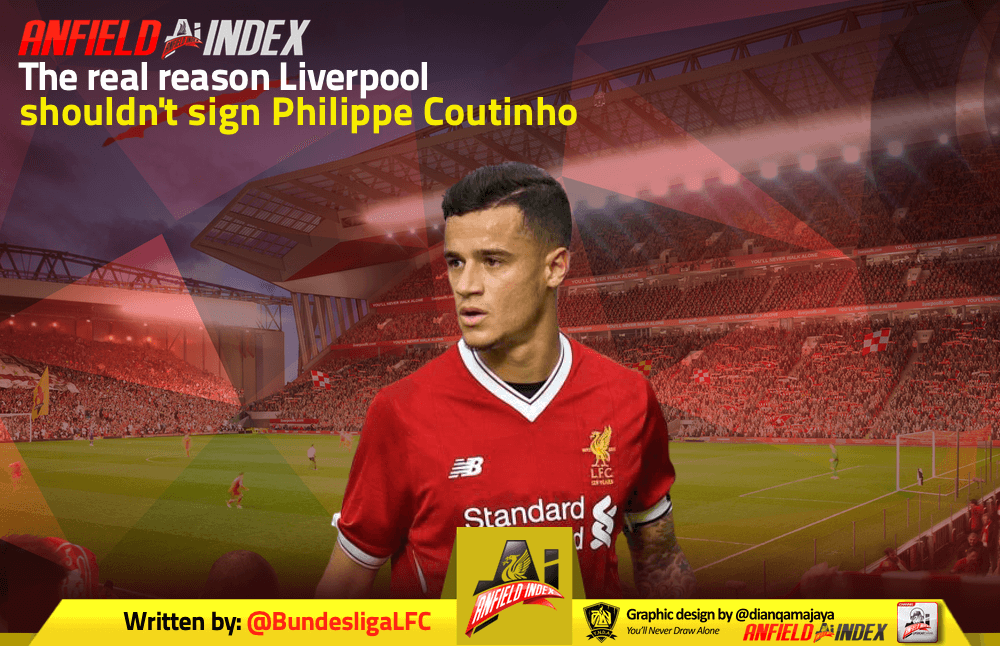 The real reason Liverpool shouldn't sign Philippe Coutinho
Philippe Coutinho's rumoured availability has resulted in all logic going right out of the window. 
With Liverpool failing to add to their squad this summer, fans are desperate to bring him in back on loan. Not just to give the Reds some much needed attacking depth, but to keep the Brazilian maestro away from rivals with Manchester United, Arsenal and Spurs all reportedly keen on the Barcelona attacker. 
It's a powerplay. One adopted by various Premier League clubs throughout the years and if Liverpool chose to adopt it this time around they'd be making quite the statement. 
Whenever Coutinho is mentioned, the conversation quickly turns to whether or not fans should forgive him. He apparently faked injuries, he handed in a transfer request on the eve of a must-win Champions League tie against Hoffenheim and he was generally a disruptive influence as he tried to force through his dream move to Barcelona. 
On one hand, he should be treated as a pariah to show players that the grass isn't always greener elsewhere and that second chances aren't something Liverpool like to give. It's an admirable stance, no individual should be bigger than the club, but there is some flawed thinking there. 
Firstly, the Reds can't compete with super clubs financially so they need minor gains wherever possible. Showing Anfield can be a place for redemption makes them an attractive destination for players potentially looking to get their careers back on track after a failed move. 
Furthermore, if a move for Coutinho makes business sense for Liverpool then what happened previously should be forgotten. On his day, the former No.10 is a £140million player. Just because he's not been utilised properly by Barcelona shouldn't take away from the fact he was the best player in the Premier League just a little over 18 months ago. In the right hands, there's no reason the one-time Inter Milan youngster couldn't return to the level he was showing before the switch to the Camp Nou. 
However, both arguments are lacking in logic. The decision to bring Coutinho back to Merseyside shouldn't hinge on whether or not he can be forgiven. The fact he was a £140million-rated player in January 2018 is irrelevant, too. 
Like with all new potential incomings, the most important factor to consider is their playing and financial profile. If they don't fit, Liverpool aren't going to push for the move. Michael Edwards and the recruitment team are too smart to let emotion get in the way of their decision making. 
Following on from his departure, reports emerged to suggest Klopp wasn't ever overly sold on Coutinho as an attacker and didn't believe he had the stamina to play as part of the midfield three. If truth be told, there is merit to those suggestions. That isn't to say the German manager shoehorned his No.10 into the team, he was probably grateful to have a player with such talent at his disposal. Having said that, though, he probably wasn't a player he'd actively look to sign if he was wanting to strengthen his attacking options.
The Brazilian had a tendency to drop deep which then had an impact on the balance of the team. Coutinho, for the majority of his time at Anfield, also opted to shoot from ridiculous angles and positions. A select few went in and they're what he is remembered for but a high number of them failed to test goalkeepers.
These efforts wasted good opportunities for Liverpool and it's something the current front three shy away from, with a large percentage of their shots coming from inside the penalty area.
If he did return, the Reds would find a way to make it work and these reservations would eventually look silly.
But Klopp would be tweaking his style and his game to cater to Coutinho, he'd have to if the Samba star was to have a similar impact this time around as his time at Barcelona shows how ineffective he is if he's not the key man. Should Liverpool really build a style and a system around a player-owned by another club? It doesn't seem like the shrewd business fans have become accustomed to over recent years.
Financially it makes very little sense, too. Reports claim Barcelona want around £20million to allow him to leave on loan and his wages would have to be paid in full. It's a serious outlay for a player. Even more so when you consider there's no clause in the deal which allows you to buy him for a set amount if he impresses. It may be a hard pill to swallow but if his name wasn't Coutinho, fans wouldn't be so eager to sign him.
Stylistically he's not a good fit and financially it makes no sense.