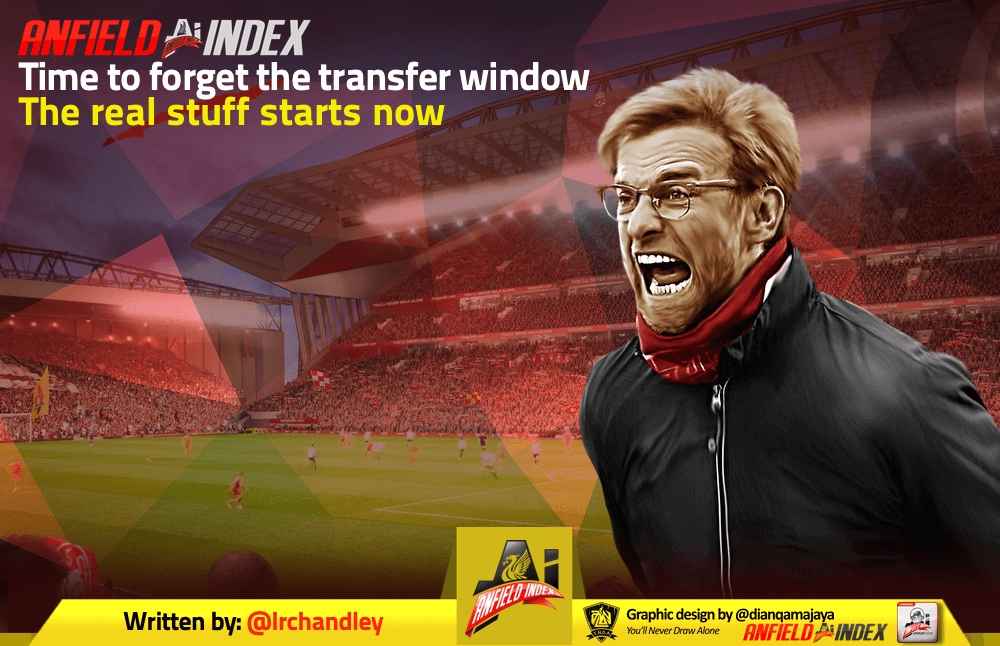 Time to forget the transfer window | The real stuff starts now
Last season was a slog. It was a wonderful, beautiful slog, but it was a slog. With Manchester City so unrelenting, Liverpool had to be at peak form to get close to their final goal of the league title, and even then, we fell – even if just slightly – short. A Champions League winners medal and more incredible memories left fans with a delicious taste in the mouth, but if you're like me, you were ready for a break. Last season each week felt like a cup final and a season finale wrapped into one. The summer provided a nice break from the stresses of 38+ must-win games. Or so it should have.  
This summer has been frustrating. There's really no other way of looking at it. The hue of becoming European Champions turned into a bit of gloom (and doom, in some quarters) as it became increasingly likely that Jurgen Klopp wouldn't be sanctioning any moves for senior players in the close season. Regardless of the trust Klopp had built, this is a risky move. But whilst there is frustration, the time to rant on Twitter and message boards is over in favour of support and excitement at the upcoming season starting.  
Liverpool's season has heaps of possibility. Our squad, whilst still showing some slight attacking/creative weakness, is as strong as it has been since the days of John Barnes and Kenny Dalglish. Like our Champions League loss to Real Madrid in 2018 being a dress-rehearsal for last year's triumph, it would be great (and should be the aim) to have this current side using last season's second-place league finish motivate them to go one place – or maybe even one point – further. And as European Champions, we have to hope that the hunger in our team is to land the prize that matters most to Liverpool fans.
 Winning 6 European Cups is a feat only surpassed by two other clubs (and one of them, Real Madrid, basically won their first few by inventing the competition and playing tin-pot sides). It is probably the biggest part of our history, but the Premier League title is what we want as fans. Alternatively, City as a club will probably have one eye on Champions League success themselves. As a club and as a brand, they will never be considered elite until they can put a star on their chests. Whatever your view, whatever their fans' view, that's the truth. We only need that presume to tell slightly this season for them to take their eye off the ball. Whether Pep allows that is a different matter. But there will be that pressure to succeed.  
Now is the time for our European heroes to become trophy-hunters and true legends. Players can look to Divok Origi as someone who was one foot out of the door but came back to mould himself from outsider to cult hero, to club legend in the space of 9 glorious months. Being a difference-maker can come from anywhere. It doesn't need to be from a high profile signing.
Talk of signing players is all well and good, but the real stuff starts now. There's no better feeling than a game after a long week or beating a side that came to trample our plans. The buzz and excitement of the start of the season, whether you're watching it at the ground, at the pub or at home, is palpable. Whatever has happened behind the scenes this summer, none of it matters apart from putting into practice all of the hard lessons from the training pitch. Frustration is fair but there's nothing that can be done by tweeting your anger now the deadline has come and come. Direct that energy from your fingertips to the green grass of Anfield or the walk up to an away stadium. It just doesn't matter anymore. The only people who matter are the people who wear the Red of Liverpool, be them on the pitch or off it. Our Champions League heroes have the opportunity to surprise us and surprise the current champions. And we should get behind that with full force.