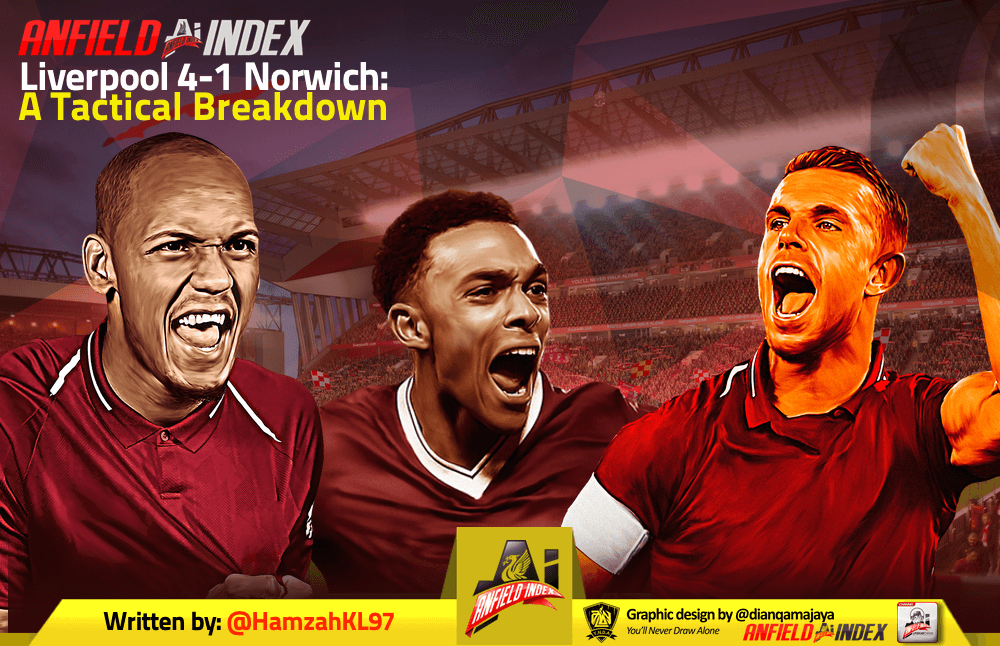 Liverpool 4-1 Norwich: A Tactical Breakdown
Liverpool's Premier League game against Norwich was the first genuine test Jürgen Klopp's men have faced since becoming European Champions. This was the first occasion in which points were at stake, the team would be able to set a marker and display their intent for the season.
The scoreline indicates a strong performance, and the side picking up from where it left off. Yet there were a number of signs that indicate both change and qualitative variance compared to last season.
Tactically, we saw a new feature in Liverpool's setup. Most innovations that Liverpool have made tactically under Klopp have taken place in the defence: over the past two seasons we have seen Liverpool use a back three when in possession, then one fullback pushing forward at a time, before both fullbacks pushed forward simultaneously (and the defensive onus was on the midfielders in the number eight role – principally either Wijnaldum or Milner – to cover the fullbacks, and sit alongside the centre-backs as guards for the counter-attack).
Against Norwich, the Liverpool fullbacks did not push up as we expected and saw them do many a time last season. Instead, they took up a more conservative role, playing deeper, and alongside Fabinho. Something more akin to the "inverted fullback" role popularised by Guardiola when at Bayern Munich.
Consequently, the support for the Liverpool forwards came from the two midfielders in the number eight positions: Wijnaldum and Henderson. This is a development of the role we saw both featuring in towards the end of last season, with Henderson, in particular, benefitting from the freedom to be able to run into the box, underlap and overlap with Salah on the right side, and act as an offensive, dynamic presence, looking to move the ball forward, or at least offer himself as a vertical option, in order to facilitate breaking lines.
This movement from the midfielders, with Henderson having a looser positional portfolio than Wijnaldum – who largely stuck to operating within the left half-space – allowed Firmino to stay a little higher than he usually does. He still dropped deep as and when required, but was noticeably involved in the box, as we saw with Salah's goal.
Salah's performances during the last two seasons almost always correlate with the frequency in which his teammates pass to him. In games where he is found often, he usually scores. In games where he is starved of service, naturally, he does not score. Last season, the player who was absolutely key to ensuring Salah had a good supply of goal scoring chances, but also chances to carry the ball and run into space was Trent Alexander-Arnold. In games where the passing link between them was strong, the offensive output of the side mirrored that too. In this game, Salah found a new provider: Jordan Henderson, who made nine passes to Salah. Alexander-Arnold only made one pass into Salah. Additionally, and per Anfield Index's Under Pressure podcast, and data provided by Simon Brundish, Henderson made 7 passes into the box, whereas he averaged only two per 90 last season, whilst Henderson also had an unusually high 5 touches in the box too.
Henderson, for his part, worked very well with Salah, and as mentioned above, both underlapped and overlapped with him, but it's extremely interesting to see a more conservative approach from Alexander-Arnold, who only broke down the right-hand side on a few occasions, with Salah's backheel pass into him nearly leading to a goal for Firmino.
Whether the offensive onus remains with the right-sided number eight for the remainder of the season is unknown, but studying the relationship between the fullback, number eight and winger is something to certainly keep an eye on. But Henderson's off-ball performance appeared lower than his on-ball one, with the space on his outside attacked successfully a number of times by the Norwich fullback. This lack of compactness in midfield allowed for a number of Norwich breaks during the first half.
Yet, Jürgen Klopp, in his post-match interviews, stated both his happiness with Liverpool's performance for the first 60 minutes of the match and Norwich's bravery. Indeed, it is rare to see any team come to Anfield and play as expansively as Norwich did, let alone enjoy such rewards for it too.
But despite the deeper positioning of the Liverpool fullbacks, Liverpool as a side lacked compactness, due to Norwich's attempts to open up the field of play, through pushing their fullbacks into positions both high and wide.
Consequently, Norwich had a number of opportunities in the first half alone, with seven shots, two on target, all of which were in the box and "the D". Whilst Norwich may not have scored, for Liverpool to concede such a high volume of chances is striking, especially for a side which was the best defensive side in the league, last season.
Up to the point of Norwich's goal, the shot share was 9-7 in favour of Liverpool. Following this point, Liverpool closed off the opportunities to score in the game, and effectively closed the game out, but the ease at which Norwich were able to create chances, whilst not necessarily indicative of a major issue, is something that needs to be monitored in future games.
For Liverpool, the result may suggest a strong dominant performance, but the reality of the game was much more even than the scoreline reveals. Liverpool's opener was scored in the seventh minute, and in those seven minutes, Liverpool were yet to register a shot. The goal itself changed the game state, inviting Norwich to attack in search of an equaliser, thereby leaving more opportunities for Liverpool to attack space and create chances.
Firmino and Salah were largely excellent, manipulating space, and generating chances, but the compactness of Liverpool's midfield, which was so crucial to securing a number of closely contested victories last season did not appear present for a significant period within the first-half. But should Firmino and Salah sustain the level they displayed against Norwich, this concern can reasonably be offset, against Liverpool's increasing propensity to blast teams away with stunning attacking flair, and on-ball creativity?
Norwich, admittedly, does deserve some credit for playing some impressive football, but if any other team to came to Anfield and attempted to play as they did, they would likely be classed as hopelessly naïve – Liverpool really should have done a better job in the first-half of pressing, with Jamaal Lewis, in particular, breaking down Liverpool's right side. To allow 17 the opposition touches inside the Liverpool box is disappointing, but hopefully, Liverpool can class this as an exception, and revert back to that exceptional defensive performance level which essentially sustained the side's title push, last season.
Gary Neville just said about "shots on goal", and that's true too, max of 3 at Anfield last season, 5 tonight. Liverpool only allowed 5 or more shots on target in 4 PL games last season. Interesting stuff… https://t.co/Si39nRjInP

— James Yorke (@jair1970) August 9, 2019