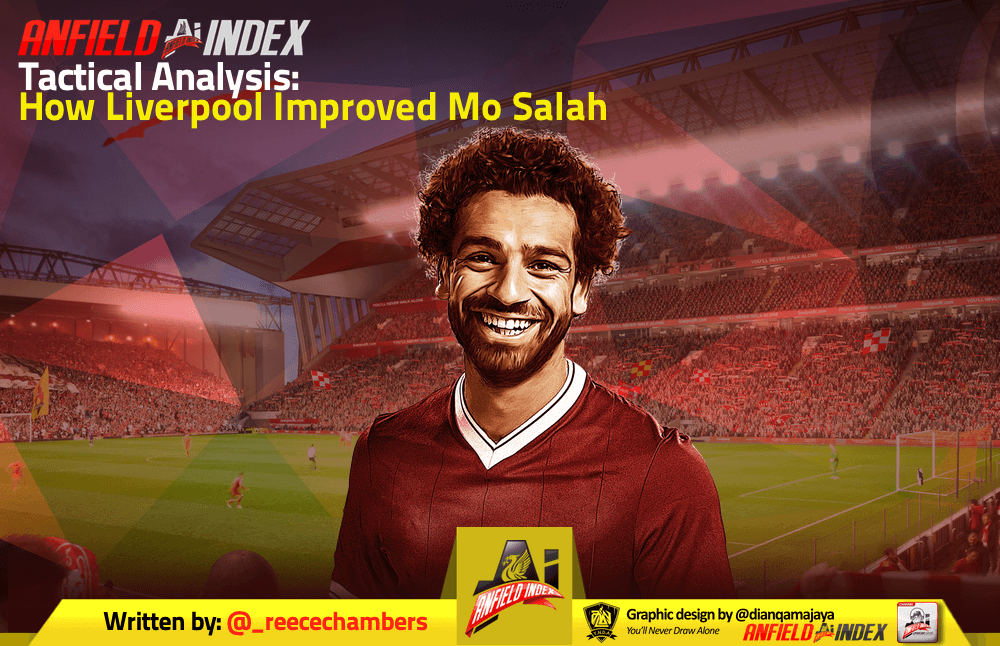 Tactical Analysis: How Liverpool Improved Mo Salah

When Liverpool signed Mohammad Salah for £37 million from AS Roma in 2017, most people didn't expect him to have scored 72 goals in 106 games. But, under the watchful eye of Jurgen Klopp, his reputation as a fast winger has rapidly developed into becoming one of the most prolific forwards in the Premier League.
Looking back now, and at today's current market, £37 million is an absolute steal for one of Liverpool's most potent goal scorers of all time. He reached a record 32 league goals in his debut season at Anfield and assisted a further 11 to Liverpool's campaign. A further 10 goals in the Champions League showcased just how impressive the Egyptian is in front of goal for the Reds.
Further goal-scoring success last season – with 32 goal contributions in the league – showed that Salah is the perfect fit for Liverpool. Klopp's ever-developing system at Liverpool means they continue to evolve as a team, and Salah is most certainly at the forefront of that.
In Liverpool's 4-1 opening day win against Norwich City, it was evident that Salah will be central to Liverpool's attack again this season. His improving clinical nature in front of goal showed just how much of a focal point he has become in Liverpool's attack.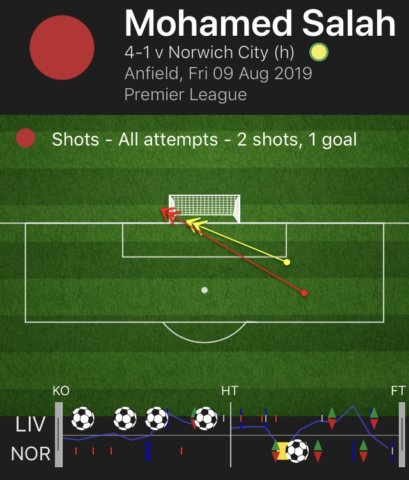 Salah's initial success at Anfield was underpinned by fast counter-attacking football where he was able to utilise his pace. However, since Klopp has begun to favour a more balanced style of play, Salah's role has changed within the system.
The Egyptian's role in the attacking line-up has seen him move far more central than in his first season under Klopp. Whilst still coming under the bracket of the right-wing, Salah occupies a position perhaps in between the opposition's left centre-back and left-back. Such a position allows him to play to his strengths, wrapping his foot around the ball and nestling it in the far corner.
Friday night's win over Norwich showcased this perfectly with Salah making it 2-0. A more or less identical chance later fell to Salah, but his shot went just wide. As probably his most trademark type of goal, being able to get a shot away from the right-hand-side of the penalty area is crucial to Salah's goal-scoring figures.
The system that Klopp deploys to enable Salah such room relies primarily on two right-sided players, Jordan Henderson and Trent Alexander-Arnold.
While not primarily known for his attacking attributes, Henderson's game has improved and his attacking play has allowed him to become more involved higher up the pitch. Against Norwich, the midfielder completed 15/21 attacking third passes. Such involvement in attacking play has been facilitated by the addition of Fabinho; who occupies a more defensive midfield role.
That attacking involvement from Henderson (below) is shown most frequently on the right-hand-side of the pitch. And, whilst his passing accuracy can continue to improve, the fact he is causing problems in the highlighted areas below will create chances.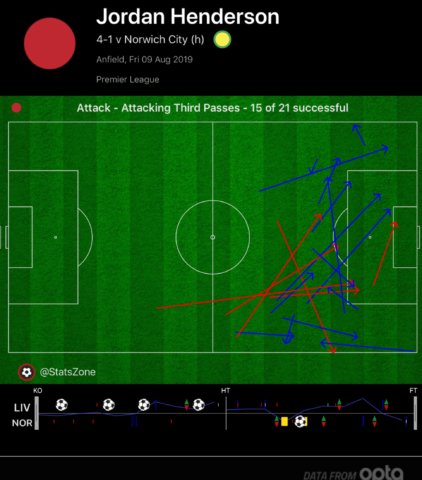 Against Barcelona last season, for instance, his midfield run and saved shot created the opportunity for Origi to score from close range. Therefore, Henderson's continued involvement in the attacking third is a subtle progression in this Liverpool side.
Midfield involvement in attack will inevitably lead to more chances created. But it also takes the pressure away from the front three to create chances themselves. Such development enables the Reds to be more balanced and measured in their attack.
This balance and measure, in turn, provides Salah with more clear-cut chances. Only having two shots versus Norwich is not something to be worried about. The fact his conversion rate was at 50% not only shows his quality in front of goal but also the quality of chance he is getting.
In addition to Henderson's influence, it is important to remember that Liverpool's full-backs are central to the system. In relation to Salah's goal involvement, Alexander-Arnold is one of the most important cogs in the wheel.
The young full-back has crafted his trade over the last couple of years through his exquisite delivery both in-play and from set-pieces. Combining that with Alexander-Arnold's pace and reading of the game makes him the perfect full-back to support Salah.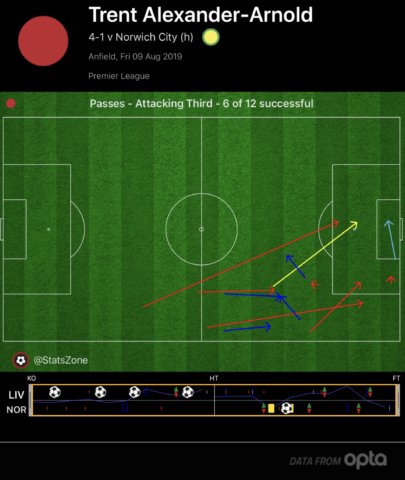 Against Norwich, Alexander-Arnold completed 6/12 attacking third passes – one of which was a sublime pass for Divock Origi to finish off. The right-back created three chances in that game and will look to improve on his impressive 12 assists from last season.
In turn, that creativity from the England international creates more opportunities for Salah as well as providing another threat to the opposition's defence. Therefore, between Alexander-Arnold and the right-sided midfielder, whether it be Henderson, Keita or Oxlade-Chamberlain, there is sufficient additional attacking threat to help Salah.
The days of simply relying on the front three to create and score goals is gone. Under this system, which has been developed over the last two years, Klopp has been able to progressively introduce the best quality players to fit the bill.
For Salah, this system means that he is perhaps less involved over the course of 90 minutes. However, his chances of scoring goals increases. Whether it be through creativity down the right flank or more central positioning, Salah's role in this system means he will continue to score plenty of goals.