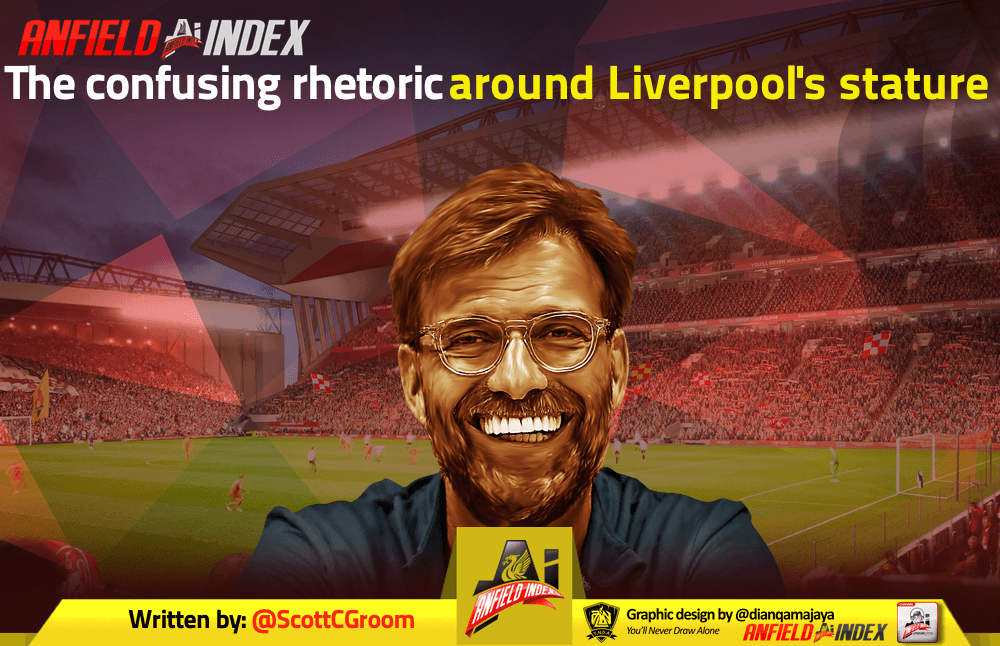 The confusing rhetoric around Liverpool's stature
So the new Premier League season is almost a week old already and, if I'm being honest, I've got my first moan to have out with the world.
To say that things got off to a perfect start for Liverpool would be a little bit of a stretch – as losing Alisson Becker to a freak calf injury on Friday's 4-1 win over Norwich cast somewhat of a shadow over the victory.
But that aside, it was pretty plain sailing for Jürgen Klopp's reds. Getting Mohamed Salah off the mark again for the season as well as rattling in four goals and producing what is now an expected routine win was a welcome site at Anfield.

Yet to see this match from the perspective of many a pundit out there, you would often be fooled into believing that this was a far from convincing performance.
And that's because of the current rhetoric separating Liverpool from their title rivals of last season (and most likely this one, too), Manchester City.
Now before I start, I am not for one second suggesting that City are a bad side. They're not, at all. You don't win back-to-back league titles amassing almost 200 points in the process by being a bad team.
What I am saying is that many seem to think they're invincible and that Liverpool are more fallible based on how opponents play against them.
I find this stance rather confusing considering that Liverpool lost just once in the league all season last time out – against Manchester City. A Manchester City side that lost to Crystal Palace, Newcastle and Leicester as the season started to get towards the business end.
While this seems aimless to point out, I don't think it is. And the reason that City don't lose more often than they do and end up steamrolling teams as they did in their opening game against West Ham is that teams let them play.
There's a fear that they'll get overwhelmed and overworked should teams try to take City on a little bit.
They don't seem to be as fretful of doing so against Klopp's side, who haven't lost at Anfield since April 2017 and lost just once in the league last season and went on to become the champions of Europe.
Let's take a look back at those games City lost against Palace, Newcastle and Leicester – particularly against Newcastle.
The Toon Army were not scared that night. They were right on City from the get-go and, to be honest, deserved to win. They defended gallantly when they had to, but they caused Guardiola's side so many problems on the counter and in general play – because they didn't afford City the time and space to settle to play their normal game.
Palace and Leicester were the same. Maybe it's because they all had either survival on their minds or had little to lose or play for.
Contrast that to West Ham's performance on Saturday, which was lacking. City were afforded so much respect that they could settle, they could dictate and when they're allowed to do that, they'll beat pretty much anyone.
Contrast that with Norwich's attitude against Liverpool on Friday, and it's not hard to see why: (a) they scored and (b) they had a few efforts on goal.
They weren't the most adventurous team in the world of course, but they did give it a go.
Yes they got punished, and you could argue as that's why teams don't do it against City.  But if they don't even try, they're never going to score.
So to reflect on this as City being at an unreachable level while Liverpool have all these improvements to make seems silly and short-sighted.
Liverpool are on City's level. One point separated them last season. It'll likely be a very tight title race once more again this year.
But Liverpool can beat City. They arguably should've done at Anfield and the Etihad last season, and we know what happened the season before that in the Champions League.
City aren't invincible and Liverpool are pretty much on an even keel with them – it's the rhetoric around it all that's absurd.