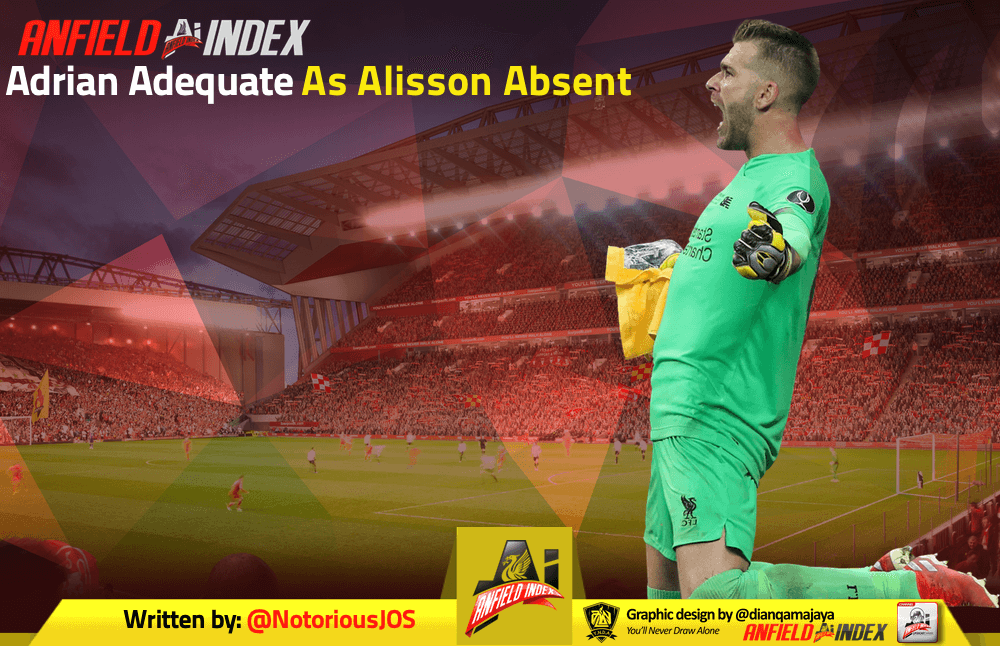 Adrian Adequate As Alisson Absent

After what felt like an interminable wait, Liverpool today gave an update on the Alisson Becker's injury status.
The Brazilian keeper was substituted in the 38th minute of the Reds' 4-1 victory over Norwich City at Anfield on Friday night with what was speculated to be a calf injury.
Speculation was rife that the former holder of the "world's most expensive goalkeeper" tag would miss an extended period of time, with social media going into panicked overdrive.
However, in a club statement, this afternoon manager Jurgen Klopp intimated that Alisson would miss " a few weeks"  with a calf injury but not as many as the six-week absence that was initially bandied around the media. The statement also allayed fears many held that the Champions League winner may have also injured his Achilles tendon.
"[It's] Not too cool. It's a calf injury which takes him obviously out for a while," Klopp said.
"I don't want to make now [an] exact prognosis on when he will be back but it will not be Wednesday for sure, so now then we have to see. It takes a while, it takes a couple weeks for sure, and we have to see.
"I saw already like 'six weeks' and stuff like this, but Ali was not a lot injured in his career so I would like to wait a little bit to see how he develops in that process now, but he is not in for the next few weeks."
To miss a keeper of Alisson's calibre for any period of time would be a blow to any team, but the timing of the injury is probably as good as it can be.
The physically imposing keeper will miss Brazil's friendlies with Colombia and Peru on September 7th and 11th respectively and the two-week Premier League break will eat into the time Alisson will miss. Not having to travel to South America, having spent a chunk of the summer representing the Selecao in the Copa America, will provide Alisson with a well-deserved break, injured or otherwise.
Had last season's Premier League golden gloves winner been injured earlier this season, then it may have extended Simon Mignolet's stay at the club.
The former Sunderland netminder joined Club Brugge in his homeland with a day left in the English transfer window, to be replaced by former West Ham keeper, Adrian.
As effusive as Klopp was about the Belgian's professionalism and training ground application and dedication, Mignolet was a far way off the requisite standard for a club of Liverpool's stature and ambition.
Not only was Mignolet sub-par in terms of the rudimentary goalkeeping aspects of his game, he lacked the footballing skills to be the effective ball playing, sweeper keeper that Klopp looks to use behind his high defensive line.
Adrian, released by West Ham after falling behind Łukasz Fabiański in the Irons' goalkeeping pecking order, fits the bill for Liverpool in a tactical sense.
The Spaniard is nowhere near Alisson in terms of capability or talent, but his skill set is similar, if lesser, to the Brazilian's. Playing the former Real Betis number one means Liverpool will not have to rip up their tactical playbook to accommodate him, as would have been the case with Mignolet.
It should also be considered that Adrian falling behind Fabiański is no shame. The Poland international's reputation with many football fans seemed to be irreparably damaged among some football fans, owing to his inconsistencies at Arsenal.
But, like his compatriot, Wojciech Szczęsny, at Juventus Fabianski has matured into an excellent goalkeeper and last season among the best in the Premier League.
Recency bias also plays a part in the negative assessment of Adrian by some, with his season as a backup forefront in their minds. This disregards the consistency that the Spaniard showed in his five years as the number one at the London stadium club between 2013 and 2018.
During this time, the 32 year outperformed the expected goals against by 9 goals, conceding 70 to the expected 79.10 that, according to the expected goal algorithm, he was ought to have conceded from the 281 shots he faced.
Adrian in his cameo versus Norwich showed a comfort on the ball that Mignolet never showed in his six-year Anfield stint, attributes which are crucial for a progressive, possession-oriented team like Liverpool.
Losing Alisson is a blow to Liverpool, but with the more than capable Adrian now the Reds back up keeper the severity of the Brazilian's absence will likely not be felt as much as it would have only a few weeks ago.