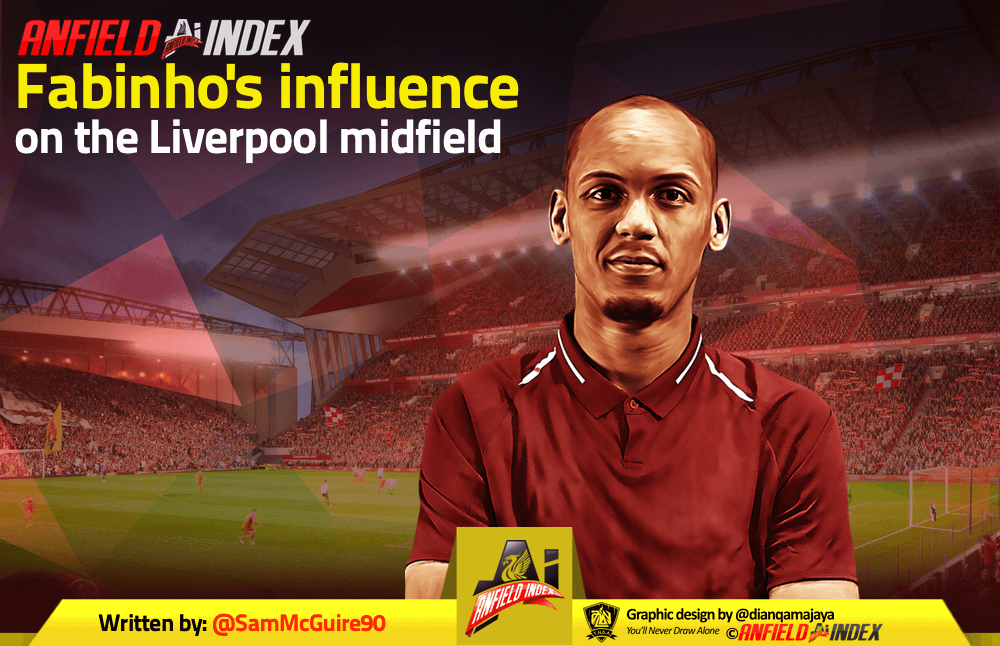 Fabinho's influence on the Liverpool midfield
Despite being European champions, Liverpool have a squad full of divisive players. Some are undervalued and some are simply misunderstood. There are a number who tick both boxes and one such player is Fabinho. 
The Brazilian doesn't score goals. He doesn't assist them either. He doesn't play 70-yard crossfield passes that are shown on the Match of the Day highlight reel and he's not the sort to dance past four opposition players before picking out a team-mate. The former Monaco man isn't full throttle, in your face and he's not the most vocal of players. 
It's obvious why his contribution to the team can go unnoticed. He's not one to steal the show. The fact he doesn't shows what a magnificent job he's doing. Because, well, he isn't there to do any of that. 

He's in the Liverpool team to break up play, quell potential counter-attacking situations and to keep the opposition penned in so that the Reds can do their thing. 
Against Norwich City, Liverpool had a few standouts. Mohamed Salah looked back to his very best and finished with a goal and an assist. Roberto Firmino notched an assist and looked back to his dazzling best. Divock Origi impressed on the left of the attack and scored yet again. Skipper Jordan Henderson was praised for his midfield performance, too. 
But Fabinho put in a Man of the Match performance in the heart of the midfield for Jurgen Klopp's side. It's now considered the norm and what he does is seemingly taken for granted. However, without him, Liverpool aren't quite as aggressive. They aren't as combative and they aren't as cunning. They lose something when the 25-year-old isn't patrolling the middle third. 
The something being a gangly presence able to manipulate his limbs into positions nobody else in the Liverpool squad can replicate. Fabinho also has that Fernandinho-esque ability to avoid bookings despite committing cynical fouls on occasion. 
You can't quantify just how intelligent he is but you can use numbers to show how effective he is. On Friday night, he was at his destructive best. He won eight tackles and made two interceptions. He topped the pressing list, as revealed in the latest edition of Under Pressure on AnfieldIndex Pro, and his efficiency for these presses came in at 91%. 
He was involved in a pressing action every 2.66 minutes. Norwich seemed to cause Liverpool problems at Anfield and had a number of efforts. It would've been a lot worse had Fabinho not been playing. 
The one-time Real Madrid full-back wasn't just influential in the defensive third, either. He had an impact on the attack, playing over a third of the 42 passes he attempted forward to show an intent to get Liverpool moving. Furthermore, 16 of those passes arrived in the Norwich City half highlighting his willingness to push on into advanced areas.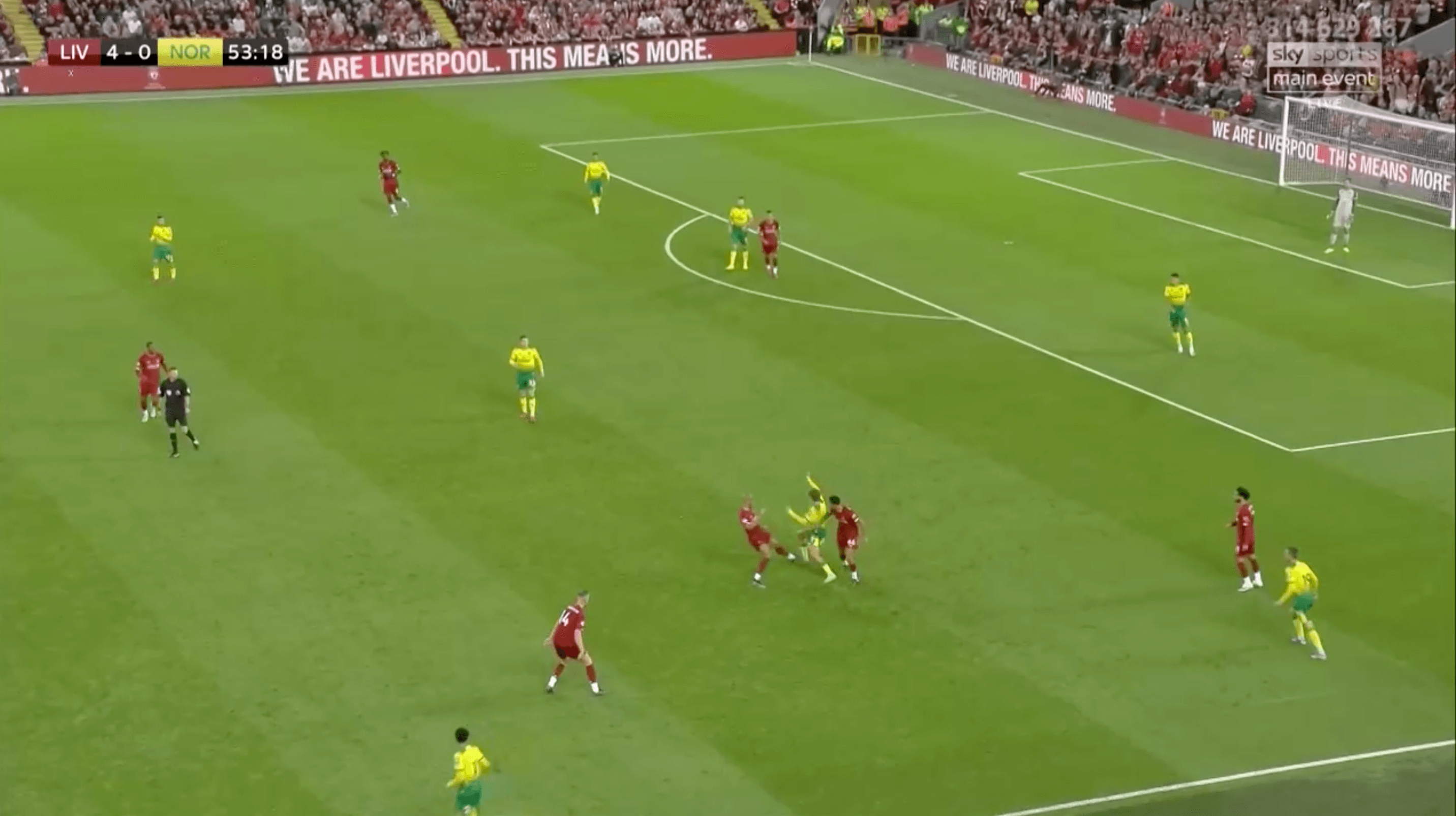 Perhaps the perfect example of Fabinho's ability to marry defence and attack together is shown in the above screenshot. Norwich have turned the ball over and Trent Alexander-Arnold is caught out of possession. The Liverpool No.3 joins his right-back in pressing the player and with his outstretched left leg he's able to poke the ball away.
Salah picks up possession and drives into the penalty area. His curled effort just goes past Tim Krul's post and the scoreline remains 4-0.
However, the outcome, in this scenario, is irrelevant. The real talking points is how that opportunity doesn't come about without Fabinho being on the pitch. Not only does he react quickly to put out the potential fire – a Norwich City counter-attack – he's switched on enough to see Salah in space. He doesn't just stop the away side's attack, he turns possession over so that Liverpool are the ones attacking deep in the Norwich half.
In the blink of an eye, he turns defence into attack. And with it, you see why Klopp has said previously that the counter-press is the best playmaker in world football. Fabinho might not get the mainstream plaudits he deserves but it's safe to say the Liverpool players appreciate what he brings to the team. With him playing they're a completely different beast. Now fully adapted and acclimatised to the Premier League, the 2019/20 campaign could see him dominate.