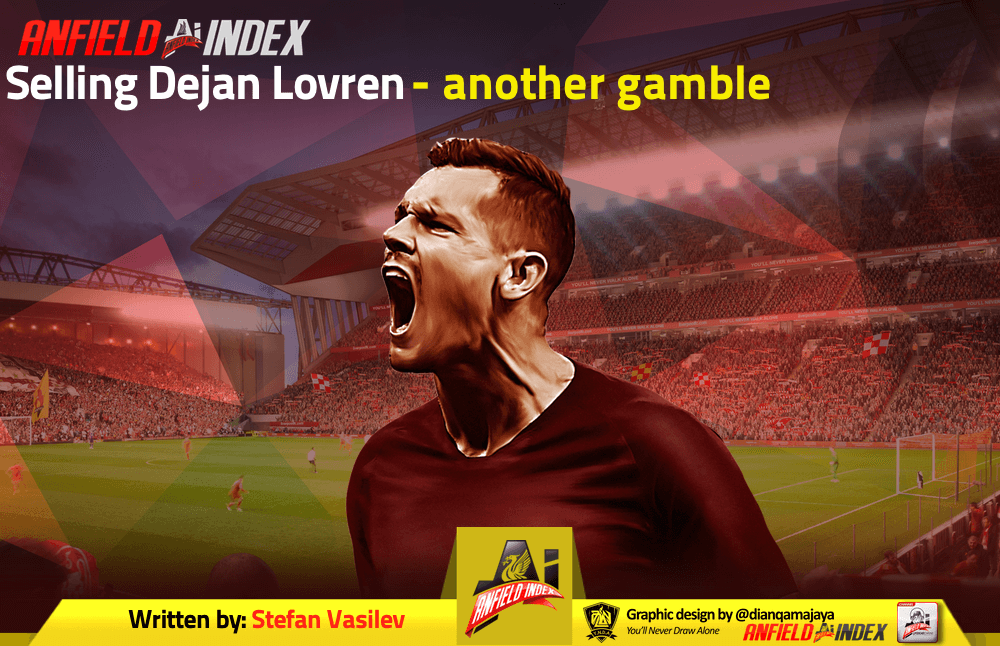 Selling Dejan Lovren - another gamble
Reports in the media today strongly suggest that Dejan Lovren is headed to Italy on a permanent deal. He did not travel with the team to Istanbul, so it's quite possible the rumours are based on reality than your regular summer click-bait. The Croat found himself down the pecking order after representing his country in the World Cup final last summer. After undoubtedly the highlight of his career at that point, Lovren was plagued by injuries for most of last season. So now he finds himself as the fourth option in one of the best defences in the league and quite possibly Europe. A lot of supporters wouldn't miss seeing Lovren in the famous red shirt. And they have very understandable reasons – he is both error and injury-prone. In different circumstances, I would probably have been part of that camp but given the current state of the Reds' squad and I can't help but think that Michael Edwards and co are taking yet another unnecessary risk.
Injury Prone?
Lovren has a reputation for constantly being injured or unavailable. But that is not entirely based on reality. Last season was indeed tough on the Croatian but he's has managed to log close to 3000 or more minutes in each of his previous four seasons in Liverpool (per transfermarkt):


The 17/18 season was by far the best in his career. He played 90 minutes in all but one (Maribor at home) of our Champions League games en route to the final in Kyiv. He didn't miss a single game due to injury. And after that was part of an unbelievable World Cup run for Croatia. After a season, in which Lovren's load was so much bigger than to what he was used to, perhaps unsurprisingly came the injury-plagued 18/19 campaign.
Are the numbers in the above table worthy of a starting centre-back – I don't think so. But they are more than good enough for a player, who plays a big part in the rotation. Especially when we consider the rest of our centre-backs. The Reds will likely play more than 5000 minutes of in all competitions this season, assuming we make the Champions League quarter-finals.
Joe Gomez has played a total of 7500 club minutes of competitive football in his career. He is our starting centre-back, given what we have seen in the opening matches of the season. He is the only senior back up to Trent Alexander-Arnold. The 22-year-old has only managed to play more than 2000 minutes once in his career so far – 2500 minutes in 17/18. Joel Matip has also never played more than 3000 minutes in all competitions since coming to Anfield. Can both of them achieve the most minutes they have ever played in a single season? Are Edwards and Klopp willing to bet a title challenge on that?
Does the fourth choice CB really matter?
The vast majority of supporters wouldn't mind seeing the two young Dutch defenders start in the league cup and FA cup. After a summer with, in which all the outfield players coming in are born after 2000 we shouldn't expect any domestic cup glory. So how much does a fourth choice central defender actually? Let's look at the data from the last 5 seasons:

The numbers are surprising. Are van den Berg and Hoever better defenders than Lovren at this point time? No. Is any of them ready to contribute to over 25% of all minutes in the main competitions? Most likely no. Both of them will hopefully one day become much better players than Dejan ever was but we have a chance to win major trophies now. I'm sure Edwards and Klopp know all this. Hoever has been around for 8 months and Jurgen should have a pretty good assessment of him by now. Maybe the kid is ready. We all saw Gomez and Trent develop into great players over the last couple of seasons. But do you remember how frustrating it was to watch both of them misjudge long diagonal balls every other game? The big difference now is that the points matter much more now than two in two seasons go.
The club has taken a huge risk with the lack of reinforcements in defence. We currently don't have any senior backs for Trent and Robbo (Milner is not a full back). Letting Lovren go will make the gamble even bigger.