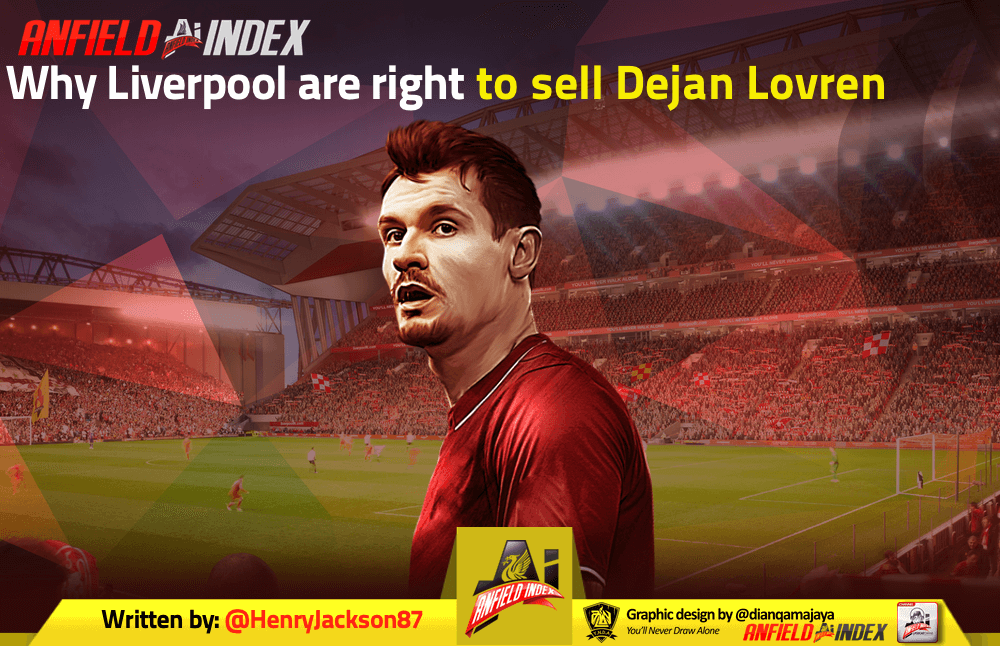 Why Liverpool are right to sell Dejan Lovren

After five years of being one of the most divisive players in Liverpool's history, the end appears to be nigh for Dejan Lovren at Anfield.
If (trustworthy) rumours are to be believed,  the 30-year-old is on the verge of completing a move to Roma, having accepted that being fourth choice centre-back is going to be no barrel of laughs.
The first thing to say is that Lovren deserves credit for actually wanting to go out and prove himself elsewhere, rather than sitting on the substitutes' bench every week, or perhaps not even in the squad, and taking home vast wages.
A determined character, being fourth in line at the back is clearly not something that appeals in the slightest and Liverpool aren't going to stop him from leaving.
Considering Lovren has had so many critics during his time at the club, there have been a curious number of supporters expressing their anger at seeing him potentially leave.
All of a sudden, this man who was nowhere near good enough for Liverpool is going and the Reds' squad can't cope. It's a fickle world we live in.
There is undoubted risk in allowing Lovren to leave, so this level of concern is understandable, to a point.
For all his faults, he is an experienced head who has played in World Cup and Champions League finals, producing some strong performances for both club and country along the way.
It's all relative, of course, but anyone legitimately calling Lovren a 'bad' defender needs to imagine how good he would look playing for a lower league side, or even one towards the bottom of the Premier League.
You don't spend five years at Liverpool and make 170 appearances, as well as earn 53 caps for Croatia, if you don't have merits as a footballer.
That being said, Lovren is no longer good enough for this Champions League-winning Reds side – they have moved on without him, hence his descent down the centre-back pecking order.
Not only have his performances proved to be inconsistent, but his injury record has become an increasing concern, with an inability to string together a run of matches.
Sure, there is a risk in letting him go, should long-term injury affect Virgil van Dijk, Joe Gomez or Joel Matip, but it suggests Jurgen Klopp has total faith in those hoping to force their way into the first team squad regularly.
Klopp has always been an advocate of youth, and rather be cautious and keep hold of Lovren, he sees it as a way of making Sepp van den Berg's path clearer, according to ESPN's Melissa Reddy.
The teenager only joined from PEC Zwolle this summer, but he has impressed so far and may not be hanging around Liverpool's under-23s side for too long.
Fabinho is also an able deputy at centre-back, not that using him there is an ideal solution, considering it removes a key midfielder from his preferred role and throws him into an unfamiliar one.
Having him available to slot in does highlight the depth at Klopp's disposal, though, and if 1,000 Reds supporters were asked who they'd rather have at the back out of the Brazilian and Lovren, the former would likely receive the majority of the votes.
Ki-Jana Hoever is arguably the most exciting young player at the club and he should blossom into an outstanding central defender eventually, even though he is expected to be used at right-back for the time being.
There are flaws to using Van den Berg, Fabinho and Hoever at this moment, but put simply, Klopp would not be giving Lovren's exit the green light if he didn't believe he had sufficient cover.
So how will Lovren be remembered?
Time is unlikely to be kind to him, much in the way Martin Skrtel's spell at Liverpool is now derided, when in fact he did plenty of good during his own up-and-down period on Merseyside.
The Croatian's effort levels can never be faulted, but ultimately, he will be viewed as an error-strewn defender who often let his mouth do the talking rather than his feet.
There were good times, of course, not least that unforgettable late header against Borussia Dortmund in the Europa League quarter-final second leg in 2016, but he has been Liverpool's weak-link far more often than a key man.
His exit will divide opinion, which is fitting considering Lovren's entire career has done exactly that, but the Reds are getting rid of him at the right time, likely making back the £20 million they paid for him in 2014.