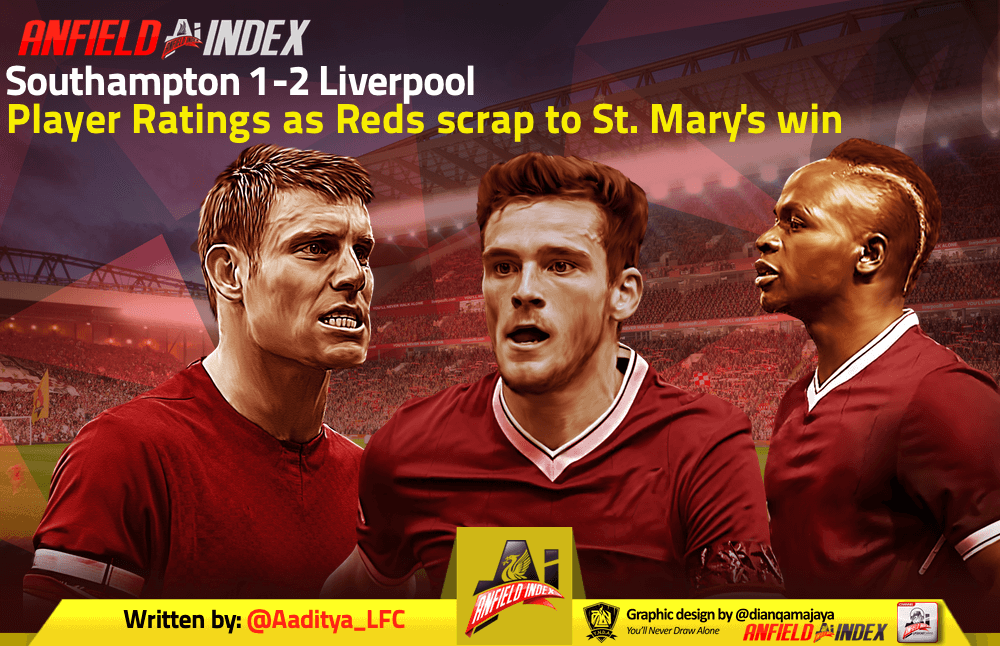 Southampton 1-2 Liverpool - Player Ratings as Reds scrap to St. Mary's win
Given the circumstances, Liverpool came away from a potential banana-skin at St. Mary's with a superb three points, after beating Southampton 2-1, thanks to goals from Sadio Mané and Roberto Firmino.
The Reds were dominated for large periods of the first half, but went into the break with Mané's stunning curler putting them in front. Firmino doubled the lead, before an Adrian howler sent the nerves jangling a little bit.
But in the end, two and a half days after 120 minutes in the heat of Istanbul, Jurgen Klopp would definitely take those three points.

Here's how each player fared for Liverpool.
Adrian San Miguel – 7/10
Well, yeah, he made that awful error to gift Ings a goal against his former club. But that shouldn't take away from the first half, in which he kept Liverpool in the game. That save off Yoshida's header, in particular, was superb. Let's hope this is his Alisson at Leicester moment, and that these mistakes aren't repeated.
Trent Alexander-Arnold – 5/10
Again, not a vintage performance from Trent. There are times when it seems like he's overcomplicating things. Like the rest of the team, he was much-improved after the break, though.
Joel Matip – 5/10
He defended well enough against the threat of Adams and Redmond, apart from a spell in the first half where he lost his head and went walkabout.
Virgil van Dijk – 7/10
He did the things you'd expect him to do, Adams or Ings got no change off him.
Andrew Robertson – 5/10
He didn't get forward with too much success very often, even though there wasn't much of a Southampton threat down his flank. Once again, Robertson's crossing wasn't at the standards we now expect it to be.
Gini Wijnaldum – 6/10
In the first half, he was not really impacting the game, but he grew into the game in the second half, beating the Southampton press, and setting off the front three with some very decent passes.
James Milner -4/10
Once again, he wasn't really at his best. His pressing was once again ineffective, as Ward-Prowse and Hojbjerg managed to shake him off easily. At least, none of that was costly to the Reds.
Alex Oxlade-Chamberlain – 6/10
Chamberlain had some really good patches in the game, with some superb touches and passes. It's immense that he got almost a full game to play, and he's visibly shown that he's getting sharper with every minute he's playing.
Mohamed Salah – 6/10
Salah looked tired. There were times when he looked dead on his feet out on the pitch. That was understandable, given he played 120 minutes in Istanbul. Now he's got a week off to prepare for Arsenal.
Sadio Mané – 9/10
How lucky are we to have this fella in our team? A stunning finish on the stroke of half-time gave Liverpool a lead they didn't deserve, at the end of a half they could have possibly been two goals down. He also won the ball back to set up Firmino's goal.
Roberto Firmino – 7/10
A lovely finish to take his goal. That aside, he could've linked up play a little bit better, with some of his flicks and passes just not coming off.
SUBSTITUTES:
Fabinho – 6/10
Came on for Milner, won a few tackles, and most importantly, showed no signs of any injury after limping on Wednesday in the Super Cup.
Divock Origi – N/A
Played barely ten minutes, and didn't see much of the ball.
Jordan Henderson – N/A
Came on very late in the game, nearly set up Firmino with a lovely through-ball.