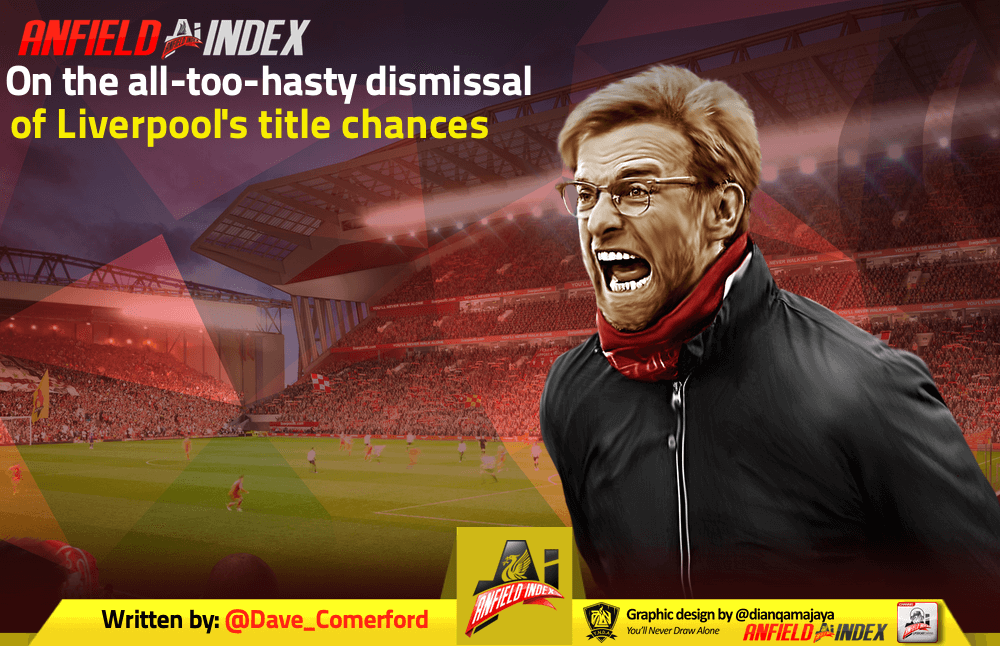 On the all-too-hasty dismissal of Liverpool's title chances
In light of certain media coverage, we have to set out some important facts. Expected title rivals Liverpool and Manchester City both won their first game of the season – convincingly. There are another 37 matches still to be played.
That's stating the obvious, but the obvious seems to have slipped the mind of the countless observers who purred over City's routine victory at the London Stadium. So enthralled were they by the ruthless performance that they all but declared Pep Guardiola's side champions-in-waiting.
Rio Ferdinand expressed near-total confidence that the trophy was bound for the Etihad, Jose Mourinho declared that City's B-team could win the league and Gary Neville, most perplexingly of all, suggested that even Manchester United, who hobbled over the line to a sixth-place finish last season, will taste Premier League success before the reigning European champions.
More surprisingly, I saw a handful of dispirited fans concede that Liverpool wouldn't be able to push the holders as close this time around.
Why, then, are Liverpool being underestimated to such a great extent by so many (albeit not all) pundits and indeed fans?
The justification ex-Red Peter Crouch offered for backing City was our supposed weakness at the back. Granted, it's been too easy to sneak in-behind our defensive line in the first couple of games, but, as I will repeatedly emphasise, the season remains in its nascent stages, and so for the moment those lapses can be attributed to rustiness.
Moreover, we can surely have total confidence in our standard-setting personnel (this is one of the blessings of choosing to stick rather than twist in the market) and world-class manager to tighten things up.
Others have pointed to the disparity in the respective levels of squad depth. Admittedly, City are blessed with some enviable auxiliaries, but it's easy to underestimate what Liverpool have in reserve. It's difficult to imagine, for instance, a forward more consistently effective than Divock Origi when deputising for the front three.
I was firmly in the pro-investment camp over the summer but if Klopp has faith in his back-up options, then really we should too.
We will need luck with injuries – and we've certainly not had it so far – but when has any title bid been built without fortune? Squad rotation will be conducted with immense precision in a bid to minimise fatigue.
Ultimately, most would simply stress that City are too good. Looking at it broadly, that's a legitimate assumption, but when you examine it on a game-by-game basis the conclusion is not too bleak.
Liverpool, to my mind, outplayed City in the Community Shield and, but for a combination of wastefulness and simple bad luck, they would have dealt the champions an early blow.
It was slightly daunting to see them dismantle a West Ham side which on-paper looked relatively strong, but in reality, the home side turned in in a lacklustre performance bereft of any self-belief, wasting a number of promising openings.
"Hopefully I'll touch the ball," £40 million striker Sebastien Haller remarked before the game. Clearly, the Hammers never really thought they had a chance.
In all, there shouldn't be cause for alarm in City's five-goal victory. One might say that merely illustrates the standard they've set, but that wasn't the kind of game that will define their title bid.
I still believe there are weaknesses in City's defence. Vincent Kompany hasn't been replaced, and neither John Stones nor Nicolas Otamendi are totally solid. At times their ball retention masks any frailties, but they will always offer chances. With the arrival of Joao Cancelo and the strong form Oleksandr Zinchenko amid Benjamin Mendy's absence, it's also unlikely that Pep knows his best back four.
They are also more vulnerable to injuries than many realise. In some positions, particularly midfield, they could brush-off any setback, but what if their elite centre-half Laporte or their free-scoring winger Sterling were to face a significant spell on the sidelines? Both would be big losses.
Here, then, is why I still fancy our chances.
Our 97-point squad has been imbued with a fresh confidence in their ability off the back of a pair of major trophies and every key player is in a phase of their career during which improvement seems inevitable.
If we can get to the home game against City still within two points, things could get very interesting. We do face every other top-six side in that time, but honestly, we know we're better than each and every one.
It will be another magnificent tactical battle between Jurgen and Pep, but if you back our boss and factor-in what will be a raucous atmosphere, you'd put us in with a good shout.
We might have to take all three points at The Etihad as well, and six from six is an almighty ask. But I reckon Klopp and his players learnt a lot from last season's narrow defeat in Manchester. When they overcame their early jitters and started to stroke the ball around with real confidence, they were more than a match for the opposition.
Overall, it seems to me like the watching world is still adjusting to just how good this team is.
Increasing numbers are bemoaning the fact that City are making the league 'boring', but this mounting defeatism is twice as dull.
We have to be mindful of the atmosphere we create around the players – it was a palpable belief that carried us so far last season.
I won't deny that City are the greatest side in Premier League history, but they are certainly fallible. Every fan needs to believe that, as does every player who lines-up against them. Too many are writing-off their chances before a ball is kicked, even after the likes of Crystal Palace, Leicester and Newcastle tore-up the script last season. There are often times when they seem to be there for the taking.
The 2019/20 narrative has already been written, it seems, but it's foolish to believe that the league will neatly follow it.