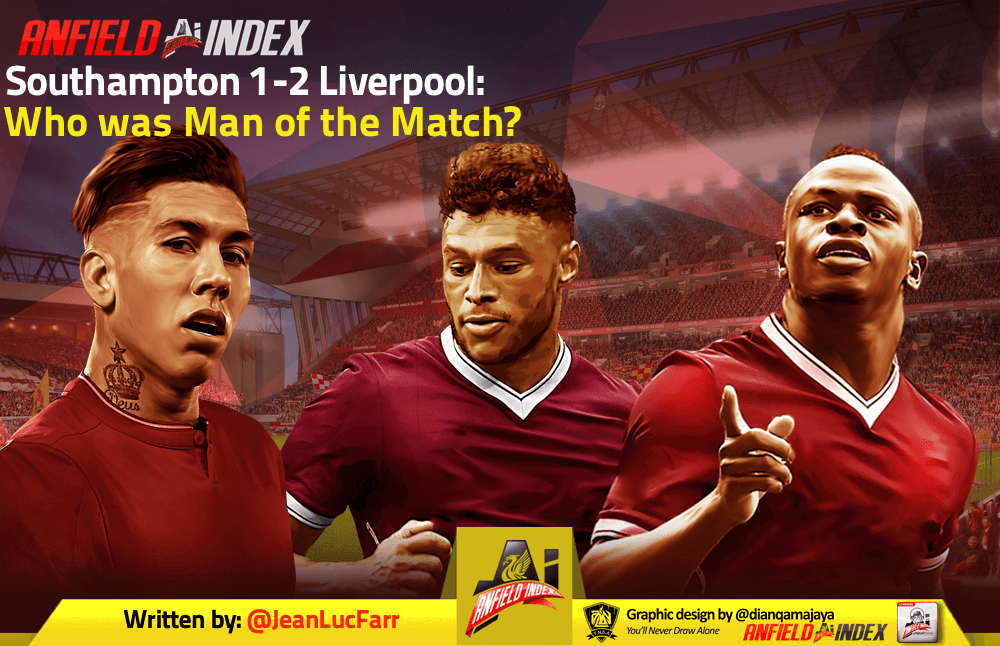 Southampton 1-2 Liverpool: Who was Man of the Match?

It was a game that every Liverpool fan knew was going to be a struggle. Not only was it an away match against a solid Southampton side, but with the 120 minutes played in midweek added to that, 3 points was looking a difficult ask. The front three were going to have to work their magic and dig us out of a hole, and, thankfully, they did just that – despite Adrian's best efforts to throw it all away late on.
It was an unfortunate event for the Spaniard as he'd been very good up to that point. He made a very important point-blank save to deny Yoshida in the first half which gave Mané the opportunity to put the Reds ahead in the dying minutes of the period. Sadly, though, the main takeaway from his performance will be his Loris Karius impression which gifted Danny Ings with a goal against his former club. Had he not made the error, he would have been in with a shout of being the man of the match. Hopefully, it doesn't dent his confidence and he can continue his good form until Alisson returns.
Van Dijk had a decent afternoon despite the number of chances Southampton managed to create, while Robertson looked like himself for the first time this season, especially in the second half. He defended well and also was on hand to cause the opposition back four problems with his attacking prowess. Wijnaldum was more involved than he has been in the previous two games and, perhaps most pleasing was the performance of Alex Oxlade-Chamberlain. After he made his first start since April 2018 against Chelsea last Wednesday, he followed that with yet another appearance in the starting eleven this weekend. While he is not quite at his brilliant best as yet, the signs are reappearing, and it is very exciting to see.
This game was all about the attack, though, and how they were going to somehow find a way to snatch us a victory. While it was not one of Mo Salah's best games – much to the dismay of fantasy football managers across the world – Sadio Mané and Roberto Firmino stepped up yet again, just as they did in the Super Cup against Chelsea. Bobby got himself on the scoresheet for the first time this season and should have had another a few minutes before. In the 65th minute, with just the goalkeeper to beat following a pass across goal from Mané, the Brazilian opened his body up and placed his effort just wide of the far post. Fortunately, just five minutes later, he found the bottom left-hand corner with a drive from the edge of the area. It came after some excellent work again from Sadio Mané, as he pressed Southampton deep inside their half before stealing the ball and laying it off to Firmino.
This leads me on to the actual man of the match, which I'm going to give to Mané. Two goals in midweek and now a goal and an assist against Southampton. He has started the season in superb form. The Saints were by far the better team in the first half, but Sadio showed his individual world-class ability by unleashing a powerful strike into the far corner in the 46th minute to send us into the break in front. Liverpool were much improved in the second half and Mané shone even brighter, creating the second goal and going close to bagging himself a second. He is right up there with the best forwards in the world right now and there are no signs of that stopping any time soon. Fingers crossed that he can remain healthy with the lack of pre-season he has been afforded. We now have a full week's rest before we host Arsenal at Anfield, so hopefully all the big guns – bar Alisson – will be feeling 100% for what will likely be a tough test against the Gunners and their new-look side.