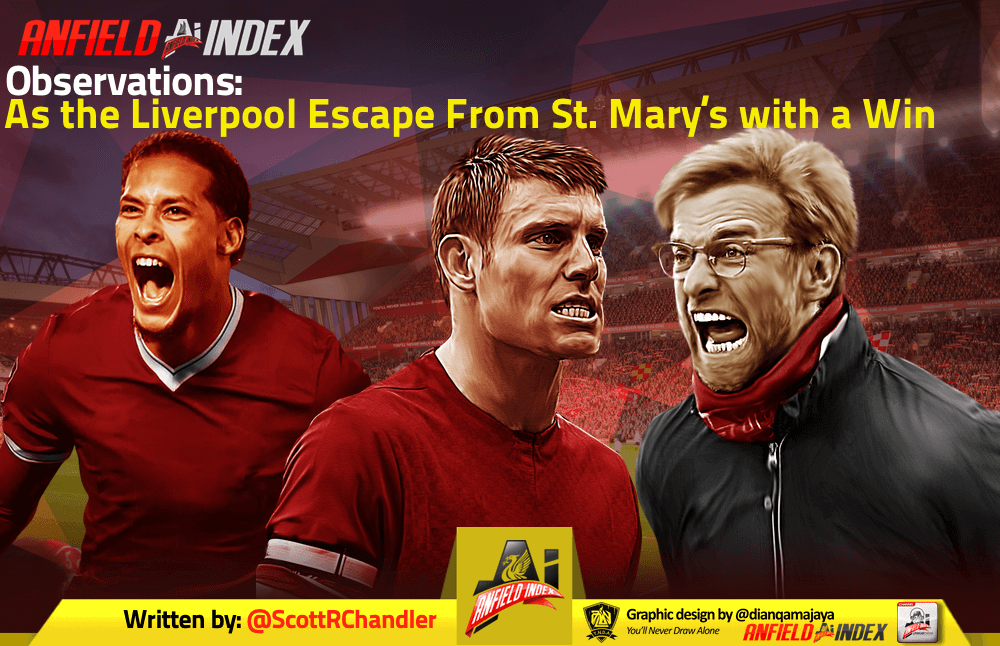 Observations as the Liverpool Escape From St. Mary's with a Win
Liverpool stayed perfect on the young season with a wild and topsy-turvy 2-1 win over the Saints. Liverpool were equal parts dominant and diabolical as they were lucky to go into the break ahead and then managed to make things difficult at the end despite completely controlling most of the 2nd half.
After some brief positive moments early, Liverpool fell under siege to a dogged Southampton side, especially after Milner went off for several minutes with an open cut above his eye that required stitches. Liverpool could have conceded numerous times in the first 45 and should have been behind but for a top-notch save by Adrian on a point-blank header from Yoshida off a corner caused by a silly Matip mistake. Yet, the Reds took the lead in first half stoppage time thanks to a sublime worldie from Sadio. After halftime, Liverpool exerted their will on Southampton until Bobby doubled the Reds' advantage. That should have ended proceedings, but a late Karius-like howler from Adrian gave Southampton life, and only a terrible miss by former Red Danny Ings allowed Liverpool to take all the spoils.
Here are some of the main talking points from the match:
Clear as Mud
I honestly cannot remember more uncertainty going into a match over what the lineup would look like coming. After 120 minutes and penalties for Liverpool in the sweltering Istanbul heat just three days ago, it was anyone's guess as to who would be fit. The Reds' front three had very little preseason, yet Bobby and Salah featured heavily in the Community Shield at Wembley and the Premier League opener, while Sadio came on as a substitute against Norwich and then played well into extra time against Chelsea. If you had any question as to whether a lot of playing time so early in the season was a good thing for Liverpool's leading lights, Simon Brundish answered them for you pretty eloquently:
The teams ran 140 and 138km in 28° heat under 65% humidity on the 5th day of the season having flown 2600km

Fuck @UEFA

— SimonBrundish (@SimonBrundish) August 14, 2019
Fabinho ran 14km 4 days after 12.1km
5 fucking days into the season

— SimonBrundish (@SimonBrundish) August 14, 2019
Mo played full 95 and now 120+mins in first 5 days of the season, on 15th day of his preseason

— SimonBrundish (@SimonBrundish) August 14, 2019
But the attacking threats weren't the only players to have been run ragged already. VVD played every minute against City, Norwich, and Chelsea, while Fabinho, Hendo, Gini, TAA, and Robbo all featured heavily across those matches. The only players to not feature much were Lallana and Shaq, and that's only because they're hardly relevant at the moment. When you added in the goalkeeping injury crisis, I was ready for any lineup from Lallana at goalkeeper to Lallana at DM to Lallana at false nine. Okay, so I was pretty worried about Lallana starting.
Luckily, the lineup featured most of the regular starting XI except Hendo and Fabinho. The major questions were about whether Adrian would be fit to start, but he was between the sticks having overcame the swollen ankle he got from the idiot supporter who barged onto the pitch and put in an accidental two-footed challenge that Paul Scholes would be proud of. It was also nice to see all of Liverpool's ex-Saints featuring with Mane on the left, VVD anchoring the defence, and Lallana in his most vital role – unused substitute. Time will tell if the excessive early minutes for Liverpool's starting XI costs them a title chance, but for now, Klopp is not taking his foot off the gas pedal.
Tale of Two Halves
Liverpool were obviously going to look leggy at points in this match having opted to feature most of the players who exerted a lot of effort in the opening stages to this campaign. Combined with the up-tempo, pressing style instilled by Ralph Hasenhuttl – aka Alpine Klopp – it's not surprising that the Saints came out fired up and put Liverpool under the cosh. It would have been nice if Ox's return to midfield and Milner starting on the other side of Gini could have led to some modicum of control in the middle of the pitch, but as has been Liverpool's weakness thus far, the midfield was woeful and hardly befitting of a title challenging side. Multiple giveaways – including by TAA, who has had a torrid start to the season – gave the Saints even more opportunity to impose themselves. The Reds struggled mightily to get out of their own end, and Salah had one of his most absent matches ever in a Liverpool shirt. Southampton really should have taken the lead when Yoshida ghosted Ox on a corner, but Yo, Adriaaaaaaan! came to the rescue for LFC once again. After Sadio sublimely scored wildly against the run of play, Liverpool somehow managed to lead 1-0 despite xG being ridiculously lopsided 1.17-0.19 to the Saints at the half.
But whatever sports drinks or new-age drugs that the Reds took during halftime worked a trick, and Klopp's boys began to act like themselves. Liverpool amped up the pressure and finally stopped looking half a yard off pace. Touches became crisper, the pressing was better, and the Reds slowly tightened their grasp around the Southampton end like a boa constrictor. Liverpool's efforts were rewarded in the 71st minute when a Mane pass led Bobby into the top of the box and then some lovely feet from the Brazilian set up a shot that bulged the back of the Saints' net. From there, Liverpool should have increased their lead to 3 or 4-nil, especially with Sadio getting a headed shot saved off a lovely chip over the top of the defence.
Yet, as any Liverpool supporter knows, our boys just can't do things the easy way. Instead of seeing out the match in a calm and composed manner, Adrian decided to mar his gutsy and impressive performance to that point by showing off his best Karius impression. I'd love to hear what he was thinking there because either he didn't see Ings or he was still buzzing from some justified SuperCup celebrations. But after Ings deposited Adrian's 83rd minute gift into the net, Southampton were completely in control and charging for an equalizer. Only an equally generous return gift from Ings in missing a guaranteed tap-in saved Liverpool from the type of dropped points that dogged them in former campaigns. In a match where Liverpool deserved both to lose and run away with proceedings, three points are certainly welcome.
Same Song, Different Verse
Liverpool's victories over Chelsea and Southampton looked largely the same. Numerous poor performances led to the Reds getting boxed in. But just when Liverpool were on the verge of cracking, Adrian and VVD kept the Reds in the match long enough for Sadio and Bobby to step up to be counted. Despite having very little preseason to get ready, Mane and Firmino have hit the ground running and have dragged the Reds to three straight victories. The Brazilian continues to be the straw that stirs the Liverpool drink by linking play between midfield and attack, which provides the impetus behind most of the Reds' best moments. Sadio's rise from talented winger to clinical finisher continued, and he's now scored 16 goals in his last 18 matches. It's getting harder and harder to figure out which of the front 3 is most integral, but the luxury is that when one of them has an off day like Mo did, the other 2 can fill the void.
However, another common theme from this season in the match was the shakiness in defence and midfield. VVD was his usual colossus self, and Robbo did recover nicely in the 2nd half to put in another all-action shift. But Matip almost caused two own goals, and TAA had another tough time. He was targeted heavily by Southampton down the flanks, which seems to be the most popular plan of attack for opposing clubs when they face Liverpool. Ultimately, the gaps in defence and midfield will eventually be exploited by a more ruthless side. With Arsenal coming to Anfield next weekend, Klopp will need to get things tightened up lest Liverpool drop their first points of the campaign.