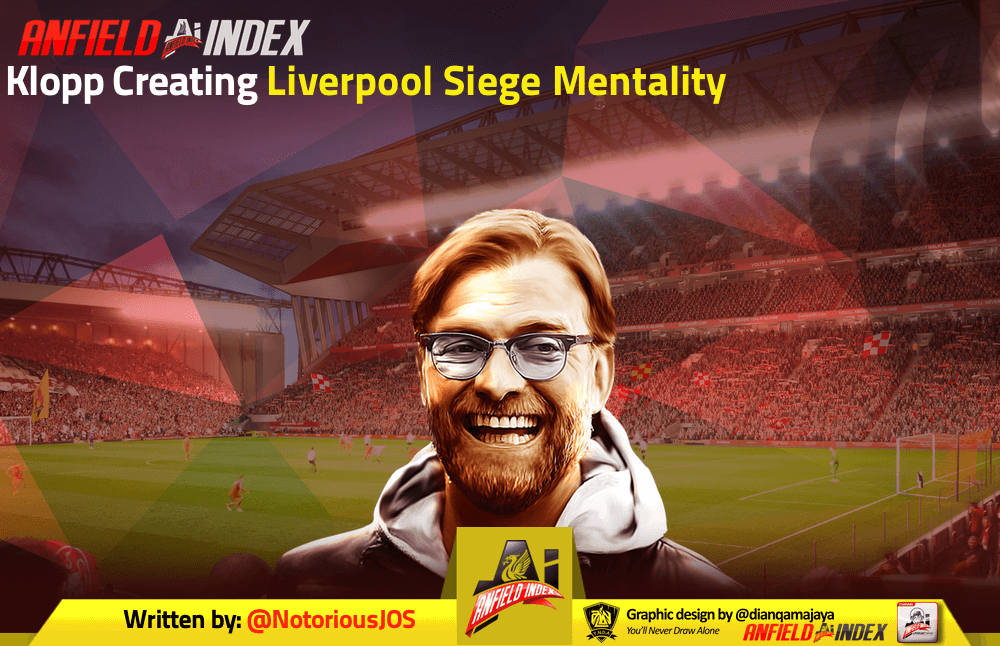 Klopp Creating Liverpool Siege Mentality
Jurgen Klopp reneged on entering into the transfer market this summer to reinforce his first team.
Despite links to several players, including Nicolas Pepe and Bruno Fernandes, the German elected to keep his powder dry and not add ready-made first-team options to his squad.
Legitimate arguments were made that the European Champions needed to add depth to their squad in the left-back and forward line positions, in particular. But the Anfield club — doubtlessly under instructions from their hug wielding manager — opted to remain loyal to the group of players that brought them to within two points of a league and European Cup double.
The Reds did add the promising duo of Sepp van den Berg and Harvey Elliot, but the early signs suggest that the teenage pair will be on the first team squads periphery rather than being counted on as immediate selection options.
It is now incumbent on the former Borussia Dortmund manager to get the most from his squad, not only physically but in a psychological manner.
Rotation can help with the former and creating a siege mentality can benefit and aid the latter.
Judging by Klopp's comments after Liverpool's 2-1 win away to Southampton on Saturday last, a siege mentality is indeed something that he is trying to imbue in his squad.
"I said before the game that most of the headlines were written, everyone was prepared for what looked like a banana skin because Southampton had lost their first game and we had problems here last year.
"Our plan for the headline was 'the mentality giants are in town' – that was my headline. I thought the boys fought for each yard of the pitch and played good football and scored wonderful goals", the affable Black Forest native said.
For many detractors and critics of the club's reticence to replenish the squad in the summer window just gone by, the die is cast for Liverpool. Their stretched squad will buckle under the incessant physical pressure that a huge fixture list will inevitably bring. They will, it is feared, not come close to replicating last season's 97 point league haul or their Champions League victory.
Clearly, Klopp is aware of the narrative surrounding his players and — like any good manager — is harnessing this overview and attempting to use it to benefit his squad.
It is not tangible, not something that can be measured in statistics, there is no "expected chip on their shoulder" metric, but a squad of highly motivated players can perhaps offset some of the physical duress that will occur in what is a massive season for the Reds. This appears to be the 52-year-old's motive and whether it will work will be determined at the season's end.
The man-management that has helped the Mainz 05 legend scale the heights of club management that he has was exhibited once again when discussing the error that lead to the Saints' goal on Saturday.
Adrian's gaffe almost gave Southampton a way back into the game when — with the score at 2-0 to Liverpool — the Spaniards under-hit pass was deflected into his goal by former Red Danny Ings.
Klopp, however, refused to publicly berate his second-string keeper and compared the former West Ham net minders mistake to that of the club's first choice, Alisson Becker, last season away to Leicester City.
The German said: "I said to him, 'Finally, it arrived, welcome'. Ali did the same, obviously, it is a goalie thing at Liverpool. I have no problem with that as long as we win the game.
"Adrian had a swollen ankle, we played too many balls back to him in that period. I was happy with everything he did today, all the saves he made, all the other stuff."
"The other players need to feel the responsibility for the build-up for the balls back for him".
"He is good with his feet and if you would have seen his ankle on Thursday when we left the plane, then you would say that pass for the goal was better than you would have expected. It is all fine."
Refusing to go scorched earth in a public forum at one of his players — one whom he'll have to rely upon for at least the next few weeks — is smart man-management from Klopp. Liverpool need Adrian to be at his best, his most confident and assertive and belittling the former Betis man in public would hardly be conducive to this.
It sounds obvious, but a glance at any Jose Mourinho press conference from his time at Manchester United will confirm that not every coach operates like this.
Liverpool will need a lot of things to coalesce if they are to win their first league title since 1990, luck with injuries, refereeing decisions and other uncontrollable factors. One thing they can count upon, though, is the man-management and motivational skills of Klopp striking a chord with his squad.