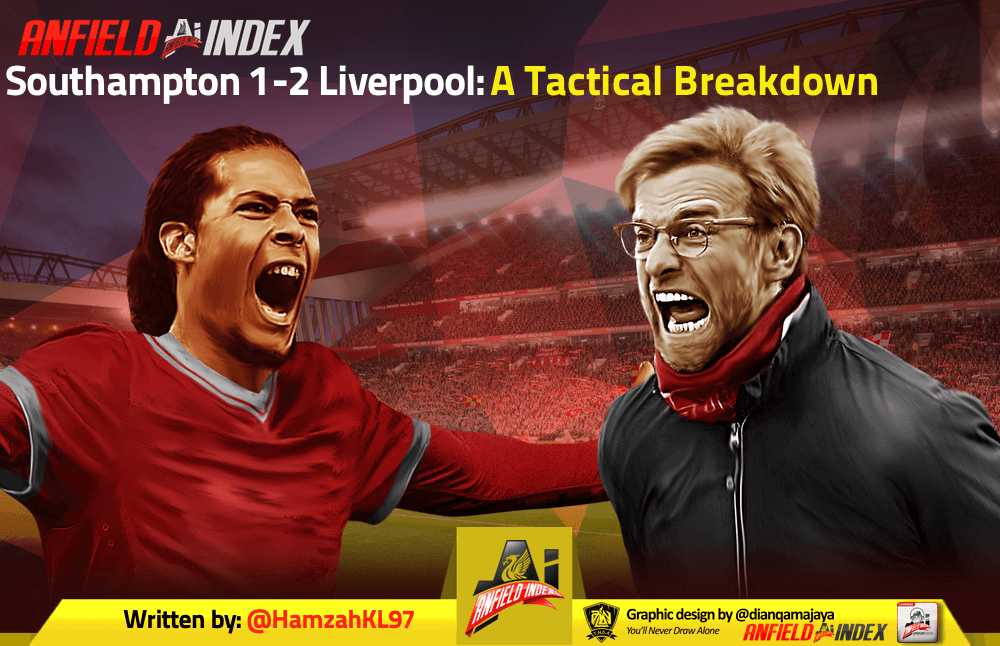 Southampton 1-2 Liverpool: A Tactical Breakdown
Liverpool's start to the season always appeared challenging. But how Liverpool would respond to this challenge would likely be the best indicator of how well the team will perform in the coming months. Playing Southampton away from home was the first potential banana skin of the season, even more so due to the 120 minutes, Liverpool had to play against Chelsea in midweek. Nonetheless, Liverpool was expected to win, perhaps not comfortably, but win as the better side.
Whilst Liverpool secured the win, amidst testing circumstances, the victory was seriously underwhelming, evidencing more real causes for concern. In Liverpool's past three games, the side has looked more vulnerable to attacks and defensively poor than at any point last season.
Indicative of this is the number of shots Liverpool are facing. Against Southampton, Liverpool faced fourteen shots, and four big chances. Leading to an xGA of 1.8 against, according to the Caley model, and 1.89 according to Understat's model.

Southampton made fewer than half of the number of passes that Liverpool did in the opponent's third, yet were able to generate a volume of chances and opportunities which seems alien to a side that was so defensively robust last season.
Most defensive analyses would focus on the back four and goalkeeper, yet it is abundantly clear that the defensive players alone cannot be responsible for such a high volume of goal scoring opportunities for Southampton, as Liverpool, when out of possession, defend as a unit. This unit previously impenetrable and compact, appears porous and open, especially in midfield.
The positioning of the Liverpool midfielders when out of possession, and when transitioning from an in-possession to a counter-pressing structure seems incorrect. The midfielders
The average position map below, sourced from Wyscout, shows the midfielders operating along the same horizontal line across the pitch. When a midfield is too flat, a single pass can break through the midfield line, and isolate all three players from the game. In a staggered midfield three, or at least a 2-1 or 1-2 structure, there are at least two horizontal lines which need to be broken through before an opposition team can break onto the back four.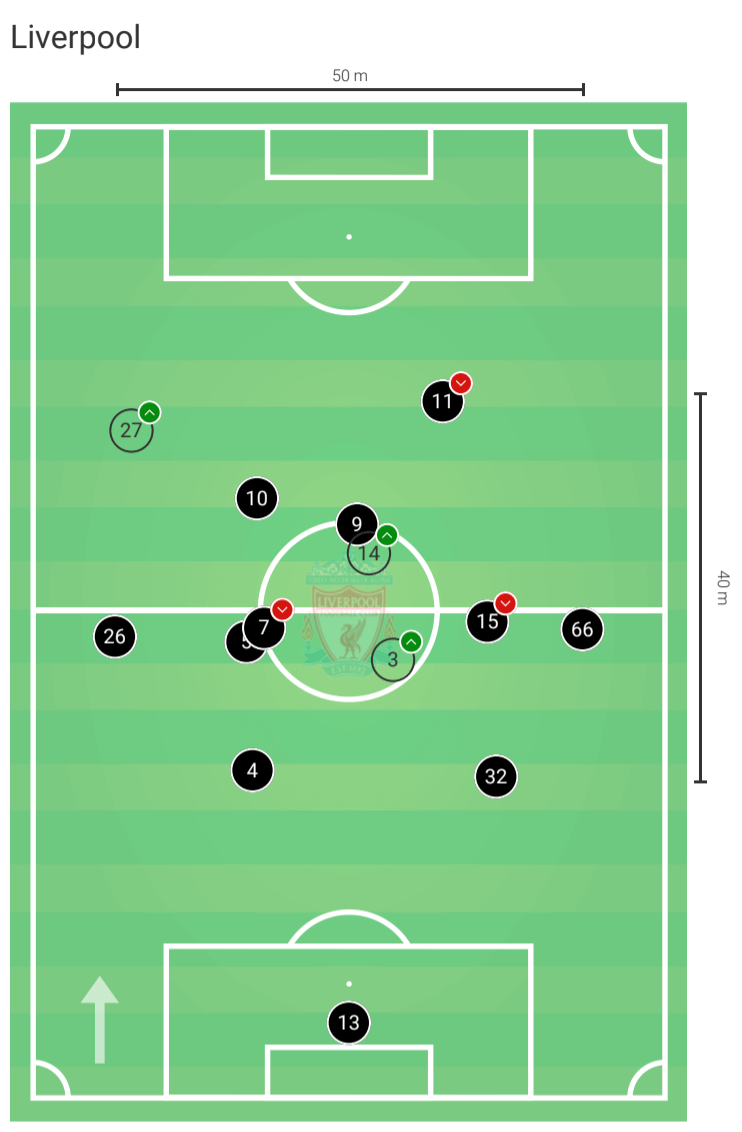 Milner and Wijnaldum often occupied the same spaces, despite Wijnaldum playing as the deepest midfielder, in the no.6 role, making for a slightly confusing game to watch.
In the example below, we can see how the midfielders are not positioned optimally, allowing Romeu the time and space to make a cross from deep. Oxlade-Chamberlain should be further up, and probably applying on-ball pressure, as there is no threat present centrally, whilst Wijnaldum should be further across, closer to where Oxlade-Chamberlain is, covering the central area – as there is no need for a third man in the left hand side, when Robertson and Milner were already in place to deal with the throw-in.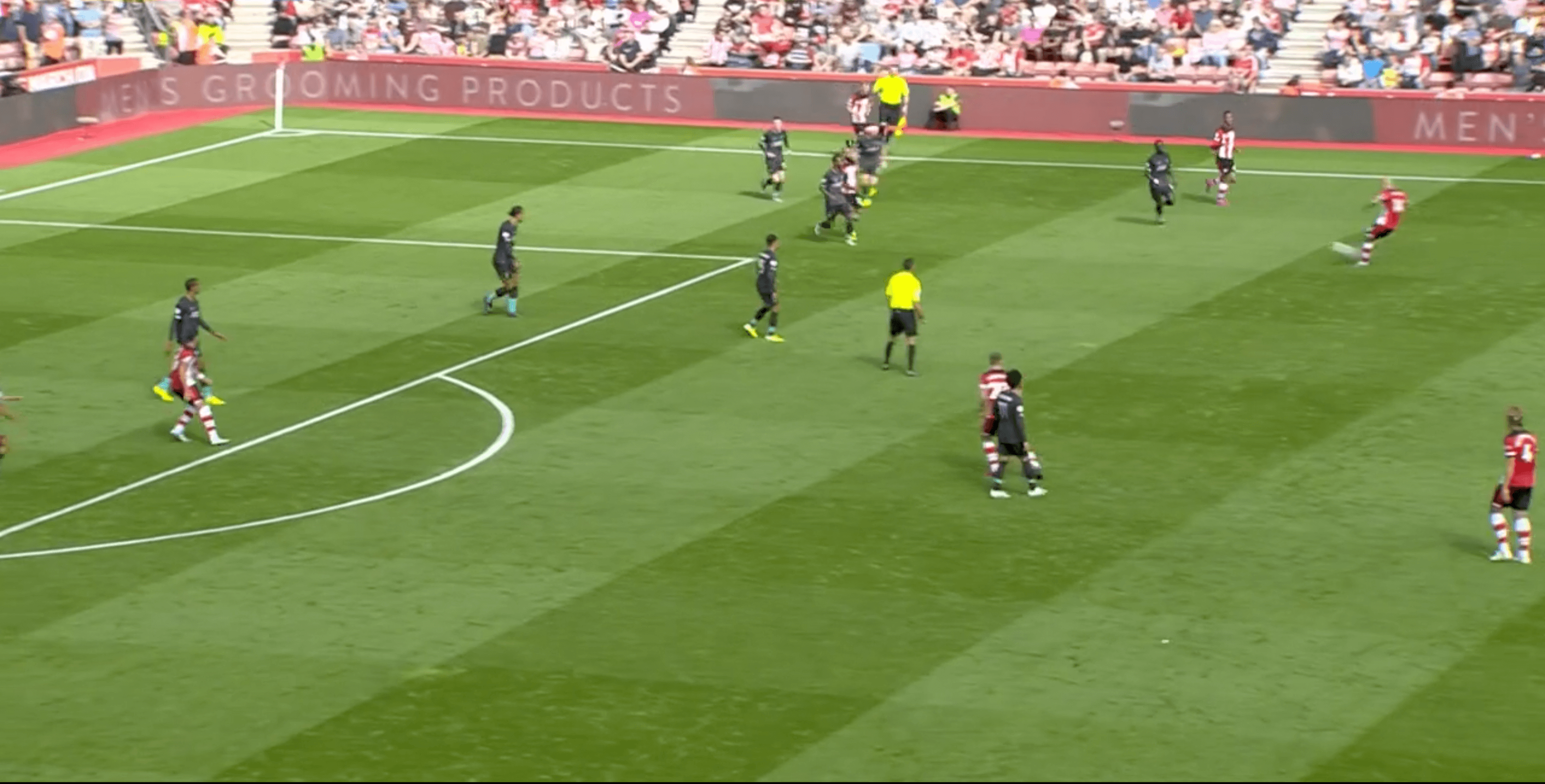 The midfield seemed to be the root of Liverpool's issues against Southampton. Despite Liverpool having 63.8 per cent possession, the side lacked the control which saw them close out the season comfortably. Liverpool was unable to access Salah effectively, despite him, Firmino and Mané being positioned against a back three. With Alexander-Arnold and Robertson playing deeper than usual, Liverpool were unable to exploit the wide areas and stretch Southampton effectively. Instead, the midfield three were disjointed, with Milner playing deep on the left side, and Oxlade-Chamberlain further up, on the right. This left a gap in the centre of midfield which Liverpool looked to cover when out of possession, but in moving to cover it, lacked structure around it, and Southampton were able to play through the middle or the half-spaces, as the Liverpool midfield did not cover either effectively.
Liverpool was fortunate that two moments of skill essentially defined the end result – coming from Mané and Firmino. The relationship between performances and results over the past fortnight seems unsustainable, but perhaps with the full strength XI expected to play against Arsenal, we may see something more akin to the defensive solidity displayed last season. Should Liverpool put in another poor defensive performance like this though, and allow Arsenal's midfielders time and space, and the opportunity for the Arsenal forwards to run at Liverpool's back four, then Liverpool may find themselves on the end of a first league defeat in a long time – barring some individual excellence again.
The first 9 EPL games in 2017/18 saw #LFC concede over 2 XG 4 times.
In the 70 EPL games since then, the most XG conceded was 1.50 at Arsenal in 2018/19, Southampton was 1.91
Chelsea in the Super Cup was 3.02

— Dan Kennett (@DanKennett) August 18, 2019
https://twitter.com/DanKennett/status/1162857903155535872
Whether fans should be c0ncerned yet is still up in the air. This side is capable of much better defensive performances than those it has produced in recent games, evidenced by last season, but a pattern is forming, in which Liverpool are conceding far more chances than they did relative to last season, and perhaps a new answer is required to fix this issue.