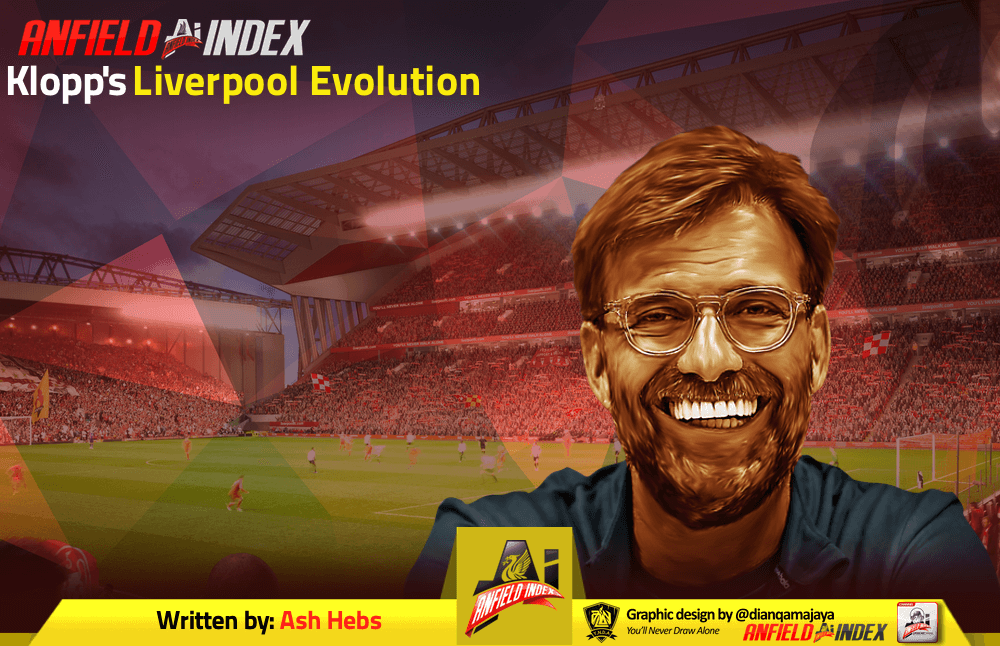 Klopp's Liverpool Evolution
Last season, Liverpool was arguably the best team in Europe. An incredible Champions League victory and a stupendous 97 point league haul; allied with 30 league wins, which was always a mark of special Premier League Champions (at least in the past!).
Four games into the new season, and, so far so good. Liverpool have continued where they left off last campaign. Maximum league points and the European Super Cup a welcome addition to the trophy cabinet. While Klopp is in charge, this team will always be a Champions League contender.
It's fair to say that this team, certainly in the Old World (pre-Guardiola), would be a regular title favourite. Klopp's Liverpool has established itself as a circa 90 point calibre team and still probably hasn't hit its peak. Enough to be a contender but hard to be a favourite, with City pretty much a 100 point team. Whether they have peaked or not, time will tell.
What's clear is that most top teams have a 3-4 year cycle where they are at their peak. That would suggest that Liverpool is just entering its peak years with City soon coming to an end of theirs. One caveat though; City have already ripped up the conventional rule book of what is considered normal (albeit by fair means and foul).
But City are here to stay for now. Whatever happens, they will bring the very best out of Klopp's Liverpool. If the loveable German can keep the majority of his squad together, a league title will surely be delivered before the expiration of his contract.
It may just not be this season. But Liverpool will be contenders once more.
While the league title is possible, it has been made harder by summer competitions involving key players, an early injury to the mercurial Alisson and a failure to strengthen the squad in the summer. Considering the might of our immediate Manchester rival and their strengthening, this is to be expected. For a number of reasons, this summer has been an imperfect storm for Liverpool.
This season should therefore be enjoyed. If the team can overcome the challenges presented going into the campaign, and City falter then the title could be ours. Equally, we should enjoy watching this team and this wonderful group of players whilst they remain together. Whatever happens.
This is a golden generation of players we are watching on a weekly basis and a group that may not be together for too much longer. At some point, continental rivals will inevitably come swooping for at least one of our magnificent front 3. The club will also look to capitalise on a transfer windfall for the likes of Salah or Mane, as they approach the 30 age-mark.
Klopp stuck to his guns in the transfer window and trusted the players he had. Given what he has delivered thus far at Liverpool, he deserves a certain benefit of the doubt. Arguably, it should be exciting that Klopp trusts his existing players so much. The team can and will improve as time progresses.
There are also interesting tactical developments underway to further refine the way this team plays. All things to look out for and savour as the season progresses.
One of the improvement Liverpool needed this summer was more creativity and goals from the midfield. Especially given the health of our forward players and the minutes they have clocked up over recent campaigns. Simply put, there is too much reliance on the likes of Salah.
Furthermore, much of the creativity from last season came from the fullbacks who may not get as much space in which to operate this season. It stands to reason then, that the onus on the midfield and the way it plays would be something to watch out for this season.
Klopp's recent use of the high line points to a potentially intriguing, longer-term tactical development. It appears that the team will look to squeeze the opposition in, make the pitch smaller and control the possession. With the fullbacks staying deeper, we should see an evolution to a 433 slightly resembling Guardiola's approach at City. In attacking mode at least.
The attacking midfielders will bomb forward, the likes of Oxlade-Chamberlain and Keita (once fit and firing), acting more as surging dribblers rather than passers (as in City's case). This will potentially make the team less compact, but also offer the insurance of a very quick back 4. Risk and reward, which is an unavoidable balancing act when playing attacking football.
If Klopp tweaks the system, it gives the team more options against the parked bus. Width can come from either the fullbacks, the attacking midfielders or the forwards. It will add further variety to the team's tactical toolkit. The likes of Gomez, Matip, Fabinho and Van Dijk will provide the passing platform for this to succeed.
There is a lot of speculation around the likely involvement of the likes of Keita and Shaqiri, but they will certainly have their part to play as the season progresses. Behind the scenes, Klopp and his team will be preparing them for the various physical and tactical challenges ahead.
This pair of players in particular is interesting, because they offer the ability to be playmakers from out wide rather than being wingers per se. As they get fitter and more familiar with their team mates and the system, they should play an important role for the team when needed. Their ability to operate in, and exploit, the half spaces will certainly help the team's attacking threat.
To conclude, City are an incredible powerhouse of a team. We cannot control what they do; there is little point in getting too worked up every week. Relatively speaking, Klopp and his side are also delivering some very special things. May, June and August delivered some beautiful moments between fans, managers, players. The club stood tall while our rivals watched on in envy.
Let's try and enjoy these moments while they last, take one game at a time and see where it takes us. Klopp is still playing the long game and the potential for more special achievements is there.