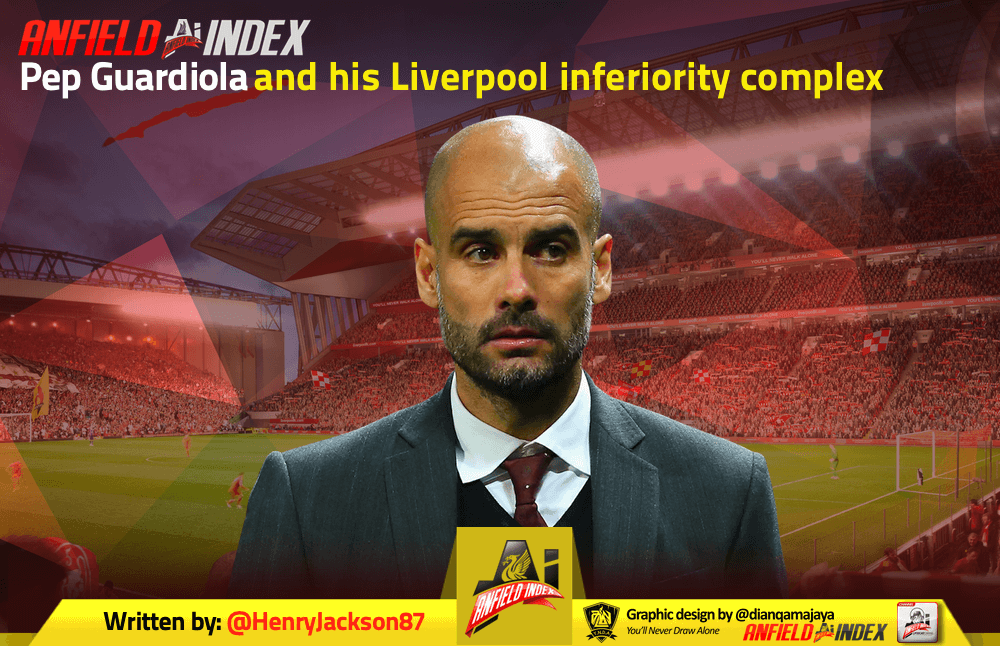 Pep Guardiola and his Liverpool Inferiority Complex

Liverpool are in Pep Guardiola's head more than ever before. It's quite something.
No sooner had Man City been denied by VAR against Tottenham than their manager was banging on about the Reds again, referencing Adrian's foot not being on his line in the UEFA Super Cup penalty shootout win over Chelsea.
He can't help himself and it reeks of a man who can't get Liverpool out of his mind, being kept awake at night by images of Andy Robertson shutting his players down, Mo Salah dinking a finish into the net in the Champions League and the Kop End making 10 times more noise than the entire Etihad Stadium ever has.
I actually like Guardiola, even though he has grown noticeably more cantankerous in last 12 months, perhaps directly because the Reds continue to be an irritation that won't go away, somehow sticking with his all-conquering outfit.
People can take aim at his spending and attempt to decry his ability, but although it has undoubtedly helped him, the Spaniard remains one of the greatest managers in the history of football.
He didn't inherit a great side at Barcelona – he got rid of some of the world's most well-known players, adopted the methods that Johan Cruyff taught him and built arguably the best club side of all time.
The football his teams play is extraordinary, he invariably gets the very best out of each and every squad member, and despite an underrated snide edge, he is a class act in general.
So this isn't an attempt to lay into the man because of a dislike for him – that article will be saved for Jose Mourinho – it's more to dissect why it is that Liverpool are causing him so much angst.
Essentially, it's because they're everything he admires about football, yet he knows City are never going to be them, no matter how hard he tries.
It doesn't matter what he achieves at the Etihad before his inevitable departure – I give it a maximum of one more season on top of this current one – the reaction won't be anything like it would be if he was at Liverpool.
The financial aspect of things certainly plays a part in his success being downplayed, and as much as City fans don't want to hear it, this period of success still has an element of hollowness about it.
At the end of the day, they were nothing before the money rolled in – an inoffensive club who many willed on because their rivals across the city were the real villains.
City's standing at the top of the English game doesn't feel as special or significant as Man United's era of dominance under Alex Ferguson or Arsene Wenger's glory days at Arsenal.
It feels more like Mourinho's first spell at Chelsea, when they also had unlimited amounts of money to help them along, not to mention an abundance of plastic flags!
The quality of City's play may be the finest we have ever witnessed on these shores, but there's something about the club as a whole that naturally leads to less all-round acclaim coming their way.
I could utter those three money-related words, but I won't.
Last season, Guardiola often made it clear that the constant praise coming Liverpool's way irked him greatly when his team were the ones breaking records on their way to back-to-back Premier League titles.
Within hours, City's treble triumph had been cast aside as yesterday's news, but the day after the Reds won the Champions League, TV channels were showing live coverage of the European champions parading through the city centre.
There were hundreds of thousands of supporters cheering on Liverpool, whereas the best City's fans could do was a half-arsed ceremony that felt like they'd just beaten Leicester at home.
Perhaps it does sometimes mean that little bit more to Liverpool fans, and perhaps our love of proclaiming the Reds as the world's greatest club can grow tiresome to those looking in from the outside, but that's what Guardiola admires deep down.
I have no doubt that he is deeply jealous of the job Jurgen Klopp has inherited, much as I'm sure he is still happy with life at City (for the time being).
It's important to stress that Guardiola doesn't hate Liverpool, even though it may appear that way during this period, as City and the Reds participate in one of the best-ever Premier League duels.
In fact, I suspect he admires the club greatly and one day envisages being in charge at Anfield – whether or not that ever happens remains to be seen.
Like Klopp, he would be a match made in heaven on Merseyside, even if his character is comfortably more cold than the Reds' current lovable boss. He's more like Rafa Benitez in terms of character, albeit with a lot more external passion on show and a sharper dress sense.
I'm going to mention Liverpool and history in the same sentence because much as rival supporters use it as a stick to beat us with, it's also relevant when it comes to Guardiola.
They are England's most historic club by far, along with United, and while some may lazily claim that money is his primary interest, Guardiola loves history. Were he to ever sit in the Anfield hot-seat, he would get engrossed in everything about Liverpool since its inception in 1892, just like Klopp has.
He values this more than many give him credit for and City don't have it in the same way, even though it would be churlish to say they don't have some history to fall back on.
Liverpool's worldwide following also means their success reverberates across the globe, which would clearly appeal to Guardiola, too. Manchester City may (arguably) be the best team in the country, but they are still a small club in comparison and that will never change.
Guardiola knows that, meaning his accomplishments will never quite receive the global adulation he believes they merit. Even a Champions League triumph won't alter that.
Liverpool are the one team who strike fear into this once-in-a-generation manager. They are the only side he truly struggles against on the pitch and the only ones who clearly irritate him off it.
Perhaps it all started back in 2001, when the Reds knocked his Barcelona side out of the UEFA Cup – there's a famous photograph of a young shaven-headed Steven Gerrard celebrating in his face that exists – but it's obvious that there is envy from the City boss that is becoming more clear by the day, as well as a deep-lying admiration.
He's done special things with the reigning Premier League champions and deserves endless praise for the job he is doing, but he knows their limitations.
Most importantly, he knows they're not Liverpool.