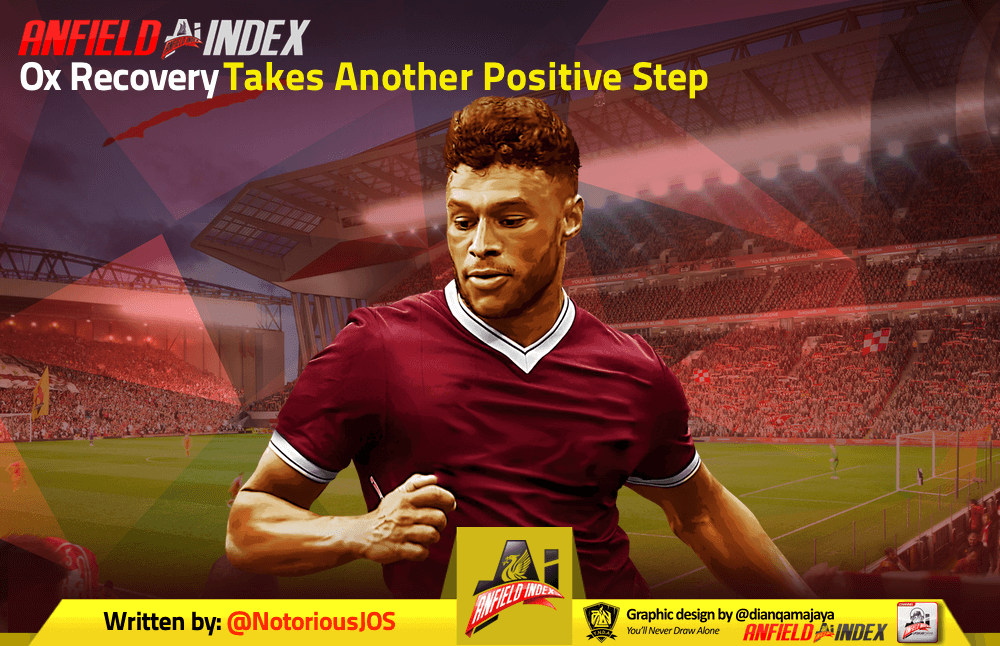 Ox Recovery Takes Another Positive Step

Alex Oxlade Chamberlain's recovery from the major knee ligaments injury he suffered last season took another positive turn last Saturday.
The midfielder, making his second start of the season, produced a thoroughly efficient off the ball display. Ox achieved a match-high 14 possession wins via pressing against the club whose academy system he cut his footballing teeth in.
That is according to stats collected on Anfield Index Pro's Under Pressure Podcast.
The ex-Arsenal star's 14 possession wins is the joint second-highest number of efficient pressing since the metric first began being measured.
The only players who have recorded more than Ox's 14 possession wins are:
1) Emre Can 16 vs Burnley A, 2017 (pressmap below)
2= Fabinho 15 vs Red Star, H, 2018
2= Emre 15 vs Man City, H, 2015
2= Emre 15 vs Arsenal, H, 2015
2= Hendo 15 vs Arsenal, H, 2015 (same match as Emre) pic.twitter.com/JHxPzLwvUE

— AIUnderPressure (@AIUnderPressure) August 20, 2019
The highest was Emre Can versus Burnley in the 2016/2017 season. The German, now at Juventus, pilfered possession 16 times with one leading to a shot.
Next, are Fabinho, Jordan Henderson and, once again, Emre Can. The trio used pressing as a mechanism to secure possession 15 times each in games against Red Star Belgrade, Man City and Arsenal in 2018 and 2015 respectively.
For Oxlade Chamberlain, who is ostensibly an offensive midfielder, to be in the same defensive numbers company as players who the Reds coach, Jurgen Klopp, primarily used in the defensive "number 6" position is a strong indication of the 26-year-old's intense work rate and also his in-game intelligence.
It also wasn't a case of the England international running around like a headless chicken, in the manner of a Jesse Lingard. Rather there was a 100% efficiency to the Liverpool number 15's pressing; winning possession 14 times and completing 21/21 of his attempted presses.
After a horrific injury robbed the £35,000,000 signing of a year of football, many football fans wondered whether the player known as "Ox" would ever return to the physical robustness and explosiveness that were hallmarks of his game before that personally ill-fated Champions League semi-final of 2018.
However, judging by his performance in the European Cup holders win at St Mary's, there appears to be no hangovers in a physical or psychological manner for the speedy midfielder.
On the ball, Chamberlain wasn't as prominent as off the ball but he still showed glimpses of the barnstorming, Rolls Royce of a footballer that dominated both English and European football between December 2017 and April 2018.
In the first half, the Southampton academy graduate played a beautiful, lofted through ball over the top of the Southampton back three and accurately into the path of Mohamed Salah.
The Egyptian blazed his shot over the bar, but the on-ball bravery and technical execution that can often evade the Anfield side in midfield were both evident in Oxlade Chamberlain's incisive pass.
The more encouraging moment arrived in the first half, particularly on the ball.
Leaving the hulking Oriol Romeu on his backside, the Englishman powered into space, in a fashion that we rarely see from Liverpool's other midfield options, before releasing Trent Alexander Arnold down the right flank with a pass.
Soon after, the man who infamously made his Arsenal debut in their 2011 8-2 defeat at Old Trafford, won a corner after marauding down the right-wing and digging out across that a Southampton centre half headed behind.
Showing his defensive diligence, Oxlade Chamberlain — filling in at right-back for Alexander Arnold — thwarted a counter-attack by the hosts by match Nathan Redmond for pace and then blocking the wingers attempted cross.
Nobody knows whether the 32 times English capped player can recover to the form that saw him terrorise teams at home and abroad in late 2017 and early 2018.  But if he keeps the performance level that he showed versus Southampton regular, then Liverpool will have an excellent player on their hands, on and off the ball.