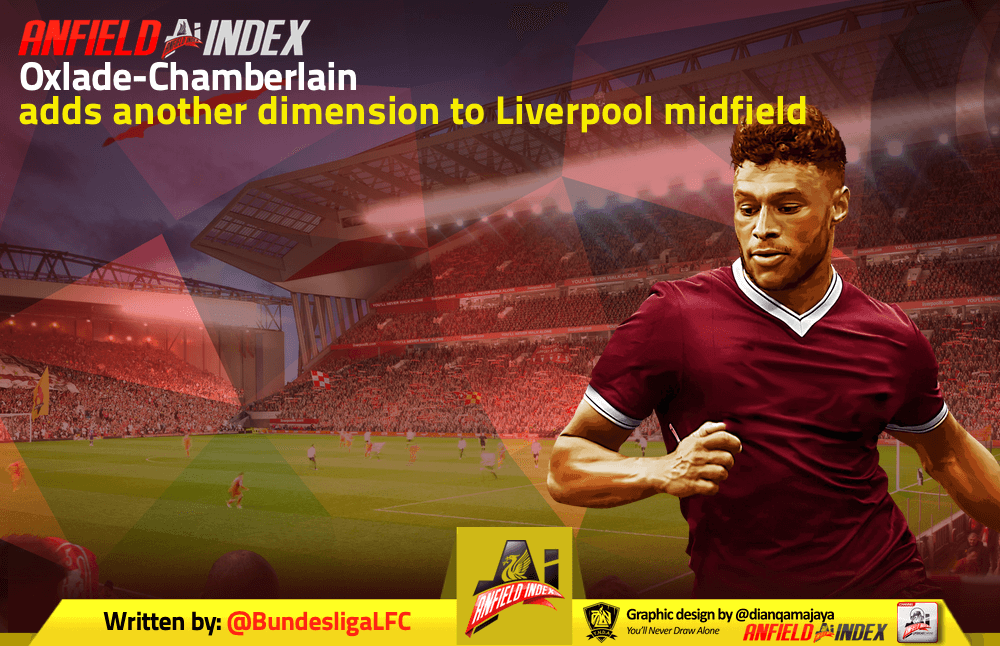 Oxlade-Chamberlain adds another dimension to Liverpool midfield
The 4-1 dismantling of Norwich City or the Super Cup triumph over Chelsea should be the highlight of the two weeks old 2019/20 campaign but the biggest positive so far arrived in the 2-1 victory against Southampton. 
No, it wasn't Sadio Mane continuing his destructive 2019 with a goal and an assist. It wasn't Roberto Firmino opening his account for the campaign just days after coming off the bench to change the game against Frank Lampard's side in Istanbul. 
It was Alex Oxlade-Chamberlain's showing against his former side at St Mary's road. He started in the attacking trio against Chelsea and was subbed at half-time after failing to really get into the game. As sad as it was, the Reds looked more of a threat with him off the pitch. Seeing him back in the starting XI for a second successive match was a surprise. It was a pleasant one when it was revealed he'd be deployed back in midfield. 

Prior to his injury during the 2017/18 season, Oxlade-Chamberlain has been a revelation as part of the midfield three. He'd start on the right of the trio and he'd fill in as a right-winger when Mohamed Salah drifted centrally. He was almost playing two roles and it aligned with his skill set perfectly. 
Despite Liverpool having such flexibility and versatility amongst their midfield options, the Reds missed a player with Oxlade-Chamberlain's profile during the time he spent on the sidelines. Yes, Xherdan Shaqiri is a creative hub capable of slicing open opposition defences with a simple pass and, yes, Naby Keïta has shown glimpses of what he is all about but neither are completely up to speed with what Jurgen Klopp wants just yet.
While the Guinean seems to effortlessly slalom past players, the former Southampton academy graduate powers past them. That is the big difference. 
His ability to go through the gears in the blink of an eye is something Liverpool have lacked, especially from central areas.
Although Oxlade-Chamberlain played a hybrid position for the Reds, his highlight reels on Merseyside all show him having an impact from the centre of the pitch. And if you had to pinpoint a position to improve, and it's difficult to improve a 97-point team, then it'd probably be in that middle third. 
His goals against Manchester City were the best example of what Liverpool lacked last term. 
Picking the ball up a little deeper, he effortlessly gobbled up the ground ahead of him, blitzing past players before unleashing an unstoppable effort beyond Ederson in the league game. His goal against the Citizens in the Champions League wasn't too dissimilar.
Again, it was all about pace and power.   
Oxlade-Chamberlain was instrumental in creating the chaos and disorder the Reds thrived in as part of a midfield three in a 4-3-3. As shown by his stats, he was doing a bit of everything. He gave Klopp the option to switch seamlessly between various formations without substitutes being made and without someone in the team having to do a job. 
When Shaqiri plays in a middle three there are, at times, glaring positional errors. When Keïta is deployed on the left the team lack dynamism and explosiveness there. But Oxlade-Chamberlain knows the system offensively and defensively. The Reds aren't exposed when he's in the middle three and they don't struggle for pace on one flank when he's used in the final third. 
Seeing him against Southampton was a reminder of how influential he could be. He finished the match having played one key pass, he completed 89% of his total passes and he completed 100% of his dribbles (four in total and a number no other player could equal).
He was by no means back to his rampant best but it was a glimpse of what was and what might soon be again. The return of the 2017/18 version of Oxlade-Chamberlain gives Klopp's midfield a whole other dimension. It makes them more dangerous than ever.