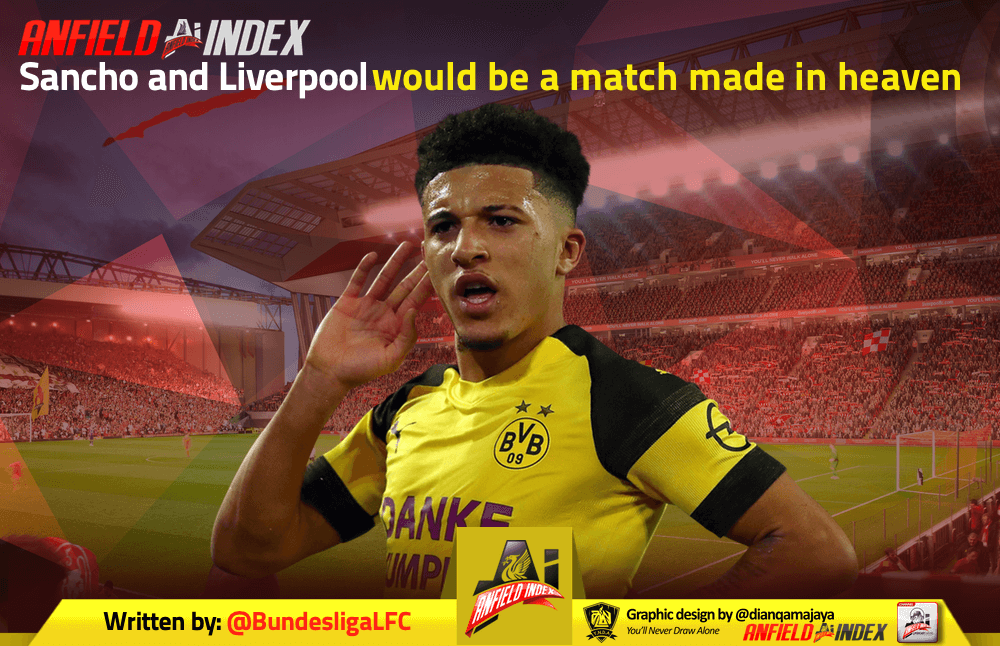 Sancho and Liverpool would be a match made in heaven

Borussia Dortmund have positioned themselves well to recoup an eye-watering fee when they part ways with Jadon Sancho next summer. The Bundesliga runners-up have rewarded the England international with a new, improved deal as recognition for his fine performances over the past 12 months. 
The 19-year-old is now believed to be on £190,000-per-week, an absurd amount for a player plying their trade at the Westfalenstadion. It is believed the former Manchester City youngster turned down the advances of Manchester United and Paris Saint-Germain to remain with BVB. 
However, in giving Sancho a new deal they've all but confirmed the fact they'll be selling him as soon as the 2019/20 campaign comes to an end. Firstly, they couldn't well command £130million for a player they're only paying £75,000-per-week (his previous salary) to. It's the sort of situation to make negotiations somewhat tricky. 
Yes, the selling club sets the player's valuation, and they can ask for whatever they want, but, the fact is, the salary they pay the player definitely gives leverage to either the buying team or the selling one. 
A lower package suggests the player isn't as highly valued and the fee can be chipped away at whereas a decent salary, coupled with the output of a player, makes it easier for a club to ask for the top end valuation. 
After all, if you're charging top dollar you need to be paying top dollar, if only for perception purposes. 
Liverpool did similar with Luis Suarez. They improved his contract in December and by July he was a Barcelona player. Furthermore, the Reds could afford to increase his salary knowing full well they'd only be paying it for a few months before he'd move on. It's likely a similar story at BVB. 
The Bundesliga club can justify the wage increase to any players who ask for parity purely because of Sancho's prolific output. He's peerless in that sense meaning no others in the squad could demand a similar package. It's a clever move on their part. Dortmund won't want this sort of salary to be the norm, not yet anyway, but it makes sense for them to go big knowing they're only going to be paying it for nine or so months before he moves.
The Reds refused to dip into the transfer market this summer, adding only Sepp Van Den Berg, Harvey Elliot and Adrian to their ranks. Two youngsters and a back-up goalkeeper doesn't scream European champions. Their lack of activity resulted in some believing the club were saving money for a big summer next year.  
Originally, it was a fantasy and it's been played out on Twitter with Nike funding some lavishing spending over the next few years. However, it would well soon be a reality. Not the Nike part, that is still an unknown, but the going big, and we're talking £100million plus big, next summer to boost the squad having trimmed the wage bill this year in preparation.
Every big club will want Sancho, but how many can offer him the opportunity that Liverpool can? Manchester City seem keen to add Kylian Mbappé to their ranks and there's no guarantee the BVB winger would return to the Etihad after leaving the club in search of first-team football.
Arsenal blew their budget this summer, and it isn't likely they could afford to spend £100million or more on a single player. Spurs have money, but that sort of fee is beyond their limits if reports are to be believed. United have the funds but do they have the appeal?
The Reds are one of the few teams with the money and the guaranteed minutes on offer. With Mohamed Salah, Sadio Mané and Roberto Firmino all turning 28 this season, the frontline needs new blood. There needs to be a passing of the torch and Sancho could be the face of the new Liverpool.
He bossed it alongside Rhian Brewster for the England under-17 side, and the lure to do the same for one of the biggest clubs in Europe could be tempting. As could working under Jürgen Klopp and learning from arguably the best attacking trio in the world today. Sancho will be on the move next summer. Liverpool do their business years in advance so he could already have his heart set on the switch to Anfield. Fingers cross Michael Edwards has already put in the hard work to make it happen.