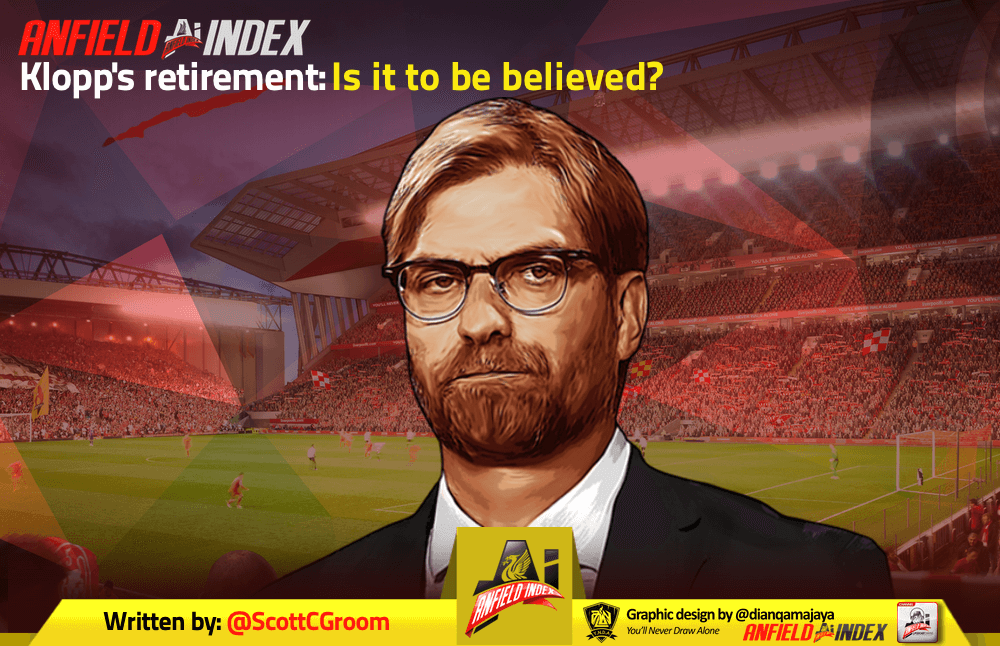 Klopp's retirement: Is it to be believed?

Despite riding the crest of a wave at present as reigning Champions League and Super Cup champions, there's a degree of uncertainty and trepidation in the air among Liverpool fans this week.
It comes after widespread reports on social media this week that manager Jürgen Klopp dropped a huge hint that he'll retire when his current deal at Anfield expires in 2022.
The German mastermind has always remained coy over his long-term future and has gone on record many times stating that he will retire at a younger age than most managers.
So where does that leave things for Liverpool in the present? Should we worry ourselves? Or should we just savour the moment and enjoy Klopp's Liverpool for the incredible football side that they are?
I think the answer to all of the above is simple: we're in a great position, but we should begin to entertain what life after Klopp might mean (especially if that is in 2022), but that shouldn't taint how we feel about this fantastic Liverpool team.
There's no rush whatsoever for Klopp's contract impasse to be resolved. He is still here for a long time, and while it'd be great to tie him down for even longer, it's not like he's been served his two-week eviction notice.
Opening contract negotiations now just enables all parties to be happy with things going forward and means things aren't rushed – but Klopp's lack of desire to get any deal solved and even hinting at retirement will ring some alarm bells.
It allows Liverpool plenty of time to sound out a successor and make sure the incredible work Klopp has done continues to be built upon.
But is he just playing hard-ball? It's not terribly like him to do so, but it's clear that he's obviously a good negotiator due to the degree of talent that he's helped to bring to the club since his appointment in 2015.
It wouldn't be the biggest surprise in the world if it was a scare tactic to make the FSG hierarchy up the anti and offer a more substantial deal, but that seems a reality that's far from the truth.
The biggest worry should be that Klopp will pack his bags and leave in three years time because right now it's pretty much impossible to imagine life without him at Anfield.
He's totally revolutionised and revitalised the club from top to bottom, and his influence on his 'mentality monsters' is something that sometimes we take a little for granted at present. In 15 years time, when Klopp most likely won't be Liverpool manager, I think we'll all look back and realise just how much of an impact he has made.
So it should be a slight concern to Liverpool fans, but not a big one. Many reporters have said that while Klopp isn't entertaining talks over a new contract just yet, there's plenty of time for that to change.
But what we shouldn't do is let any potential apprehension about his future cloud any of the brilliance that we're seeing from his team right now.
We're reigning European champions, we were a whisker away from winning the league last season and look set to challenge City to the death again this year, more silverware feels like it's just around the corner, the squad is full of world-class talent that is tied down to long term deals. Everything's pretty good right now.
Let's just enjoy every Mo Salah goal, every brilliantly ridiculous Bobby Firmino celebration, every Alexander-Arnold assist and vital Divock Origi winner.
Contracts for Klopp can wait for a little while longer. Let's just savour the moment and make it count while it lasts.