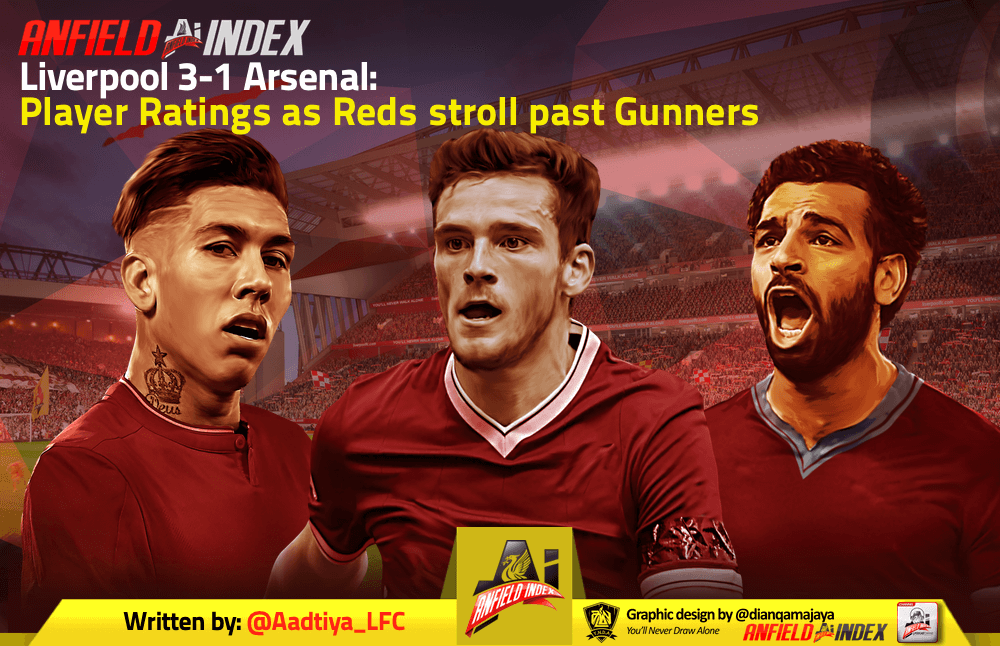 Liverpool 3-1 Arsenal - Player Ratings as Reds stroll past Gunners

Liverpool made it three wins out of three to start the Premier League season, with a superb 3-1 win at Anfield, on an evening when the Reds were dominant for large parts of the game.
After a first half that Jurgen Klopp's side controlled, Joel Matip gave them the lead with a superb header off a Trent Alexander-Arnold corner. Mo Salah scored an early second-half brace to put the game beyond Arsenal, even as Lucas Torreira grabbed the Gunners a late consolation.
Here's how each player fared for Liverpool.
Adrian San Miguel – 6/10
He just doesn't help himself sometimes, does he? He carried on from the howler at St. Mary's last week to nearly gift Aubameyang an early goal, but was more secure as the game wore on, and was even commanding in catching a few second half crosses that Arsenal put into the box.
Trent Alexander-Arnold – 7/10
A much-improved display from Trent, even if he did give the ball away needlessly a few times. Nine assists in his last 10 Anfield appearances, and a much more secure defensive performance – just what the doctor ordered.
Joel Matip – 9/10
Sensational display from Matip. It was an impregnable defensive performance, as neither Pepe nor Aubameyang got any change off him. He was decisive when he stepped into tackles, brought the ball out of the back well, and opened the scoring with a superb header.
Virgil van Dijk – 7/10
Yeah, he was finally dribbled past. So, what? He had Pepe at arm's length for most of the game, and did Virg things all throughout. Not a hope of beating him in the air, covered ground superbly to neutralise Pepe. Typical. 
Andrew Robertson – 7/10
He did get skinned by Pepe a couple of times in the first half, but it was his most secure defensive performance of the season as well. Could've crossed better given the acres of space he was being afforded, especially in the first half.
Fabinho – 8/10
An awesome midfield display. He was crunching in his tackles, superb with his distribution, and broke up whatever little play Arsenal had really well. Even got himself an assist.
Jordan Henderson – 6/10
Nothing out of the ordinary, but Henderson did set the tone, with a couple of superb tackles on Ceballos early in the game. The role he's playing demands much more in an attacking sense though.
Gini Wijnaldum – 6/10
Much like Henderson, he could've done a lot more while driving forward with the ball. Sometimes unnecessarily slowed down attacking play as well.
Mohamed Salah – 9/10
He's the best-attacking player in the league. Period. He was a menace throughout, and when he got his chances, took them ever so well. Dispatched the penalty with elan, and then scored a memorable goal, as he ran past Luiz like he wasn't there before finishing neatly.
Sadio Mane – 7/10
Once again, a superb off-the-ball display. Mane was eager in the press, and helped Firmino superbly in that aspect. Was a little unlucky in the box, but should've scored right at the end of the first with a free header off a Trent corner.
Roberto Firmino – 8/10
He's absolutely purring right now, isn't he? It may sound too simplistic to say this, but when Bobby Firmino plays well, Liverpool play well. He pressed superbly, was superb on the ball, and with a tad more fortune in the final third, might even have got himself a few more goals against Arsenal.
SUBSTITUTES
James Milner – 6/10
Helped in the defensive side of things after replacing Wijnaldum.
Alex Oxlade-Chamberlain – N/A
Didn't get too much time on the pitch, and in truth, had very little of the ball.
Adam Lallana – N/A
Another Premier League appearance in the bag.