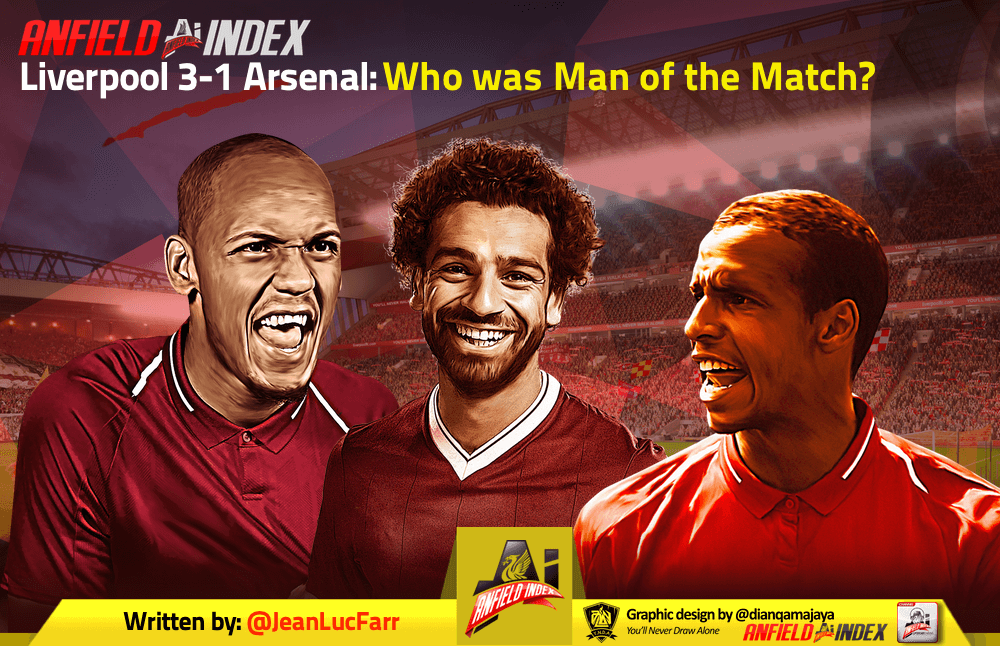 Liverpool 3-1 Arsenal: Who was Man of the Match?
A pretty comfortable 3-1 victory over Arsenal. A result we've come to expect over the last few years at Anfield against the Gunners. There were some impressive performances all over the pitch for the Reds as we go top of the table with the only 100% record in the Premier League.
Starting at the back, Trent Alexander-Arnold looked pretty good both defensively and offensively. His crosses weren't quite at the incredible standard we know he's capable of, but he provided an assist for Matip's goal from a corner with a very nice delivery – something that has been lacking in the previous four games this season. Admittedly, he didn't have loads to do in his own half but Aubameyang failed to get the better of him on any occasion. Moving onto central defence, Joel Matip put in another good performance to solidify himself as the number one choice to play alongside Virgil van Dijk at the back for the foreseeable future. He earned the right to do so after his brilliant end to last season and is deservedly restored to the starting line-up after some disappointing showings from Joe Gomez. Gomez may take his position back at some point during the campaign, but for now, it is Matip's to lose. It was very nice to see him on the scoresheet again as his attacking headers often let him down in 2018/19. For someone who stands at 6ft 5, he should be a real threat from set-pieces and, so far, this season he has been just that.
In midfield, once again, Fabinho was a monster in the holding role. He was strong in the tackle, shepherded the arsenal midfield into places they had no desire to go, and also instigated attacks with his quick, incisive passing. His ball for the second Salah goal was incredible. A first-time whip around the corner on the turn, and although Salah still had a lot to do, played a huge part in Liverpool's third.

The front three started together again and, certainly, in the second half, Arsenal just couldn't live with them. Firmino started to find more space as the London club looked to push on a bit more to find an equaliser which gave him the opportunity to start controlling the game. One event which will be shown over and over was his scoop over Dani Ceballos' head on the edge of the box in the first half. It was quintessential Bobby and the kind of thing we all love to see from him. I feel like I say this every week, but he's started the season superbly and you have to expect a very good year from him based on the evidence on show.
There can only be one person who gets named Man of the Match, though, and today it has to go to Mo Salah. Won and scored the penalty after being pulled back by David Luiz, which pretty much killed the game, before scoring a simply stunning second after leaving Luiz in the dirt for the second time and finishing brilliantly into the far bottom corner. That's now three goals and one assist in his first three league games this season. A blistering start and there are no signs of that coming to a halt anytime soon. Long live the Egyptian King.