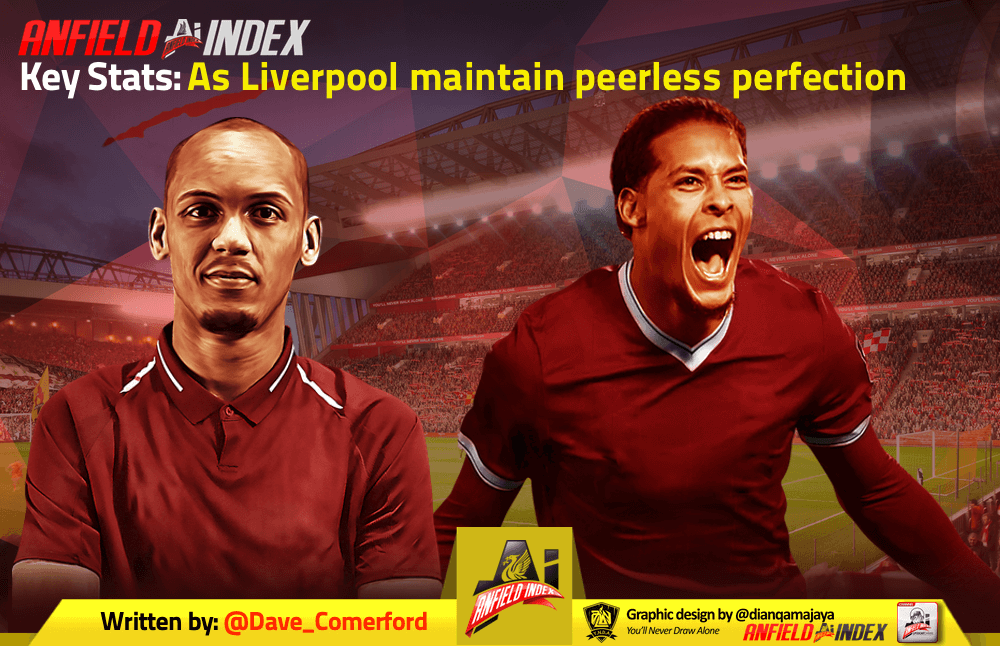 Key Stats as Liverpool maintain peerless perfection
Liverpool are the only Premier League side who can still boast a 100% Premier League record after Mohamed Salah powered them past Arsenal. As many expected, the Reds' attacking quality proved overwhelming for the visitors, with the only blot on the copybook a late consolation from Lucas Torreira. Here are the key stats from our first PL big-six encounter of the season.
History-makers
There's only one place to start, and that's with Liverpool's longest-ever Premier League winning streak. They've won 12 on the bounce, stretching back to the 4-2 victory against Burnley in March.
That eclipses our 11-game run under Brendan Rodgers at the back end of the 2013/14 season.
We can go one better if we win at Burnley next weekend: number 13 would signify our longest-ever succession of victories in league competition (a record that has stood since 1990).
It's fitting that one of our greatest-ever sides has accomplished this feat.
Salah raises his game
It's been suggested that there's a healthy competition between Salah and Sadio Mane, whereby each raises their level in response to the other's heroics.
Well, that certainly seemed to be the case on Saturday as Mo turned match-winner off the back of two starring displays from the man on the opposite flank. In doing so, he propelled himself up to third in the goalscoring charts, laying the groundwork for his bid for a third Golden Boot.
This was only the second time Salah, who set himself a quite extraordinary benchmark in his first season, has bagged two or more in a game since January.
There were no goals or assists for Mane but that's not to say his performance didn't merit one. His team-high tally of six tackles attests to his excellent work rate, and his four key passes fashioned some good opportunities. Another good performance from the Senegalese international.
Cross after cross after cross
It's clear by now that Liverpool's full-backs, who set assist records tumbling last season, are their main attacking avenue. Opponents know the Reds are going to work it wide and deliver relentlessly, but that doesn't mean they can be stopped.
Trent Alexander-Arnold and Andrew Robertson whipped in a whopping 23 crosses between them (13 and 10 respectively), and while only six found a team-mate, the key detail is that one resulted in a goal for Joel Matip.
Trent's set-up was his ninth in his last 10 appearances at Anfield. The signs are that he'll maintain this phenomenal rate.
Matip continues to shine
Many predicted Klopp would select Joe Gomez alongside Virgil van Dijk given that he had the pace to deal with Arsenal's rapid counters, but Matip got the nod and delivered yet again.
It's becoming increasingly difficult to justify an immediate preference for Gomez, the long-term partner.
His opening goal was a crucial breakthrough in an increasingly frustrating contest, and the defensive numbers underline his solidity: three successful aerial duels, three tackles and three interceptions (none of our defenders could better those).
You could argue he outperformed Van Dijk, dribbled past in a competitive fixture for the first time since March 2018. He was literally unbeatable for 50 games, so there's no cause to drop the 'superhuman' tag.
What will frustrate both is a fourth consecutive game without a clean sheet. It took until April for that kind of drought last season. It wasn't until late October that we conceded at home.
A different side to Fabinho's game
Liverpool's midfielders were well up for the central scrap, as they usually are in a feverish Anfield atmosphere.
Skipper Jordan Henderson took on the mantle of ball-winner, while Fabinho showcased his passing ability. He completed nine out of ten attempted long balls and notched four key passes, which only Trent exceeded.
The Brazilian contributed just his third assist in the Premier League when he set Salah away for his second.
It'll be interesting to see how, if at all, Klopp adjusts his midfield for the visit to Burnley next weekend.