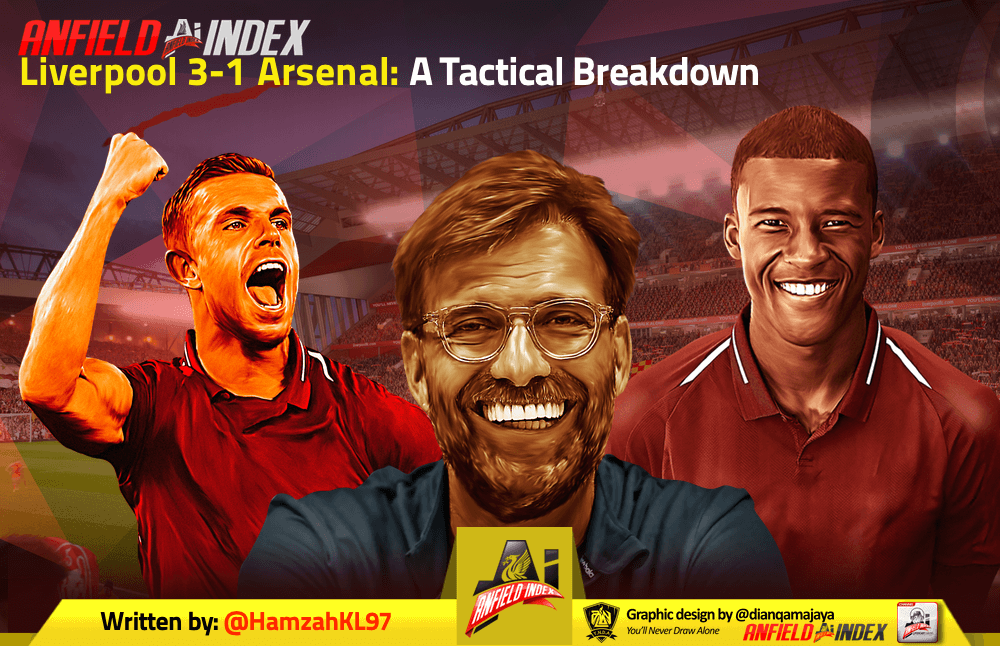 Liverpool 3-1 Arsenal: A Tactical Breakdown
After a series of underwhelming performances, Liverpool's victory against Arsenal was a significant step in the right direction. Whereas in previous games, Liverpool had conceded a number of chances, and defended poorly, through not pressing effectively or making positional errors, the fixture on Saturday evening was far more akin to the efficient, composed and effective performances which came to define Liverpool's ruthless machine-like intensity over the course of last season.
Liverpool set up in their typical 4-3-3 formation, but whereas in recent games the number 8s and full-backs were playing different roles, this looked far more like the system we saw last season – a large part of which is due to the way in which Arsenal set up too.

with Arsenal using no wingers and tethering their fullbacks to the endline, Liverpool have been able to play effectively a 5-man forward line

they've reverted the pyramid pic.twitter.com/1dhlMdHVe9

— Michael Caley (@MC_of_A) August 24, 2019
Arsenal's 4-4-2 diamond system surprised most people, including, by his own admission, Jürgen Klopp. However, the tight midfield setup employed by Unai Emery was supposed to stop Liverpool attacking centrally, and the tight deep block was, by design to force Liverpool into wide areas, from which they would cross, but be rebuffed by the strong aerial presence of David Luiz and Sokratis. The limitation of this system for Arsenal though was that their greatest assets – their forwards – would be feeding off a small supply of infrequent and unreliable through-balls, and consequently, the chances Arsenal needed to score were largely dependent upon Liverpool errors, and Arsenal punishing them.
As it so happened, Liverpool made two errors in the first half, one by Henderson, and the other by Adrian, which on both occasions nearly came at the cost of a goal. But to assume Arsenal had the upper hand because of these errors engineered by Liverpool's own sloppiness in two instances is not at all a proper reflection of the game.
Given the way Arsenal set up, Liverpool's fullbacks were given license to push forward into offensive areas. They did this and both crossed and switched the ball a number of times, the former to limited effect, and the latter to much greater effect. Joining in with the front three and midfield, they penned Arsenal back, with an intense period of literal ball pressure, hemming the Arsenal defenders into tight areas, leading to panicked clearances.
So many good bits. I loved this. In basic terms it's literally the worst pass you will ever see but I completely get why he did it. Liverpool make opponents do crazy things pic.twitter.com/ku2DRJWGJI

— Michael Cox (@Zonal_Marking) August 24, 2019
Unlike in previous league games, the midfield three was much more compact, and the support offered by the fullbacks gave Arsenal far fewer opportunities to play through the press and made it much more effective in controlling the direction of the ball.
Nonetheless, Arsenal's defence performed surprisingly well, given a large number of shots taken by Liverpool in the first half, and dealt with most of the aerial threat posed by Liverpool's front line.
With forty minutes gone, and the two biggest chances of the game falling Arsenal's way, after surviving a period of intense pressure, Liverpool would certainly have been disappointed to have not broken the deadlock, come half-time. The inability of the team to progress the ball forward quickly, and catch Arsenal in transition on the rare occasion they did collectively move up the field and into their on-ball structure, rather than the tight and narrow off-ball defensive shape was proving irksome, especially as the side were underusing the underlapping run inside of the Arsenal full-backs. However, a set-piece in which Arsenal's defence overcommitted to defending Van Dijk allowed Matip to head the ball past Leno, and secure some reward for Liverpool's on-ball dominance, despite the lack of clear chances at that point.
Intense first half. AFC defending tight. Probably will step up a little & give us more opportunities to attack space if they want to equalise. If they stay as is, LFC will need to persist with playing short passes between forwards & underlapping inside box, rather than crossing.

— Hamzah (@HamzahKL97) August 24, 2019
Before this point, whilst Arsenal had not given huge chances away, we cannot describe the tactics employed as effective, as the number of shots faced indicated a growing propensity for Liverpool to score sooner rather than later.
If you allow 15 shots in a half, *regardless of the quality* your plan isn't working.

— James Yorke (@jair1970) August 24, 2019
The goal itself though completely changed the dynamic of how both sides could approach the game, and essentially made the result a foregone conclusion.
Whilst Arsenal did not immediately shift into an offensive system, the goal meant the defensive system employed was no longer suitable to secure their objective of either winning the game via capitalising on Liverpool's errors or defending their way to a draw. Hence, Arsenal tried to push for a goal, and in doing so had to move their defenders and midfielders further up the field. This move reduced their compactness and increased the space between the lines for Liverpool to operate in, and also, crucially, increased the space in behind the Arsenal defenders – space in which the Liverpool forwards could run into – as Salah did twice.
Arsenal's decision to move up allowed players like Salah the opportunity to break on to opposition defenders in one-on-one situations – which Liverpool's players thrive upon.
Firmino had operated in the pocket outside the area all game, but the extra space afforded to him and the movement of Henderson into the right half-space – something which Klopp instructed the team to do (move on the inside of the Arsenal fullbacks) at half time, allowed Firmino to play the pass into Salah which resulted in a penalty. A penalty, which in all seriousness, may lay claim to being one of the finest ever struck.
Salah. #LFC pic.twitter.com/dnCeWiXMmV

— PenaltyKickStat (@PenaltyKickStat) August 24, 2019
Liverpool's third goal began with an Adrian pass, but tactically was a product of the game-state and Arsenal feeling the need to chase the game and score. As they moved up and attempted to open the field up, they left spaces between players, which Fabinho passed into, towards Salah. Additionally, they also left players like Luiz exposed, high up the field – whereas for the majority of the first half, he was accosted by a fullback playing extremely tight on his left side, and his centre-back partner tight on the other, with a three-man base of the diamond screening, play in front of him.
From the point of the first goal, the game, as a tactical contest was effectively over. Wijnaldum nullified the offensive outlet that was Ceballos, and the persistence in which Arsenal decided to play out from the back, against Liverpool's highly effective press meant the result would only end one way, barring some extraordinary errors on Liverpool's part.
Liverpool's substitutions did not work as well as Klopp may have hoped, as the structural integrity of the pressing system, and Liverpool's defensive positioning dropped off. Milner was a little too deep, although, given the game state it was clear Liverpool felt the game was won, and consequently eased off, allowing Arsenal to score.
As an overall performance though, this was, by a distance, the best of the season so far, and the closest Liverpool have looked to the side which finished on 97 points last year. There is still room for improvement, but the structural issues which allowed opposition teams to take a surprisingly large volume of shots against Liverpool in recent games seemed ironed out for the time being, and hopefully were only a blip. The errors made in this match were largely individual ones, which are far less a cause for concern.
This was a strong performance in Liverpool's first real test in the league against stronger opposition, if Liverpool maintain the pressing intensity, structure and efficiency on display on Saturday, there are few sides that will come to Anfield, and leave with a positive result – that being said, there surely cannot be many who are naïve enough to pass around at the back against Liverpool, so perhaps we will more likely see more rigid and tight defending around the area, and the challenge for Liverpool will be being creative and persistent, and finding new ways to break down opponents, outside of crossing from wide areas – which was not paying dividends for most of the first half.
Still, there are far more positives to take from this game than any other we've seen so far from Liverpool this season. With Firmino looking sumptuously sublime, and Salah equally razor-sharp, there could well be some big scorelines coming up for Liverpool in the near future.
Against AFC, LFC midfield pressed way better than they did in previous games. The space was covered much more effectively. As a consequence, the number & quality of chances created by the opposition dropped.

Midfield positioning & pressing is the key to our defensive performance

— Hamzah (@HamzahKL97) August 24, 2019
xG map for Liverpool – Arsenal

the Gunners parked a bus as hard they could, but that's a real tough strategy to pull off for 90 minutes at Anfield pic.twitter.com/2x6w5zafqK

— Caley Graphics (@Caley_graphics) August 24, 2019