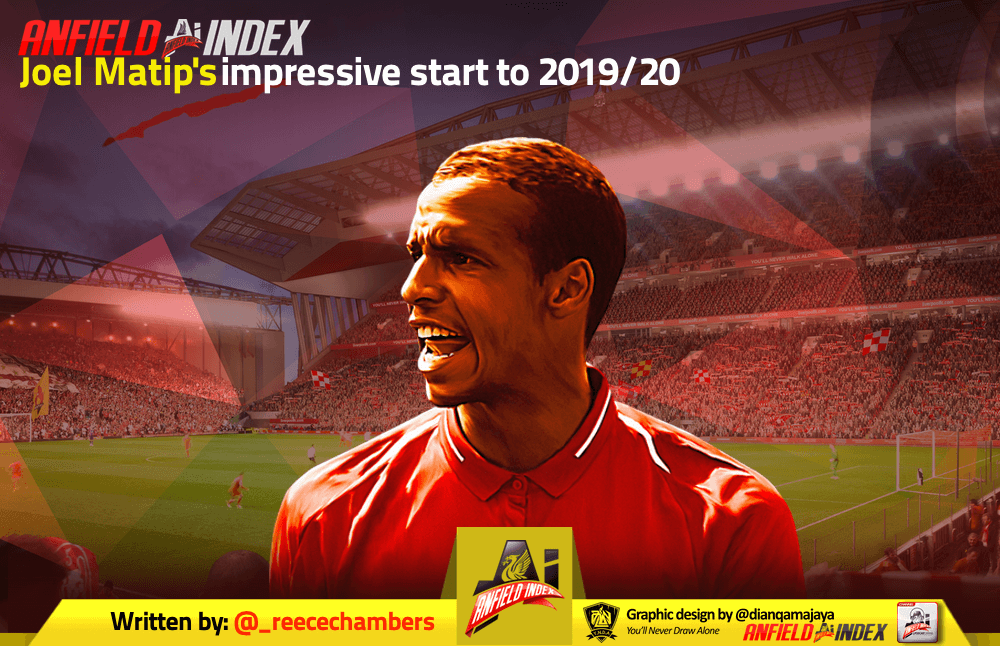 Joel Matip's impressive start to 2019/20

Liverpool's win over Arsenal last weekend included several star performers in Jurgen Klopp's side.
Mo Salah was back to his very best as he scored two goals – one of which will be a contender for Goal of the Month, even if Sky Sports' commentary failed to provide suitable audio commentary to the goal.
Virgil van Dijk, Roberto Firmino and Fabinho all performed at the high standards we have come to expect over the last two seasons. Van Dijk was finally dribbled past by Nicholas Pépé so we can finally stop talking about that record, but he looked otherwise imperious for the Reds.
However, it was van Dijk's centre-back partner Joel Matip who has caught the attention of many fans over the first few weeks of the season.
Klopp's choice of either Matip or Joe Gomez is perhaps one of his biggest selection headaches. The England international offers different attributes to the Liverpool defence than Matip – perhaps attributes we would associate with a world-class centre-back. However, Matip is currently in favour ahead of Gomez in the starting XI.
Despite the retired Cameroon international having been at Anfield since 2016, it would be fair to say that he hasn't fully laid down his claim for a guaranteed start in the Liverpool back four. The arrival of Virgil van Dijk in January 2018 made it a direct competition between Matip, Gomez and Dejan Lovren for the privilege of partnering the Dutchman.
Therefore, with Lovren clearly down the pecking order in Klopp's plan and linked with a move away from Anfield, there looks to be a direct battle between Matip and Gomez.
At the start of the season, a large portion of Liverpool fans would have expected Gomez to start in front of Matip. The England international is typically more suited to playing with the ball at his feet and fits the mould of a modern centre-back much more than Matip.
Not only that, but Gomez has sustained a series of injuries and there is desperation from the Liverpool faithful to see him succeed. With such a promising career plighted with injuries so far, the 22-year-old will be hoping to stay injury-free in a bid to earn a starting place in Liverpool's back four.
For Matip, Gomez's injury last season – spanning between December and April – gave him the opportunity to prove his worth at centre-back. And the Champions League winner has continued to grasp his chance this season, starting in three of Liverpool's first four games of the season.
From Klopp's perspective, Matip adds something different to Liverpool's defence. Even in the first few weeks of the season, we can see that his added aerial presence has benefitted the Reds.
His goals against Manchester City in the Community Shield and Arsenal in the Premier League illustrate his danger from set-pieces. And, with superb delivery from Trent Alexander-Arnold, it wouldn't be surprising the see him score more goals this season.
That added attacking threat aerially makes Matip another potential goal-scorer for the Reds. When you look all over the pitch, there are multiple sources of goals in through different methods. That very strength is something that Klopp has looked to improve since coming to Anfield. Relying on the front three to score goals is not sustainable if you want to win trophies. And Matip's aerial presence from set-pieces goes some way to diversifying Liverpool's attacking threat.
From a defensive perspective, Matip's added aerial presence forces teams to seek other attacking options than trying to beat him in the air. Against Arsenal, Matip won 3/3 aerial duels versus Pierre-Emerick Aubameyang who struggled to establish a foothold in the game.
Such aerial presence from Matip, alongside van Dijk, gives the Reds a secure defensive base that allows them to push the full-backs further forward. It enables Liverpool to press teams higher up the pitch with any long-range passes coming straight back from either of the imposing centre-backs.
What we've discussed so far is what we've come to expect from Matip. He's a 6'5" defender – of course, he's going to win headers and physically impose himself.
However, his recent performance against Arsenal showed a fundamental shift in how we view him as a member of this Liverpool team.
With Unai Emery's strategy of leaving two strikers on the halfway line without possession, Matip was often left 1v1 against Aubameyang or Pépé. The German-born defender dealt with them both superbly though, with a high level of aggression – resulting in eight interceptions over the 90 minutes.
Such interceptions proved vital for Liverpool as they looked to assert pressure on Arsenal's compact defence. Had Matip not been so proactive in defence, Arsenal's two quick forwards could have caused him more problems. The fact that the 28-year-old was able to react to danger before it materialised is a key reason why he started on Saturday.
That very aggression and high defensive work-rate resulted in Matip being heavily involved against Arsenal. Only five Arsenal players made more attacking third passes than the Joel's six. This continued involvement in attacking areas may be more indicative of Liverpool's overall involvement, but Matip showed that he adds more than rudimentary defensive solidity.
Despite that, we should still expect to see Gomez used against opposition that are likely to adopt a rigid defensive structure. For all of Matip's effort in attacking positions against Arsenal, Gomez is a much stronger passer of the ball.
For example, Gomez had 98% pass accuracy versus Norwich (100% accuracy to final third with nine passes) compared to Matip's average of 80.9% across games against Southampton and Arsenal (five accurate passes into the final third).
Alongside van Dijk, who has averaged 91.8% pass accuracy in PL so far this season, Gomez could be more useful in unlocking the opposition. That is not to say Matip is inadequate in doing so, just more so that Gomez is a better passer of the ball.
Nevertheless, Matip's performance versus Arsenal illustrated that he is a sound defensive option that Klopp can rely on. Whilst Gomez may start against less threatening opposition, the Cameroonian has shown that he has much to offer this Liverpool team.