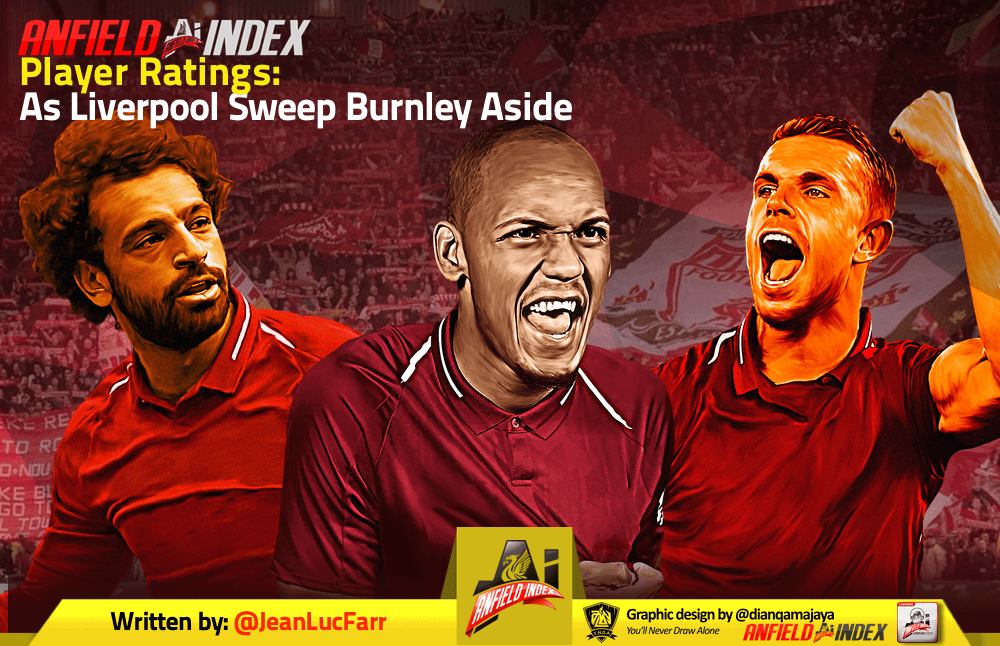 Player Ratings as Liverpool Sweep Burnley Aside
An exceedingly comfortable 3-0 victory against the most abhorrent club in the Premier League. They tried their usual dirty, boring tactics but were made to look like a bunch of part-timers by the Europeans Champions. A thoroughly satisfying win as we head into the international break.
Adrian: 6
Had very little to do. Easy game for the Spaniard. 

Trent: 7
Created the Wood own-goal and dealt with what little attacking intent Burnley showed down his side throughout the game. 
Matip: 7
Continued his excellent form from the last 6 months or so.
Van Dijk: 9
It must be demoralising if you're Burnley. The only play you've got is to lump it up to your two donkeys all game and then they can't even succeed at that. The best defender on the planet dominated Barnes and Wood for all 93 minutes.
Robertson: 5
Been a very disappointing start to the season, not one performance up to the standard required. Very fortunate to not have any real competition for the left-back spot. 
Fabinho: 8
Quality both on and off the ball. Some nice tactical fouls when necessary while also having the ability to stroll through the Burnley 'midfield' whenever he fancied it. 
Wijnaldum: 6.5
Did what he had to do. Didn't have a glamorous task but performed it adequately. 
Henderson: 7 (Off for Oxlade-Chamberlain on 71 minutes)
His best performance of the season so far. Was often an option when attacking and played a few really nice passes and should have had an assist to Salah on 21 minutes. Still needs to be more confident in front of goal.
Salah: 6.5
Missed a good chance around 20 minutes in and was annoyingly selfish on at least two occasions. However, he was a danger throughout and provided the assist for Firmino's goal. 
Firmino: 7.5 (Off for Shaqiri on 85 mins)
Didn't have the best of games but did brilliantly to create Mane's goal and also helped himself to a goal with an excellent finish from the edge of the box. His all-round play wasn't at the level we've seen in the other games this season but to score and get an assist away to The Neanderthals is always impressive. 
Mane: 7 (Off for Origi on 85 mins)
Scored a very nice goal in the first half and was typically threatening until he was replaced late on.
Ox: 6 (On for Henderson on 71 mins)
Always nice to see him back on the pitch.
Origi: 6 (On for Mane on 85 mins)
Divock. 
Shaqiri: 6 (On for Firmino on 85 mins)
 Is still alive, so that's a relief.