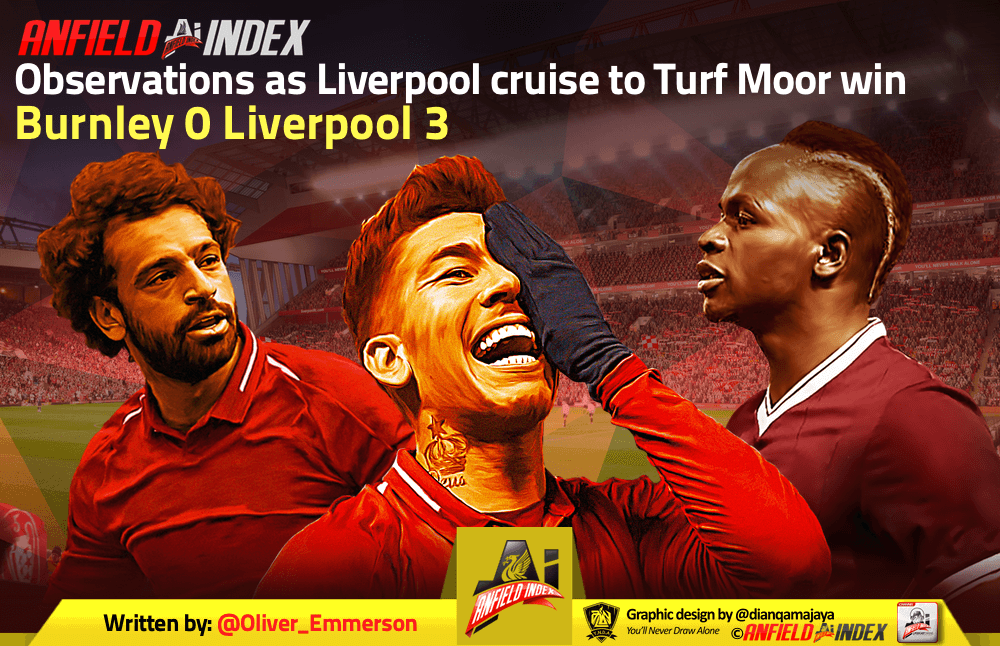 Observations as Liverpool cruise to Turf Moor win
Your team hasn't won 13 straight league games, doesn't have the UEFA Player of the Year at centre-back and aren't the European Cup holders? Can't relate, sorry.
Liverpool cruised to a comfortable win away to Burnley on Saturday evening, continuing their unmatched 100% start to this Premier League campaign. A slice of luck assisted the Reds with their opener as Trent Alexander-Arnold's cross sliced off the back of Chris Wood and into the net before clinical finishes from Sadio Mane and Roberto Firmino sealed the three points.
TAA gets booed, this is excellent
Forget being one of the best right back's in world football at such a tender age, we don't see Trent Alexander-Arnold get booed enough. He's sweet and innocent, rarely puts a foot wrong in the eyes of even opposition fans, who are happy to marvel at his crossing whilst hoping it misses the target. Not today. As soon as Liverpool went into the lead he was taking an age on throw-in's, knocking the ball away when he didn't want to take them and generally pulling out every trick in the book to match Burnley at their own game – securing three points in the process.

Aaaaaand the Burnley fans HATED it! Every time the lad touched the ball from about 35 minutes onwards, he was met with a chorus of boos. That is absolutely brilliant. Honestly, you can't teach snide. It's an essential component of winning teams, which Liverpool, of course, are now. TAA didn't let it affect his play, enjoying a well-contested battle against the talented Dwight McNeil, coming out on top of course. It's another step to becoming the best, one that we should welcome.
Roberto Firmino, a man on a mission
Playing well, isn't he? I mean, really well. His electric start to the season hasn't been quite matched in the goals and assists columns, so to see him pick one of each up today was immensely satisfying.
Latching onto an under-hit Ben Mee pass before rampaging forward and perfectly timing a through ball to Sadio Mane for Liverpool's second, Firmino was then at his instinctive best to smash a first-time shot into the bottom corner as Salah crucially bowed away from the move.
Firmino has comfortably been Liverpool's best player in the first few games of the season, for me. His touch and eloquence have been showcased consistently, his fitness levels are incredible for such an early stage of the season and he's influencing game after game. After the year of Salah and the year of Mane, will it be Firmino's time to shine over the next 10 months?
The Mane / Salah incident…
I haven't actually observed this yet, but I'm expecting to see a whole load of tedious, over-analysis, on the whole 'Mane substitution strop' thing. Yes, Salah should have passed, yes Mane had right to be angry, yes he should have saved it for the dressing room. Whatever.
These are world-class athletes at the peak of their game under immense pressure to deliver week after week, of course, they're going to get unhappy when things don't go their way. That doesn't mean it's a situation that'll rage on and on for weeks, nor one that has been 'bubbling under the surface for months'.
Mane and Salah will forget about it, so should you.