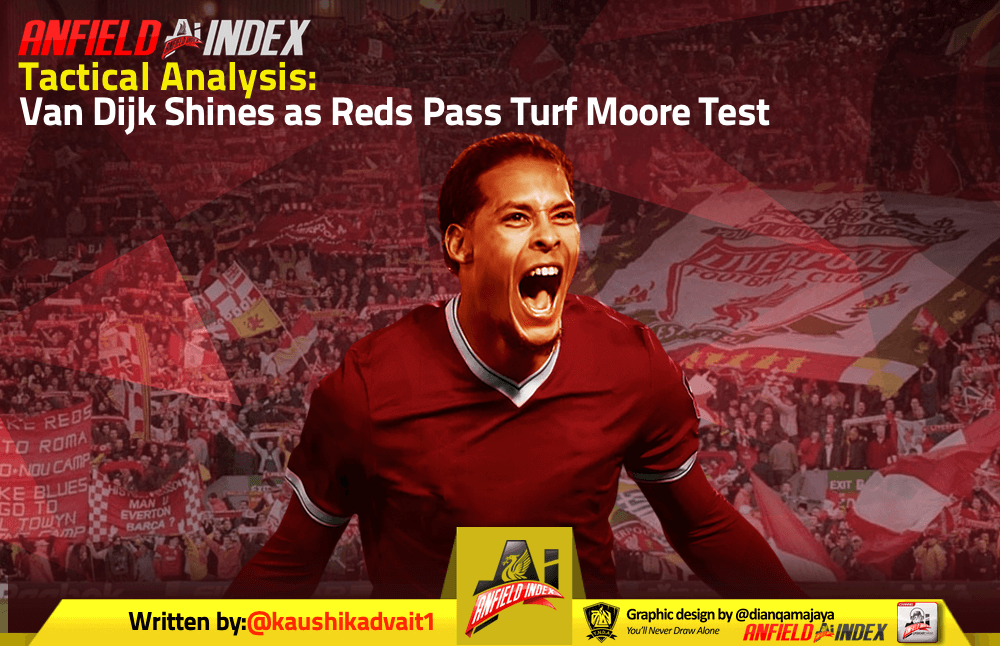 Tactical Analysis: Van Dijk Shines as Reds Pass Turf Moore Test
The stage was set for Liverpool to drop their first points of their new campaign. No sooner had the referee ushered the ball towards the centre circle to kickstart proceedings, than Sean Dyche was seen gesticulating towards his players to kick the ball long towards the Liverpool defence. Why? Well, as Sean Dyche pointed out without any concern for subtlety, the sun was shining directly into the eyes of Liverpool's defence and keeper. The message was clear: hit early long balls, and be there to win any second balls. Liverpool were going to be Burnley'd.
Except, Dyche's plan never got going, because Liverpool out-Burnleyed Burnley. And that, perhaps, is the biggest compliment you can pay to Klopp's mentality monsters heading into the first international break of the season.
Van Dijk Ushers Defensive Solidity

Liverpool teams of the recent past have been criticised for not being up the for the fight in these physically demanding games. The defence was accused of wilting at the hint of long balls, unable to win not only them, but the dreaded second balls too. Not now, though. Not with the newly crowned Uefa Men's Player of the Year in their team. Virgil van Dijk was imperious. He won an astounding 10/11 aerial duels, which for context, accounted for 45% of his team's total aerial duels won. His partner, Matip, won 3. Gone are the days when tall, strong, conventionally English No. 9's can dominate Liverpool with their physicality. Van Dijk has changed that.
However, what would have pleased Klopp more than how many duels Liverpool won is where they won them. The map below shows where exactly Virgil van Dijk won his 10 duels.
We can see that only twice were the duels inside the box. More importantly, the majority of these duels occurred closer to the half-line than they did to Liverpool's goal. This, of course, is indicative of Liverpool's high line. But what is so crucial is that by virtue of winning these headers, Liverpool were able to squeeze the pitch, and thus continually recycle possession and maintain pressure on the hosts.
Burnley, though, tried to use the higher line to their advantage. Liverpool were unfazed. As the map below shows, Burnley were caught offside five times as a result of Liverpool's defensive organisation. And as we know from above, when they weren't caught offside, and the ball was played at the Liverpool defence, they lost the duel.
Of course, aerial duels aren't the only things that decide football matches, even against the likes of Burnley. Liverpool on average allowed only 6.30 passes per defensive action (PPDA) in Burnley's half, showcasing intelligence to not just press, but also close passing lanes and force turnovers in possession. For context, the number was the 2nd highest of the season for Liverpool thus far, eclipsing Arsenal and Southampton (9.56 and 9.43 respectively). Furthermore, Liverpool allowed 0 passes by Burnley within 20 yards of their goal, showcasing the effectiveness of their organisation in doing so. This too, was a sizeable improvement from their average of 3.25 passes allowed/game this season. [BTP]
All of this combined to result in Burnley's expected goals (xG) from open play being just 0.40, steadily down from their previous matches (1.55 v Norwich, 1.21 v Southampton, 0.55 v Arsenal). [BTP] As Adrian mentioned before the game, the clean sheet was vital, and boy did Liverpool earn it.
Midfield Vital 
Amidst the praise for the defence, and of course, the much lauded front three, it is easy to forget Liverpool's unassuming midfield. Henderson continued to take up advanced positions as he excelled in his new found box-to-box role. Sometimes he pushed through from the right half-space, and at times – as was the case for the opener – he dragged his man wide, allowed Trent to invert and use his creativity more centrally.
The passmap above clearly showcases this. What it also shows us is how Wijnaldum kept play ticking. He continually took up positions that ensured he was always a passing option, be it for van Dijk from deep, Robertson from out wide, or Fabinho from the side. The dutchman had the highest passing accuracy (86%) of the midfield trio, ensuring he kept play ticking, allowing Fabinho to snap into tackles (he won 3 tackles at a 100% success rate), and as mentioned, Henderson to link with the offence.
Game of Long Balls
Many expected pre-match that Burnley might adopt a similar style to Arsenal by sitting back and allowing the Reds to cross into their box, with the Clarets boasting two physical centre-halves in Tarkowski and Mee. Instead, Burnley continued on from their display at Arsenal: they weren't afraid to press high and ensured it wasn't easy for Liverpool to play out from the back as they usually like doing.
However, what was interesting was Liverpool's response to this. The Reds themselves weren't afraid of going more route-one. They played 79 long balls in the game, the most number thus far this season (average of 55), most often into the channels for the forwards to chase. Then, as Klopp happily mentioned, their shape ensured they picked up second balls and kickstarted play in the midfield or in between the lines. [SofaScore]
This strategy proved quite effective too. The Reds managed 12 passes within 20 yards of Burnley's goal, their highest number thus far, and demonstrated a different side to their game. Unfortunately for them, the final pass often let them down, and that is probably why they couldn't really exhibit as large a lead in the battle of xG's – their expected goals from open play of 0.92 was below their average of 1.11. Given that the Reds' transitionary brilliance occurred after Burnley opened up slightly, one can wonder how the game would have panned out without the fortunate deflection that opened the scoring.
That might sound critical, but the Reds will know all too well that they need to improve each week if they want to end their elusive wait for the title amidst the challenge of Manchester City. For now though, a 3-0 win is sure to do them some good and send out yet another message to the rest of the Premier League: Jurgen's Mentality Monsters are here to stay.