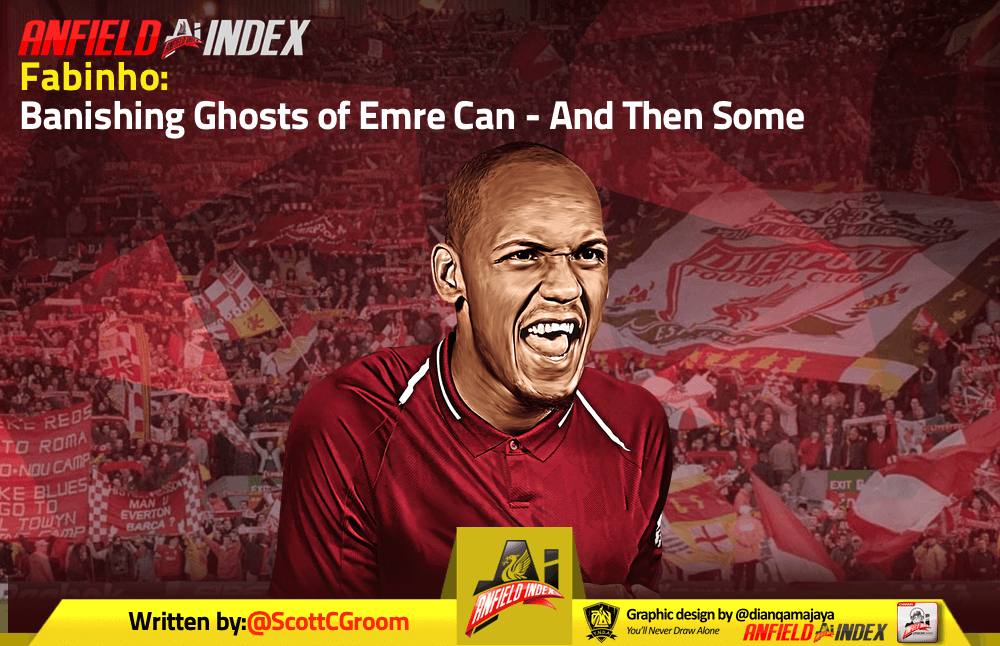 Fabinho: Banishing Ghosts of Emre Can - And Then Some
When Emre Can was allowed to leave Liverpool to move to Juventus in 2018, many questioned whether Liverpool had made a mistake.
The German midfielder allowed his contract to run down before inevitably joining Juventus on a free transfer, leaving many fans scratching their head as to the club's decision to let him go.
However, fast forward a little over 12 months, and a man by the name of Fabinho has not only quashed the above scaremongering from Kopites, but he now has them mocking the thought that Emre Can would ever be remotely missed on Merseyside.

In what was a big surprise, Fabinho signed from AS Monaco for £39 million – and it was thought from the off that the Reds had secured an impressive talent to add to their squad.
While he endured a slightly prolonged bedding in period, the number three is now one of the first names on the team sheet week in, week out and is consistently putting in performances that rightly have pundits hailing him as the best defensive midfielder in the Premier League.
But if anything, that's selling Fabhino's abilities short somewhat. His performance against Burnley at Turf Moor demonstrated that.
Yes, he played the role of DCM exceptionally well, thwarting countless Burnley attacks before they'd developed in midfield, winning the ball back, snapping into tackles and winning headers – and he does more than enough of that.
He's got a terrific range of passing, isn't afraid to take the ball on into enemy territory and drive at the heart of defences and midfields – and when he wants to, he has the vision to pick killer passes. Look at the assist for Mané's goal in the 3-1 Anfield win over Manchester United last season for further proof.
He's more than a DCM, he's almost a complete midfielder with an extra sprinkle of that intense assertion that borders on being a bit nasty on the pitch that really makes a difference.
Comparing him to Emre Can seems a bit one-dimensional, but seeing as he is the man who was pretty much brought in to fill that role, it's not hard to see why the comparisons are made.
But Fabinho is an upgrade on Can in every single aspect.
He keeps the ball better, he doesn't give away half as many silly fouls as Can did, he's more mobile, he can pick better passes – and it often feels like he tries more, too.
Now, before going any further, it'd be unfair for me to say that Emre Can was a bad player for Liverpool because he wasn't. But he's just never been, and I don't think he ever will be, on Fabinho's level.
It's another testament to Liverpool's exceptional recruitment over the past few years, which has seen the likes of Fabinho, Alisson, Mané, Salah and van Dijk brought to the club and help to transport it to the next level.
But while many of those names just mentioned get far more of the headlines, Fabinho quietly goes about his role and keeps this Liverpool side ticking not just nicely, but smoothly, efficiently and elegantly.
Whereas sometimes you felt with Can that you never quite knew what you were going to get (either a world-beater or a total passenger), Fabinho turns up and puts in exceptional performances with such regularity,  it's now expected.
You never thought you could get that before. Now it's normality.
Fabinho has firmly put Emre Can in the past, and there he shall stay.