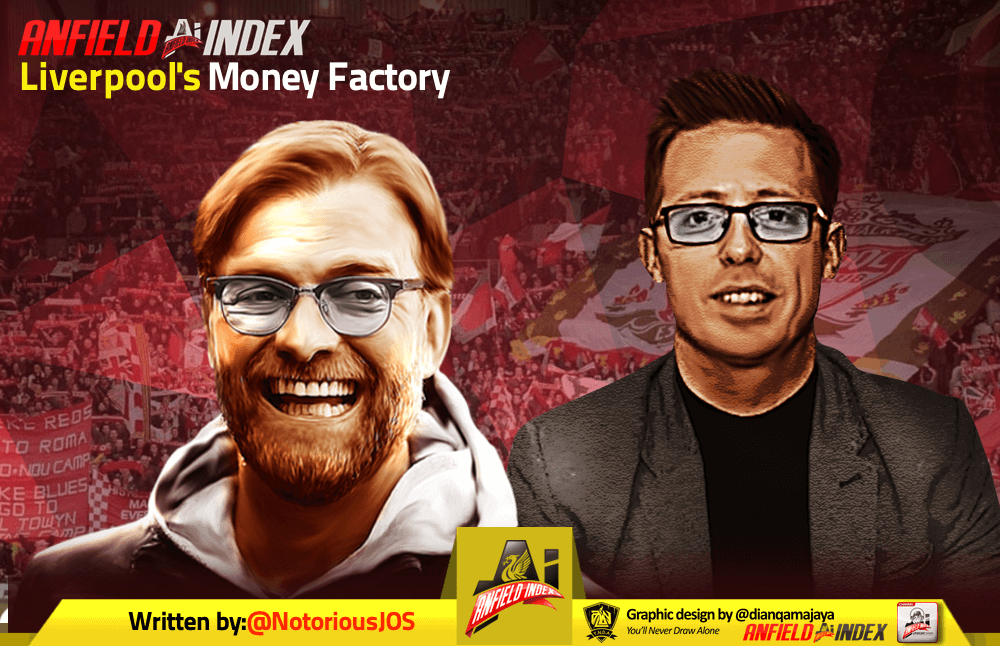 Liverpool's Money Factory

Liverpool sold academy striker Bobby Duncan to Fiorentina after the Serie A side made an offer to sign the 18-year-old permanently.
The Reds will reputedly pocket €2million upfront with a 20% sell-on fee for the former Manchester City underage player.
Duncan wasn't the only player out the Anfield exit door on European Transfer Deadline Day. Ryan Kent joined Rangers — who he spent last season on loan at — for a fee in the region of £7,000,000. The English duo's sales follow that of Rafael Camacho to Sporting Lisbon in July for £5,000,000.
The combined £14,000,000 bound income for three players with little to no chance of making the European Champions first-team squad either now or in the future is canny business and is a continuation of a clever selling policy from the Anfield side.
This past summer, according to statistics from Transfermarkt, Liverpool pocketed the sixteenth highest income from player sales in Europe. With €34,000,000 generated, the Premier League table-toppers are some way off Ajax — who sold €200m worth of talent after this excellent Champions League run last season — but sold nobody with any aspirations of playing regularly.
Profiting so handsomely from unwanted players has become the forte of Liverpool's Sporting Director, Michael Edwards, and a pattern has begun to emerge in how the Reds use their youth systems.
For a club like the Six Times European Champions, their academy has two purposes; one to produce players for the first team, which becomes increasingly difficult as the team improves and secondly, to produce players to be sold and have that money reinvested back into the team and or academy.
More so than the academy, the youth system in place at Anfield — which also encompasses acquiring young English players for small fees — has worked spectacularly well in recent years.
Trent Alexander Arnold has become one of the best players in the world for his age and is a shining example of the work done at the player producing arm of the club. But the signing of Joe Gomez from Charlton, for a paltry fee of £3,500,000, has and will prove to a hugely successful acquisition and an example of the European Champions transfer strategy bearing fruit.
Those in the corridors of power in Liverpool will no doubt hope that Rhian Brewster, who joined from Chelsea, and Harvey Elliot, who arrived from Fulham, will follow Gomez' and, indeed, Raheem Sterling's examples and establish themselves as key first-team or squad members with the Reds.
It is a well-established fact that English players have a transfer premium placed upon the prices they fetch on the market and this is a phenomena that Edwards, Mike Gordon and the other backroom decision-makers have taken advantage of.
Bournemouth, in particular, have been a regular customer of Liverpool's and have signed Brad Smith, Jordon Ibe and Dominic Solanke — none of whom had any realistic hopes of becoming regulars in Jurgen Klopp's team — for a combined £38,000,000. Considering Smith came from the club's academy and Solanke arrived on a Bosman from Chelsea, while Ibe cost a lowly quarter of a million pounds from Wycombe, receiving close to £40,000,000 were pieces of business excellence.
The Cherries have also taken Harry Wilson, another Reds academy alumni, on a season-long loan deal. Should the Welsh international impress in Eddie Howe's team then he will surely raise his market value before another big sale in the future which will only further enhance the transfer kitty Edwards and Klopp will have to work with.
The moves which exemplify the success of this British talent sales drive most are the signings and sales of Kevin Stewart, Danny Ings and the aforementioned Solanke.
Stewart arrived from Spurs in the summer of 2014 upon the expiration of his contract in North London. The centre midfielder cum full-back only made 11 appearances for Liverpool in three years — in which time he went on loan thrice, to Cheltenham, Burton and Swindon respectively — before signing for Hull City for £8,000,000 in the summer of 2017.
The Enfield born 25-year-old wasn't the only player to move between the Reds and Hull that summer, however, with Andrew Robertson joining the 18 times English league champions for a price of £8,000,000.
This means that, effectively, the Anfield club swapped a player who has barely stood out at Championship level for two years for Scotland's captain and a full back who can legitimately count himself among the world's best.
Ings arrived at Liverpool from Burnley in the summer of 2015 on a free transfer, with a fee of £6,500,000 with the potential for another £1,500,000 in additives being decided upon by tribunal.
Despite almost enduring more ACL injuries, two, than scoring goals for the club, three, the 27-year-old was sold to his boyhood club, Southampton, for £20,000,000 in the summer of 2019 after the forward spent the previous season at St. Mary's, scoring seven goals in 24 appearances.
Solanke joined the Reds in the summer of 2017, with a tribunal eventually setting a fee of £3,000,000 after his Chelsea contract expired. The 6'2″ forward had impressed in the Dutch league in the 2015/2016 season, netting seven goals in 25 Vitesse Arnheim appearances, but found his opportunities limited at Stamford Bridge before his contract dwindled down.
The England underage international fared slightly better at Anfield, making 21 appearances — in which he scored once — but failed to make the grade at one of the Premier League's top six once again.
However, Liverpool, unlike Chelsea, benefitted financially handsomely from Solanke when they accepted a £19,000,000 bid from Bournemouth in January 2019.
While the European Champions opted not to add ready-made first-team options to their squad this past summer, the sales of Duncan, Camacho and Kent — for a combined fee of almost £14,000,000 — shows that the club functions very well in the market, even when they aren't purchasing players.
Being able to sell players successfully only enhances the club's capabilities to sign players and that is a scenario that every fan wants to see.