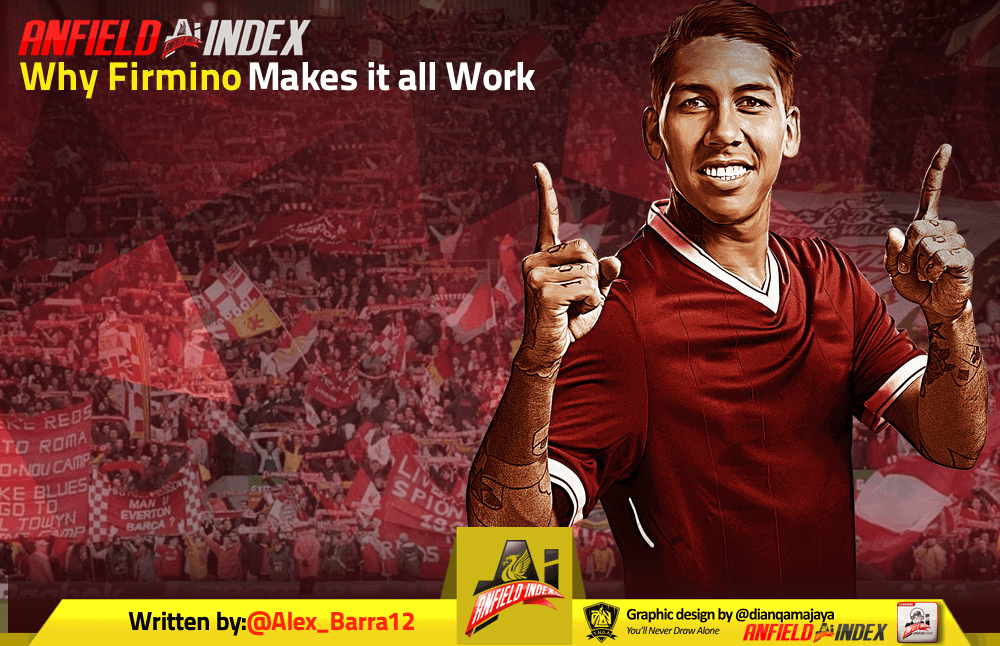 Why Firmino Makes it all Work
As the dust settled on a convincing victory at one of Liverpool's most precarious hunting grounds, and a spat between Mohamed Salah and Sadio Mané proliferated the post-match headlines, it was one cheeky smile and movement of the eyes that set everybody at ease.
Indeed, it was also the arm of Roberto Firmino around Sadio Mané, as the latter continued his remonstrations with his manager regarding his partner in crime's noticeable hunger for a goal, that showed Liverpool fans what they have that others do not.
Teams have had prolific partnerships before. They are a hallmark of the elite teams. Yet few elite teams have ever had a link man between the two hitmen so impressive as Roberto Firmino.

A link man who's still managed 67 goals in his last 100 games.
But it's his role between the two firebrands, the more prolific of the trio, that most deserve attention. Where strikers traditionally gain recognition for bagging goals or setting up their partners, Firmino does more. Without him, the system breaks. He's lauded to high heaven amongst his teammates; Fabinho labelled him the "perfect player" for Liverpool and Andy Robertson admitted they'd "be lost without him." Liverpool fans will always appreciate him for being the cheeky, schoolkid-like jester both on and off the pitch. But perhaps, like so many others, he'll only be truly appreciated when he's gone.
The altercation between Salah and Mané – one that only really transpired after the latter was taken off – was the kind that most teams with killer partnerships have.
The original SAS? Chris Sutton made it very clear – he wasn't a fan of Alan Shearer. Gonzalo Higuain never got on with Cristiano Ronaldo. Pippo Inzaghi and Alessandro Del Piero ended up despising each other. And Andy Cole and Teddy Sheringham went even beyond that.
The best pairings have selfish streaks – it's the symptom of an elite goalscorer. Which is what Salah and Mané both are.
The truth is, though, that neither actually dislike each other. The atmosphere Jürgen Klopp has fostered amid the Liverpool team was one of unbreakable camaraderie and a sense of absolute togetherness.
https://twitter.com/SamueILFC/status/1167875240640172037?ref_src=twsrc%5Etfw%7Ctwcamp%5Etweetembed%7Ctwterm%5E1167875240640172037&ref_url=https%3A%2F%2Fwww.planetfootball.com%2Fvideos%2Fwatch-firmino-cheekily-makes-things-more-awkward-between-salah-mane%2F
Want proof? That video following the Burnley game, where Mané was clearly still miffed at not receiving the ball from Salah, in which Firmino gave the camera a cheeky awkward glance and gritted his teeth, was the kind a boy gives when his two brothers are fighting and he's caught in the middle of it. When Mané came off, Firmino was the first to check he was okay. Jordan Henderson couldn't quite believe the spat, and James Milner tried to calm the situation, but it was Firmino – who was also a victim of the Egyptian's selfishness on the day – who acted as the mediator, such as he does on the pitch.
To conspire theories that Mané and Salah are the next Inzaghi and Del Piero is nonsense, given the fact that since the start of 2017/18, Mané has created 43 chances for Salah, and 17 for Firmino, while Salah has created 25 for Mané, and 34 for Firmino. The Brazilian, meanwhile, has created 26 chances for his Senegalese brother, and 33 for his Egyptian brother (per the Athletic.)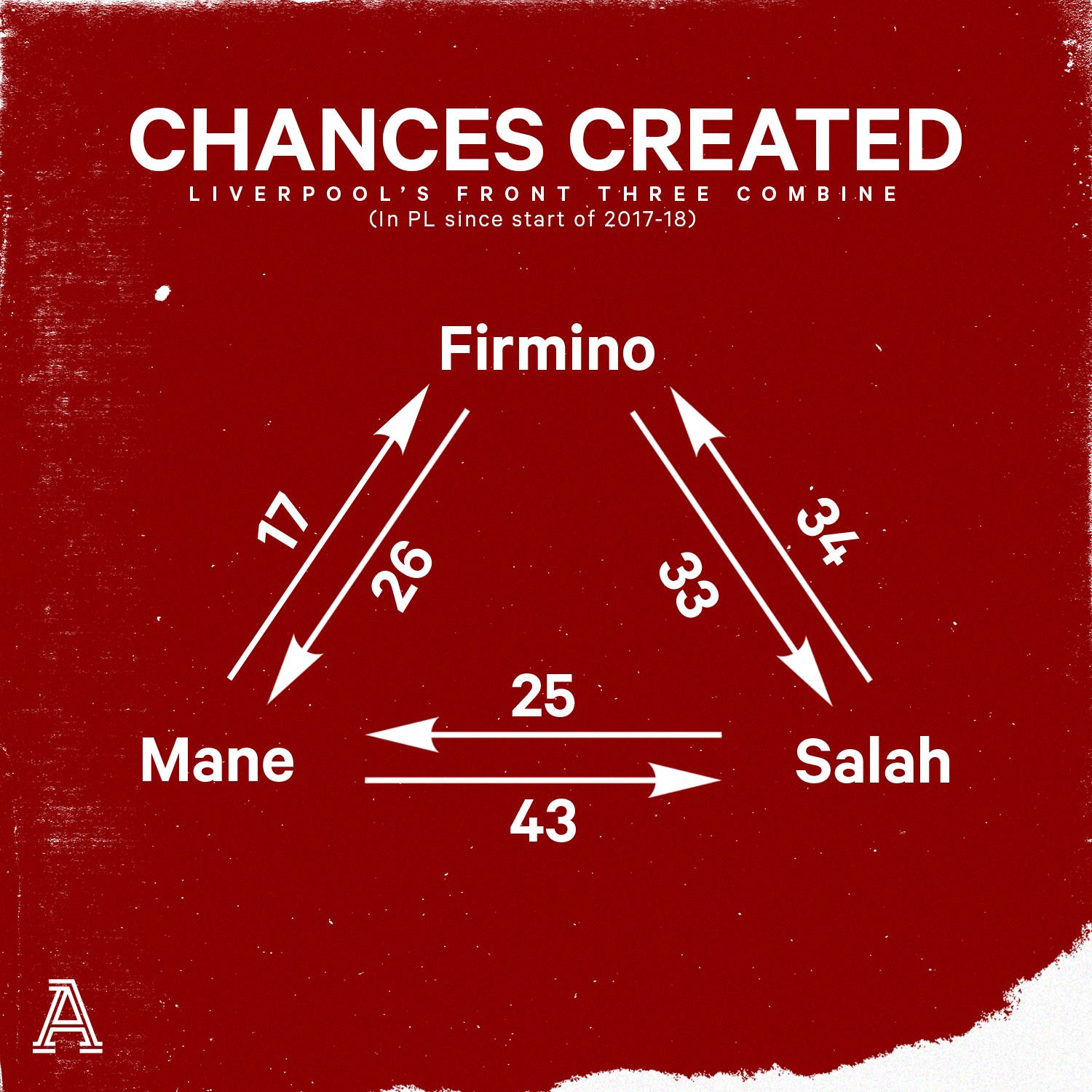 Take any one of those numbers out of the equation, and suddenly things go awry.
After all, even Inzaghi and Del Piero had a man called Zinedine Zidane supplying them.
It's not just creating chances that make the Brazilian so important, either. To steal a phrase from Henry Jackson (of this parish): Firmino was tailor-made for Jürgen Klopp's Liverpool. Against Norwich, he won the ball four times in the middle third and had a sublime strike saved by Tim Krul. Against Arsenal, he dinked the ball over Dani Ceballos' head just for the hell of it, but also managed to drop deep and allow Mohamed Salah the space to drive at a hapless Arsenal defence.
Indeed, the weekend saw the perfect emblem for the way Liverpool's forwards work in tandem.
Firmino intercepted a wayward Ben Mee pass and suddenly had his two brethren storming down either side. All he had to do was pick which looked the most dangerous, play an inch-perfect pass, and Liverpool had a comfy 2-0 lead.
Salah and Mané are the electricity, rampant and dangerous unless properly controlled. Roberto Firmino is the conductor, allowing it to flow perfectly, from one point to the other, in Klopp's perfectly crafted circuit. There is simply no front three without the exceptional Brazilian.