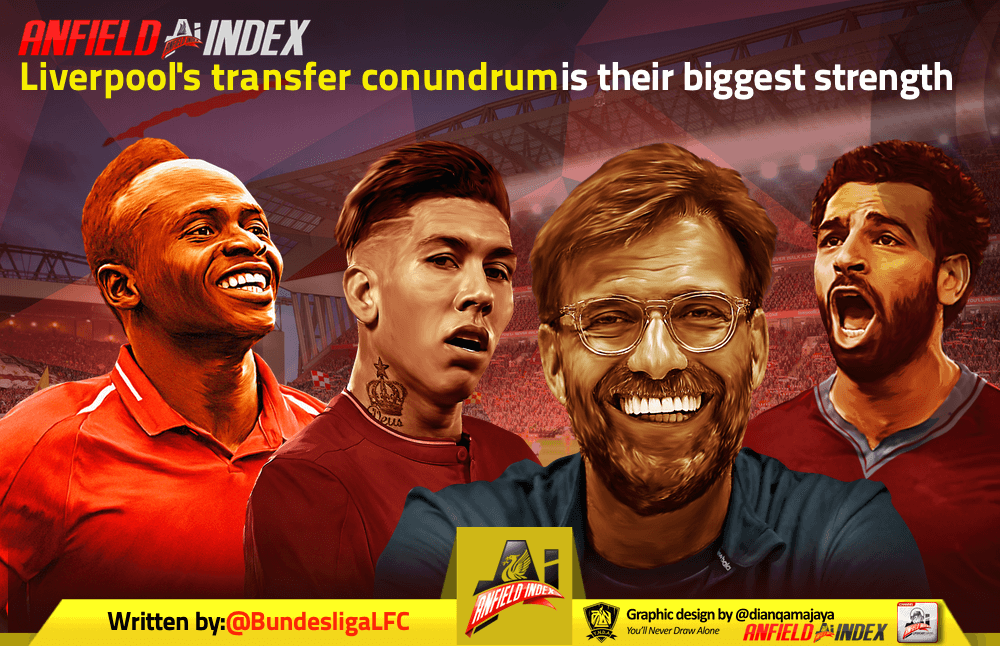 Liverpool's transfer conundrum is their biggest strength

People will have you believe that Liverpool find themselves in a tricky situation in the transfer market. With Sadio Mane, Roberto Firmino and Mohamed Salah all guaranteed starters for the Reds, finding adequate back-ups for the trio is a task. Not an impossible one but very much a difficult one. 
Gary Neville made the point recently that the attacking trident is too good and it's because of this that players will be reluctant to sign for the European champions. 
To an extent, this could be true. Any potential attacker arriving on Merseyside knows that they have to be at the top of their game to stand a chance of taking minutes off any of the forwards. And even then it might not be enough.
Xherdan Shaqiri, despite impressing whenever he's been given a chance, struggles to get onto the pitch. Champions League hero Divock Origi gets minutes here and there while wonderkid Rhian Brewster is yet to feature for the Reds this season.   
However, you could make the argument that manager Jurgen Klopp is reluctant to give those three understudies real minutes because the drop-off in quality is too much. Yes, the German coach needs to manage the workload of his key players but he can do that in training and during matches. It's easier to do that than it is to trust Origi, Shaqiri and/or Brewster to play to the high-level Liverpool need them to perform at on a consistent basis. 
For those few months, he had Philippe Coutinho at his disposal, Klopp did rotate his front three to keep things fresh. He was able to without losing any quality and performances remained at a high level. Though it was only for a brief time, the fact he did this shows that when he trusts the fourth option, he will almost make the front three a front four. Not tactically, though he did try that on occasion, but in terms of splitting the minutes between them all. 
There are enough to go round. With Liverpool now Champions League regulars there's a minimum of 44 must-win games every season, even more, if you get out of the group stages. That doesn't take into account FA Cup or EFL Cup runs either. Manchester City's dominance in the Premier League has resulted in every single game in England's top-flight now being a must not lose match if you're to stand a chance of toppling them. There's more than enough minutes for four attackers to all get enough game time. 
Firmino, Salah and Mane have all avoided serious injuries over the past couple of years but all it takes is one of them to miss a sustained period and the dynamic shifts. The level drops and Liverpool would ultimately fade away from a title challenge. 
Origi and co are good enough to fill in for the odd game, just as the Belgian and Shaqiri did in the Champions League semi-final against Barcelona. But can they do it over a long, sustained period? The fact Klopp hasn't treated either of them as the fourth musketeer suggests he knows the answer to that question. 
Neville and others suggest Liverpool's strength is actually a weakness. No players fancy their chances of hanging with three of the best in Europe. But in reality, it's one of the strongest selling points the club has at potentially attracting some of the most exciting talents in the world. 
The opportunity to play alongside three of the most creative players in Europe doesn't come along often. Learning from players who went from reliable goal threats to Golden Boot winners. Being coached by a manager who transformed three £30million rated forwards into players now all worth in excess of £100million. It's a career-changing chance. A career-defining opportunity. 
The transfer conundrum hinted at is, in fact, one of the reasons the very best will want to move to Anfield. It's clear the only reason the Reds didn't add to their forward line this summer was that they didn't feel any of those available represented good value for money.