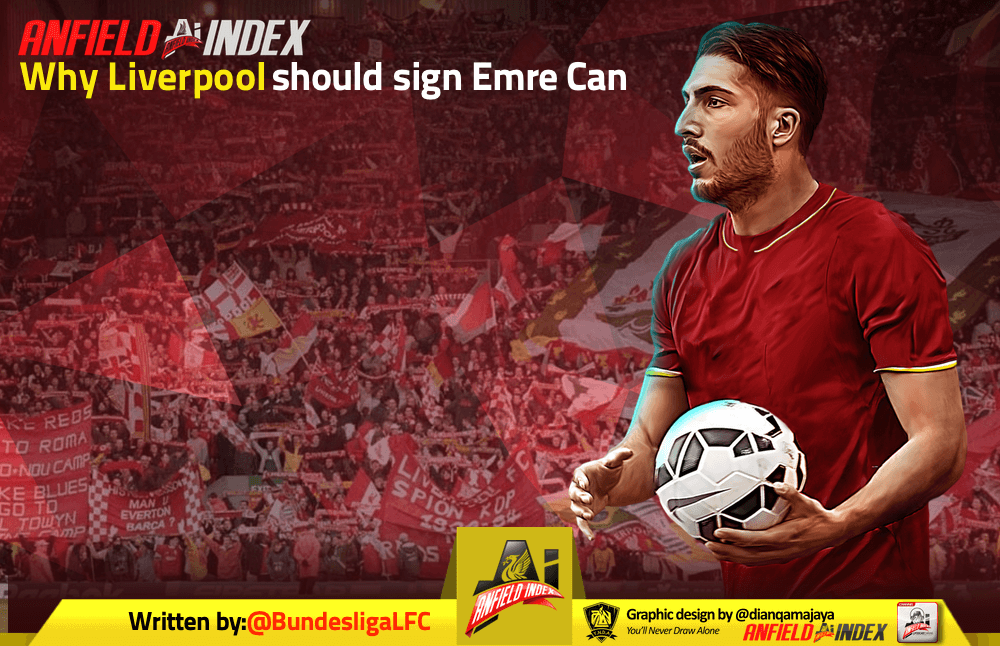 Why Liverpool should sign Emre Can
The professional way in which Emre Can left Liverpool may mean the door is ajar for him to return to Merseyside. There have been no links, no rumours, but with the Germany international not included in Juventus' Champions League squad, the writing appears to be on the wall for his career there. 
Maurizio Sarri reportedly tried to sell him in the final weeks of the window. Having failed to shift other midfielders, the former Chelsea man tried to lighten the number of middle third men he had by sanctioning Can's sale but a move never materialised.
Juventus, famed for their planning around transfers, now find themselves in a bit of a predicament. They have a midfielder, on fairly decent wages, unable to play in the Champions League. On the surface, it doesn't make much sense. But perhaps this was a move done purely so he wasn't cup-tied if he moved on in January to a team still in Europe? 

On one hand, it puts the Serie A champions in a strong negotiating position. On the other, however, they've made it abundantly clear that they don't mind losing Can. That weakens their hand. A loan might be best for all parties. 
It's unlikely the Reds would be interested in a permanent move for their former No.23. They've moved on from him and upgraded with Fabinho now the man bossing the team from the No.6 role.
But if he was available to loan, this might interest Michael Edwards and the recruitment team. Can is one of the few players out there who knows the Jurgen Klopp way. He knows the system, the demands and the style. On top of all that, he's versatile and gives the Liverpool boss a number of options he wouldn't otherwise have.
Can is comfortable as a No.6, he can play as a No.8 and was actually a decent performer in that role during the 2016/17 season when he chipped in with a few goals. He can also play as a centre-back, especially now the table-toppers are dominating games and possession.  
Liverpool aren't short of midfield options. In total, Klopp has seven senior players who could play as part of his three. Jordan Henderson, Gini Wijnaldum, Fabinho, Naby Keita, Adam Lallana, James Milner and Alex Oxlade-Chamberlain are those seven names. 
But it isn't quite as simple as that. Keita and Lallana can't seem to shake injuries. That takes the total down to five. Oxlade-Chamberlain missed a year and though he's back he might not be back just yet. Four. Add into the mix the fact Milner is viewed as the understudy to Andrew Robertson at left-back and a few injuries could leave the Reds looking thin in the middle third. 
Can would offer cover and he keeps things ticking over until Liverpool can address the balance during the summer. It makes sense financially, too. The European Champions aren't shopping in the January window, often with inflated fees, but are able to bring in someone who improves the squad on the whole. There are enough minutes to go round as well. Klopp isn't as averse to rotating the midfield as he is the attack. 
Furthermore, unlike with Philippe Coutinho, Can didn't leave under a cloud. There are no bridges to mend. The club didn't meet his demands so he left. He didn't kick up a fuss or boycott training. He didn't fake any injuries or switch off mentally. The Germany international did his job and Klopp will no doubt have respected that. 
This wouldn't be like other loans either. Arsenal have taken Dani Ceballos on loan and if he performs well they'll want to sign him. There's no deal in place with Real Madrid to make that happen. They are, in theory, helping develop a player and putting him in the shop window for the La Liga giants. And they're paying for the privilege. Can wouldn't be arriving to be a first-teamer. He'd be arriving to add short-term depth. 
There's no guarantee it'll happen, far from it in fact, but the way the player handled himself could mean there's a possibility if the Reds want reinforcements in January.